Eugenia Vache' Cline, 87
Eugenia "Jane" Vache' Cline, 87, passed away April 8, 2021, at the Schneidmiller Hospice House in Coeur d'Alene, Idaho.

She was born an only child in Philadelphia on Feb. 16, 1934, to Ethel and Eugenio Carpio. She was raised in Philadelphia and Germantown, Penn. She went to nursing school after high school, where she met and married Joseph Cline, the father of her three children.

The whole family, including Ethel and Eugenio Carpio, moved to Libby in 1964, where she raised her children and had dogs, cats, chickens, ducks, geese, peacocks, turkeys, guineas, rabbits, a Shetland pony and horses. She loved being outdoors, trained the pony to pull a cart, taught herself to shoe the horses, and raised and trained a colt from one of the mares.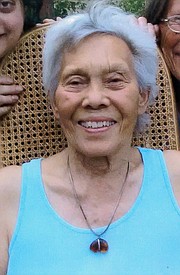 She was active in the rod and gun club with Joe while it was in existence and tried a little hunting, but preferred to stalk animals with a camera. She loved to hike, cross-country ski, garden, ride horses, ride her motorcycle and just enjoy the sunshine outside. Reading was another passion. In her later years, she enjoyed socializing at the knitting club that met downtown at the Printing Press. The astronomy club was another favorite activity for many years.
In the working arena, she had a rural mail route for a few years and worked for a janitorial service. She started and managed a small business, which included custom wild game processing and wild jams and jellies, which were very popular until she retired.
When her eyesight and health declined, her daughter, Rosalie, moved her to Coeur d'Alene, Idaho, in 2019. There she could be with her daughter, grandchild and great-grandchildren until her passing.
She is survived by Joseph Cline; her daughters, Wenonah Grinde of Havre, Ronnie Cline of Libby, and Rosalie Cline of Coeur d'Alene, Idaho. Her grandchildren include Alberico Ciccone, Frank Ciccone and Felicia Hopkins, all of Coeur d'Alene. Idaho. Her great-grandchildren are Phe'dra Ciccone, Mia Ciccone and Amelia Hopkins of Coeur d'Alene, Idaho.
She will be sorely missed by her family and the many friends she cultivated over the years. A celebration of life will be planned for a later date.
---