Tennis team struggles against Whitefish
by
WILL LANGHORNE
The Western News
|
April 16, 2021 7:00 AM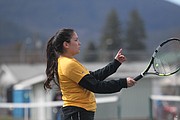 The Logger tennis squad faced staunch competition from their Whitefish counterparts during an April 13 match in Libby.
Michael Hollingsworth, Libby's second-ranked boys singles player, was the squad's only victor that day. Hollingsworth secured a 6-1, 6-2 score against the Whitefish's Jack Robertson.
Alex Andreessen and Annika Thorstenson, the Lady Loggers' second-ranked doubles squad, nearly pulled off a win against their Whitefish opponents, winning one out of three sets. Their score was 3-6, 6-3 and 2-6.

Elise Erickson, Libby's second-ranked girls singles player, likewise rallied in the second set, but fell in the third with a score of 4-6, 6-4 and 3-6.
The boys top singles player, Ryker McElmurry fell 3-6 and 2-6. Laneigha Zeiler, the Lady Loggers top singles player, came up short 2-6 and 1-6.
Colton Halvorson and Ryan Collins lost the top boys double match 3-6 and 0-6. Jessica Cunningham and Ivy Pierce, Libby's first girls doubles team, almost took their first set with a score 5-7 and fell 2-6 in their second.

---