Libby Loggers warming up for season's start
by
WILL LANGHORNE
The Western News
|
April 16, 2021 7:00 AM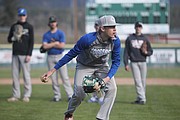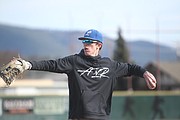 Guided by a core of seasoned sluggers and bolstered by a crop of rising talent, the Libby Loggers are eager to get their uniforms dusty during their first games of the year later this month.

Coach Kelly Morford said 21 players came out for the American Legion baseball team including a solid group of veterans. Returning players Caden Williams, Tucker Masters and Tripp Zhang together represent a few of the best outfields in the state, he said.
Last season, Zhang was selected as one of the six all-state recipients in the Western A District. According to a post from the team's social media account, Zhang was the team leader in nearly every offensive category, logging 15 doubles, five triples, eight home runs and 53 RBIs over 41 games.
Williams was selected to the 15-player all-district team and was in the mix for all-state selection. In addition to playing right field, Williams proved a key first baseman and pitcher for the Loggers with 56 strikeouts and 64 innings pitched over 41 games.
As of April 13, Morford was still working on developing new players for infield positions. Building pitching experience is also one of the team's spring training focuses.
While there was still a lot to get in before the B team's April 25 opener, Morford said the squad was developing nicely.
During the first week of practice, which kicked off on April 5, coaches drilled the Loggers on fundamentals and technique. Adyan Williamson, a returning first baseman and pitcher, said he felt younger players were doing a good job of picking up Libby's play style.
In the second week, the team's focus switched to defensive strategy. By week's end, coaches intended to start running scrimmages to give players experience with live pitching.
Master said he was excited to get into scrimmaging.
"It will really help the team get ready to play some solid ball," he said.
Offensively, Libby is already showing a lot of potential at the plate.
"We're really hitting the ball well," said Morford. "It'll be interesting to see if we can take that into a game."
The Logger A team will face off against the Glacier Twins on April 28 for their first game of the year. Morford said the Twins are one of Libby's fiercest rivals in the Western A conference. The early match up against Glacier will help gauge where Libby stands going into their season.
Following practice on April 13, Loggers expressed confidence about the upcoming game.
"We're ready to take it to them," said Williamson.
---