Lady Loggers topple Eureka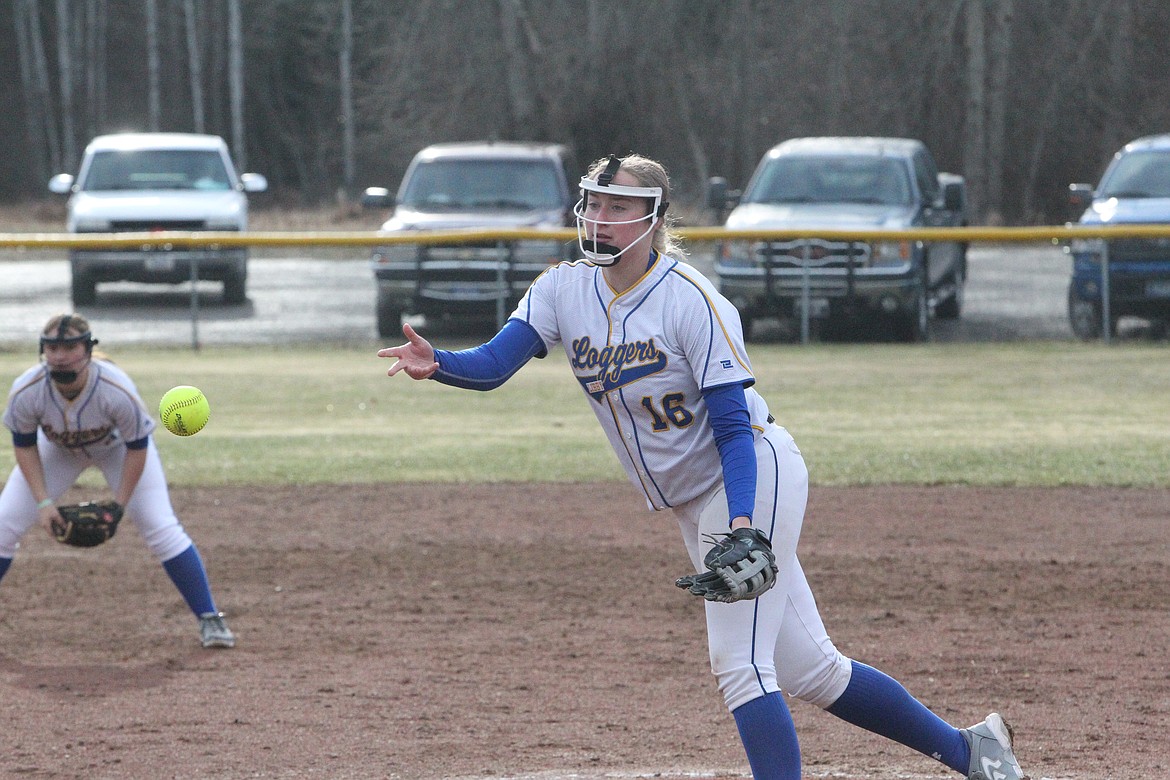 Taylor Munro launches a pitch during the Lady Loggers April 10 against Eureka. (Will Langhorne/The Western News)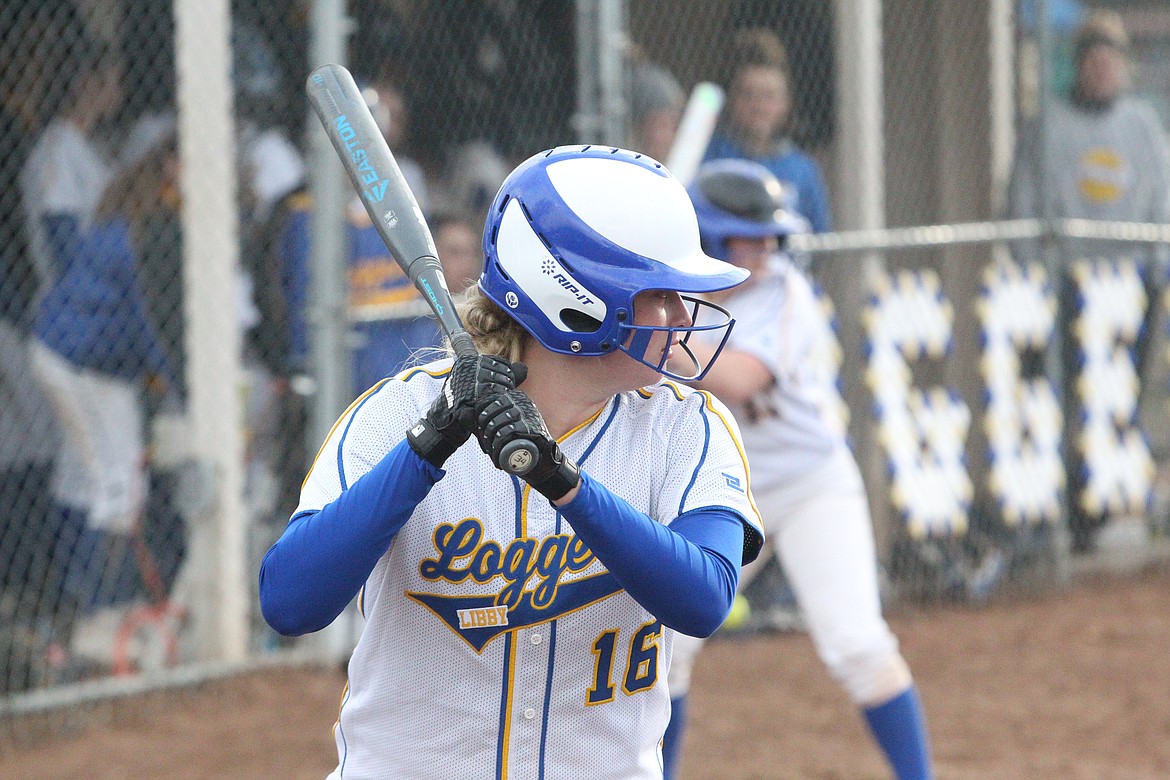 Talyor Munro looks for the pitch during the Lady Loggers April 10 game against Eureka. (Will Langhorne/The Western News)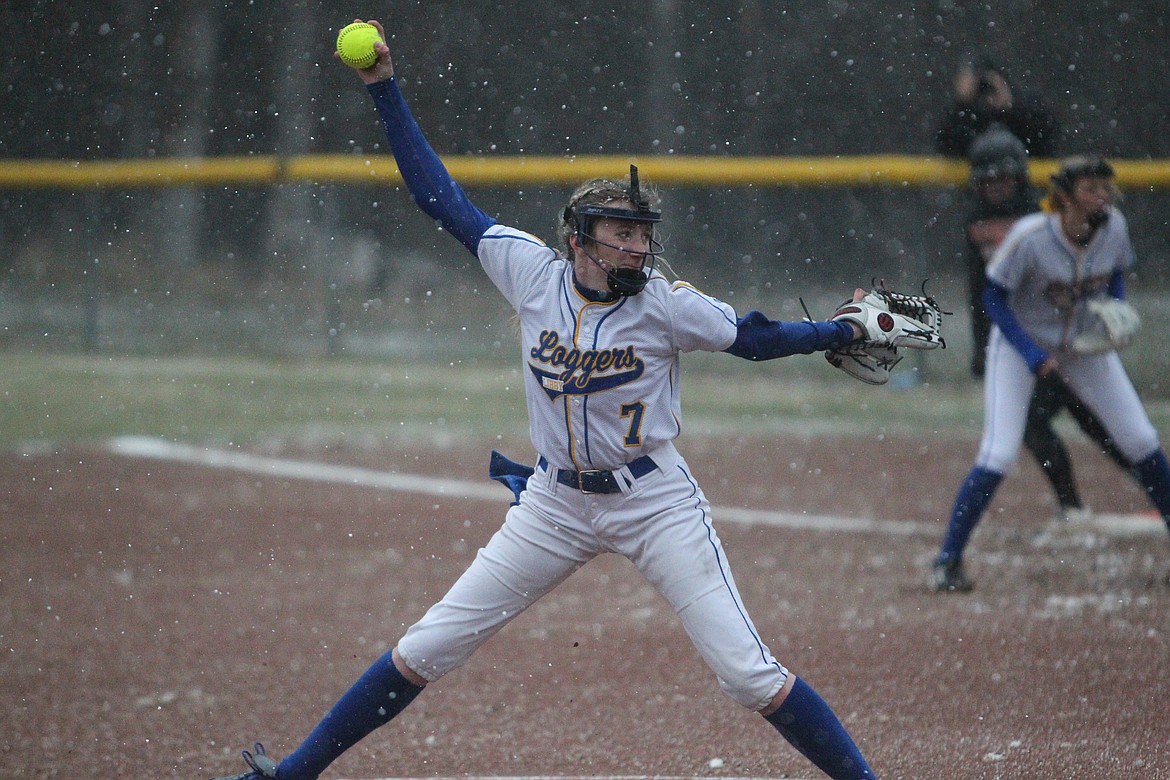 Mackenzie Foss launches a pitch during the Lady Loggers April 10 game against Eureka. (Will Langhorne/The Western News)
Previous
Next
by
WILL LANGHORNE
The Western News
|
April 13, 2021 7:00 AM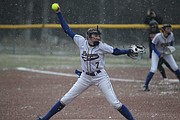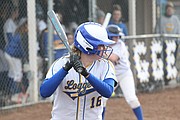 Braving cold and snowy conditions, Libby tamed the Eureka Lady Lions 16-8 last weekend.
As the April 10 game kicked off, a squall tore through Remp Field, whipping snow at a near-horizontal angle across home plate. Libby scored first in the bottom of the first inning when a hit from Taylor Munro brought home Lyndee McElmurry.
The Lady Lions responded during their next at-bat, stealing home on an error.
Libby came out swinging in the bottom of the second inning. Within the first few at-bats, McElmurry batted in two runs. A hit by Bethany Thomas then brought McElmurry home. Munro landed another RBI with a grounder down the centerline.
As the weather cleared, the Lady Loggers kept slugging and brought the score up to 9-1 going into the third inning.
Coach Dean Thompson attributed the early lead to Libby's performance against Hamilton the night before. Libby beat the Lady Broncs 14-2 during their April 9 game.
"We hit the ball well yesterday and I think it just carried over to today," he said.
Catcher Kinzee Boehmler said she thought the team came into the Eureka game with the right mindset. Maintaining positive attitudes was especially critical in the early innings given the conditions.
In the top of the third inning, Munro switched in for starting pitcher Mackenzie Foss. Thompson said both Foss and Munro have been assets on the mound for the Lady Loggers. Being able to alternate between the two when one or the other is off has helped the Lady Loggers keep their defense sharp throughout long games.
"[Munro] is just constant," said Thompson. "Weather doesn't bother her at all."
Eureka managed to sneak one run past the Lady Loggers in the third inning.
Back at-bat, Libby continued to pull away from the Lady Lions. The stands roared when Munro launched a ball over the centerfield fence bringing home two other players. A series of errors allowed three Lady Loggers to steal home in rapid succession.
Not about to give up on the game, the Lady Lions roar into action during the top of the fourth inning. The push allowed Eureka to regain some ground bringing the score to 15-8.
During the final three innings, the game turned into a defensive standoff. By the top of the sixth inning, the final score was set.
Thompson said that while Libby was taking good shots later in the game, the hits tended to land in Eureka's gloves. He also found that the Lady Loggers grew a bit complacent as the innings wore on.
"We were just kind of going through the motions," said Thompson.
As the Lady Loggers prepare for their next game against Ronan on April 13, Boehmler said it would be important for Libby to stay in the right headspace.
"Just keeping our heads up to stick with it and get the win," she said.
---