Tentative plans for mobile home park on Education Way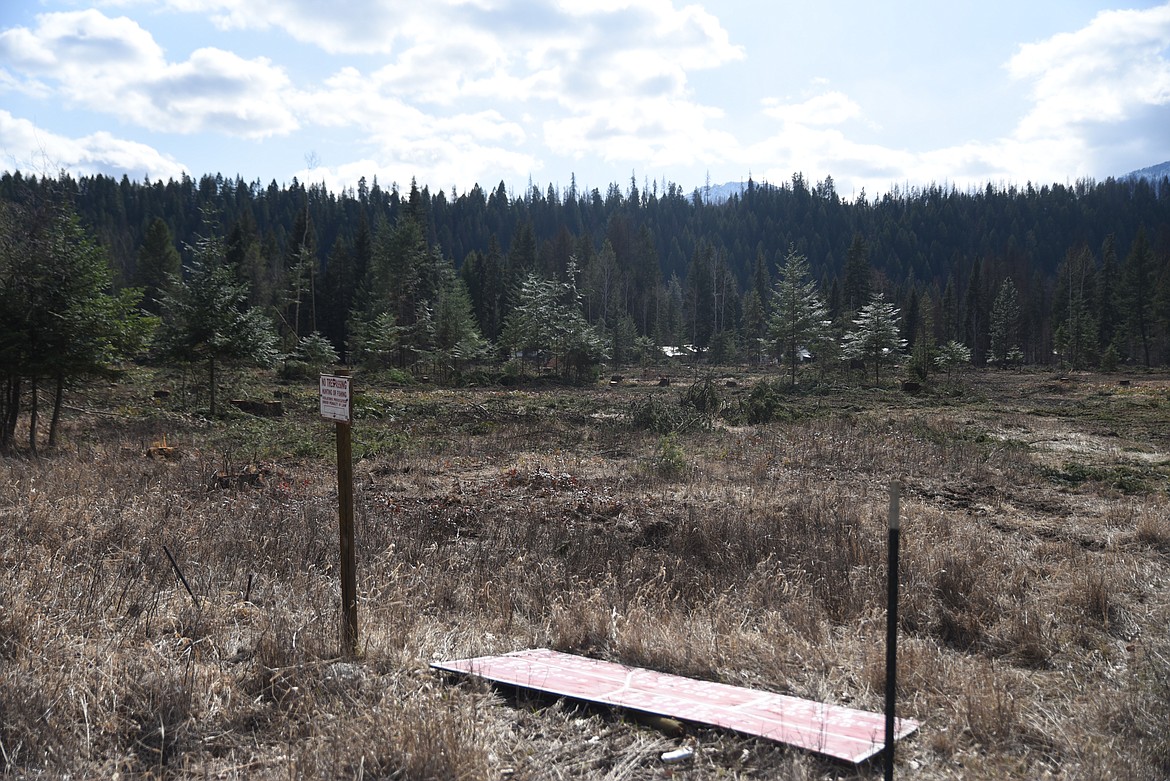 The site of a potential future mobile home park off of Education Way. (Derrick Perkins/The Western News)
by
DERRICK PERKINS
Editor
|
April 9, 2021 7:00 AM
Libby officials are in the very early stages of reviewing a proposed mobile home park off of Education Way.
Although trees have been felled on the property, the developer has submitted only a rough sketch of the project, said Jake Mertes, who serves as city as well as county planner. Thus far, it calls for 36 mobile homes on what likely will become a two-parcel stretch near the Libby Elementary School, he said.
"He's going to turn it into two lots, the park and his house," Mertes said of the developer while briefly discussing it with the Lincoln County Board of Commissioners on March 24.
"The idea is [developing] nice affordable housing," he said.
Were it constructed as it stands today, the mobile home park would go up in county territory. But owing to a floodplain, the development eventually must hook into the county seat's sewer and water system.
That last detail adds a wrinkle for the developer and local officials. To hook into Libby's waterworks, the land will have to be annexed by City Hall.
According to a deed filed with the Lincoln County Clerk and Recorder's Office, the land was sold to Craig David Stark of Idaho in July 2020.
Mike Fraser, city engineer, said annexation builds a bit of complexity into the approval process. Along with requesting annexation, the property owner will need to file a petition of zoning and apply for a conditional use permit for a mobile home park.
"The owner would do a number of things almost simultaneously," he said. "There are a lot of dominoes."
Fraser said Mertes likely would aid with the crafting of a conditional use permit before passing it off to the city administrator's office. The proposals would head before city council for approval as a package, he said.
It's a process the city handled several years ago and one that officials anticipate repeating more often in the future, Fraser said.
"We want to get the process right and the process well established," he said. "It may happen again."
Although the project has its roots in county territory, the board of commissioners will have no role in the process, officials said. Still, commissioners offered support for the end result.
"The more affordable housing we have, the better," said County Commissioner Jerry Bennett (D-2).
Fraser said project approvals remain a ways off. As the developer prepares to move forward, officials will arrange a meeting to discuss requirements. Then the developer will prepare the specifics and draw up plans.
"I think, on the city's behalf, we want to work cooperatively with the developer," Fraser said.
Were the mobile home park project to come to fruition, it would need to secure a license from the state Department of Public Health and Human Services, Mertes said.
---