Lady Lions roar over Lady Trojans
by
WILL LANGHORNE
The Western News
|
April 9, 2021 7:00 AM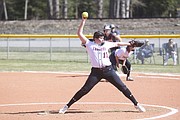 Despite building an early lead, the Lady Trojans fell 34-11 to Eureka during their April 6 home game.
The Lady Trojans racked up five runs to Eureka's two in the first inning. Talise Becquart, Elaine Folkerts, Alexie Garcia and Jaylee Leighty each batted in a run for Troy. Garcia stole home on an error.
Coach Keith Haggerty attributed the early success to the Lady Trojans mounting confidence. Having played three games before facing off against the Lady Lions, he said the young team was beginning to hit its stride.
"They've been doing well in practices and have been getting some games," he said.
In the second inning, Eureka began to pull away. By grounding their hits and putting pop flies past Troy's outfielders, the Lady Lions scored nine runs. Troy, by contrast, wasn't able to get a runner past second base that inning.
"I think that we were just more excited at the beginning," said Becquart. "When things started falling apart, we just weren't trying as hard."
Haggerty said the Lady Trojans still weren't at full strength. Two players were ineligible to play during the Eureka game.
Back at bat at the top of the third inning, the Lady Lions continued to build their lead. Rhianna Hawkins knocked a ball out of the park helping Eureka bring the score to 21-5.
The Lady Trojans saw greater success at the plate during the third inning. A pop fly hit by Folkerts led to a double RBI for Troy. A few batters later, an RBI walk brought home Folkerts. Garcia scored on an RBI single.
Over the next two innings, the Lady Trojans struggled to get runners around the bases. Defensively, Troy was hampered by errors, allowing the Eureka Lions to secure an even greater lead.
Haggerty said the team has struggled with pitching. Troy's starting pitcher, Paige Burger, was still working to build experience at the mound.
"We haven't had much time," said Haggerty. "We basically started her pitching the first day of practice where a lot of people pitch year round."
The top of the third inning also marked one of the first times Folkerts, Troy's relief pitcher, took to the mound.
Haggerty pointed out that players on other teams in the conference play in travel leagues that the Lady Trojans don't have access to. This puts Troy at a disadvantage particularly at the start of the season.
Officials called the game at the end of the fifth inning. The Lady Trojans will go on to play Thompson Falls at home on April 13.
---