Red Cross looks for volunteers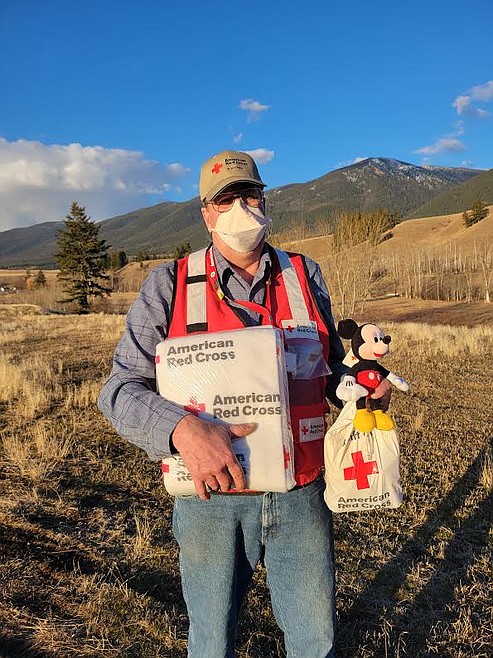 Red Cross disaster volunteer Scott Fairfield. (Red Cross courtesy)
by
The Western News
|
April 6, 2021 7:00 AM
For the past four years, American Red Cross volunteer Scott Fairfield has helped families in Lincoln and Sanders counties recover from home fires, wildfires, flooding and whatever else nature throws their way.
As a disaster action team volunteer, Fairfield and fellow volunteer Nancy Adair meet with families who have lost their home – and sometimes everything in it – to tragedy and makes sure their most immediate needs like lodging, food and clothing are met.
He connects clients with mental health and spiritual care and helps them replace medications and eyeglasses that may have been left behind.
But just as importantly, he's there to listen and provide a steady shoulder to lean on.
"I have a great passion for helping others," said Fairfield, who retired after a long career with the oil and gas industry. "I dedicate all my attention to that client who's been affected … making sure they can voice their concerns and reassuring them that things will get better and these emotions they're going through right now are normal and getting them on the road to recovery."
Fairfield and Adair are the only two Red Cross disaster responders in Lincoln and Sanders counties, an area that covers roughly 6,400 square miles and serves more than 31,000 people.
This small but mighty team responds to a handful of house fires each year and makes sure the Red Cross has the resources and partnerships in place if spring flooding or summer wildfires should force their neighbors from their homes.
Four years ago, was a good example.
In 2017, Fairfield, his Red Cross teammates and community partners opened a shelter at the Eureka Church of God for families displaced by the Gibraltar Ridge Fire.
That summer, the Red Cross and the community provided 56 overnight shelter stays and served more than 860 meals to evacuees in the area. They also delivered comfort and stability during an uncertain time.
"Talk about feeling like a king and queen. It was like we were the only people in the world," Eureka resident Carol Dibbern said of her family's stay in the Eureka shelter that summer. "The volunteers talked to you with so much warmth and heart. They even played games with you to try to take your mind off of what was going on."
Fairfield said being able to bring hope during tragedy is what being a Red Cross volunteer is all about. Montana Red Cross has about 500 volunteers in communities large and small across the state and last year helped more than 700 people following a disaster.
"That's why I love Red Cross so much," he said.
"I can help people and be a listening ear during their darkest days."
A relatively dry winter so far in the area has eased spring flooding worries, Fairfield said, but that doesn't necessarily bode well for the fast-approaching wildfire season.
"I've already seen some redflag warnings," he said.
And then there's the most common disaster, single-family home fires. The Red Cross has responded to six home fires in Lincoln and Sanders counties in the past year and works to educate families about how to be prepared in case disaster strikes.
Fairfield said he's hoping a few more kind souls from this corner of the state will join the Red Cross team and be ready to help you when the call comes in, sometimes from a few hours away.
"If you have compassion and you care for others, it's such a rewarding experience," he said. "You can spend as much or as little time as you want and there's an exceptional training program."
To learn more about becoming a Red Cross disaster action team volunteer and help in times of disaster, email IDMT. Recruiting@redcross.org or contact Recruitment Specialist Gini Kay at 406-493-8778.
The humanitarian organization is also looking for volunteer duty officers – Red Cross dispatchers who deploy teams into the field during a disaster, coordinate the response and are a lifeline between the families affected and the Red Cross responders.
This volunteer position can be done from home anywhere in the state.
And there are countless other nondisaster-related Red Cross volunteer opportunities available as well.
"There are so many different options to help your fellow man," he said.
"We're all one Red Cross family. I love it."
---