Election integrity a hot topic in Helena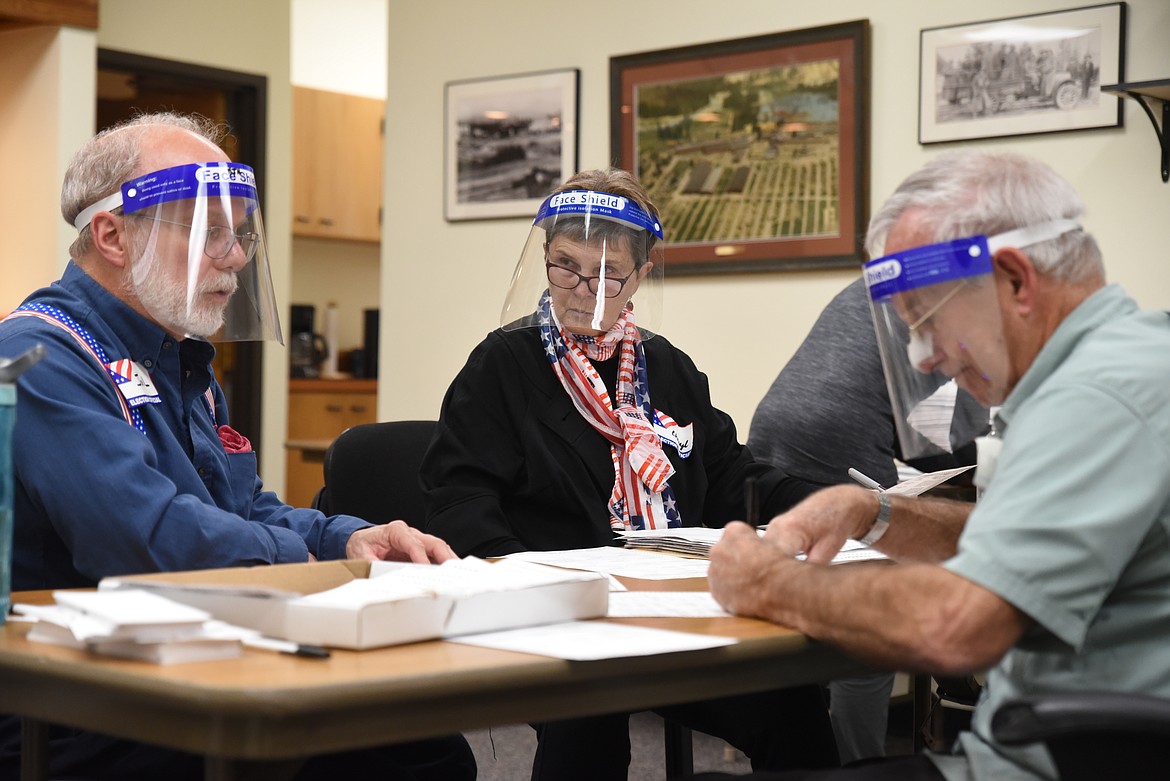 Election judges process votes at the Lincoln County Courthouse on Election Day.
Will Langhorne/The Western News
by
WILL LANGHORNE
The Western News
|
April 6, 2021 7:00 AM
Amid the slew of bills that have cycled through Montana's legislative chambers this year, state Sen. Mike Cuffe (R-Eureka) said there's one issue that has dominated his constituent's attention: voting and election regulations.
"It's one of the things I have had the most calls about," the senator said last week.
In an attempt to bolster election integrity, Cuffe said he has supported a package of bills designed to revise voting laws.
Along with sponsoring Senate Bill 169, which would revise voter identification laws, Cuffe has backed Senate Bill 93, which would allow poll watchers at ballot deposit boxes during mail-in elections; Senate Bill 170, which requires election administrators to review voter registration lists annually instead of biennially; and House Bill 176, which eliminates Election Day voter registration.
Senate Bill 93 and House Bill 176 also cleared both chambers of state congress. Senate Bill 169 passed in both with amendments from the House. Senate Bill 170 is awaiting Gov. Greg Gianforte's signature.
By backing the package of bills, Cuffe said he is not claiming that voter fraud occurred during the 2020 election. During a March 27 interview, he did point to a recent challenge to the integrity of the 2020 election in Missoula.
According to a March 30 article in the Missoulian, a group of volunteers, led by Montana House Majority Leader and State Rep. Brad Tschida (R-Missoula), requested access to all signed ballot envelopes received by the Missoula County Election Office last year.
After counting the envelopes, the activists argued that election officials should not have tallied 4,592 county ballots that were filed without affirmation envelopes. The group claims their findings could have swayed state representative and senator elections in the county.
Missoula Election Administrator Bradley Seaman pushed back against the irregularities claim and told the Missoulian he was confident the county would win any legal challenge.
A federal judge ruled there was no evidence of voter fraud in any Montana election during the last 20 years after hearing a challenge from former President Donald Trump's reelection campaign in September.
Cuffe has said that the voting regulation bills he supports serve only to reassure Montanans of the integrity of state elections.
"We believe our elections are conducted in a fair and honorable fashion. We simply want to make a good process better," Cuffe said during a Feb. 3 meeting of the Senate Committee on State Administration. "Senate Bill 169 simply assures us that only Montanans are able to vote in Montana elections."
Secretary of State Christi Jacobsen endorsed Cuffe's bill saying that tightening voter identification laws was her top legislative priority.
Sam Forstag, of American Civil Liberties Union of Montana, raised concerns about the lack of evidence behind Jacobsen's legislative package while speaking on Cuffe's bill before the House State Administration Committee on Feb. 19.
"As distressing as any of the provisions of this bill [are] is just the fact that it is being included in a slate of bills offered from the office that is tasked with the solemn duty of ensuring that Montanans have access to free and fair elections," said Forstag. "In the absence of any evidence whatsoever of voter fraud occurring here in Montana, our only ask is that we make decisions — when it comes to that solemn duty, when it comes to that fundamental right — based in fact and data."
Cuffe's bill would require voters without a passport, concealed carry permit or state, military or tribal photo ID to present an alternative form of photo identification, such as a student ID, and a secondary form of identification, such as a utility bill, bank statement, or paycheck at the polls.
Opponents of the bill say it could disenfranchise American Indians, who may be unable to or cannot afford to commute the long distances needed to get driver's licenses. College students without in-state driver's licenses and seniors and those with disabilities who do not drive would also have difficulty voting under the ID regulations.
Cuffe said he does not think his bill will disenfranchise any Montanans, but expects it will be challenged in court. To ensure the bill will pass muster, he said he worked with attorneys to pick language from photo ID bills passed in other states.
"We think we have it legally sound," he said during the March 27 interview.
State Rep. Sharon Greef (R-Florence) defended her House Bill 176, which closes late voter registration at noon the day before the election, saying voters should be responsible and register to vote ahead of time.
"Changing the statute is a best practices approach to mitigate against voter fraud and ensure voter integrity," she told members of the Senate State Administration Committee Feb. 15.
Greef said the bill would help cut down on long lines at polling places and reduce work for election officials on Election Day. Cuffe agreed with Greef, saying that process needed to be streamlined.
"You don't want to throw registration on top of something important like an election," he said March 27. "If that was my plywood plant I would say, 'Hey there's a way to separate that.'"
A total of 21 states and the District of Columbia have enacted same-day registration laws allowing voters to register on Election Day as of 2020, according to the National Conference of State Legislatures.
Opponents have argued that the bill will make it more difficult for those with disabilities to cast their ballots and would go against the expressed will of voters.
"People with disabilities struggle with the ability to vote every election," Joel Peeden, with Montana Independent Living Project, told the Senate State Administration Committee. "You're making it just a little harder for us."
Audrey McCue, election supervisor for Lewis and Clark County, opposed the bill saying it would go against the wishes of residents who voted down a ballot measure to end same-day registration in 2014. She also said that the registration regulation would not help her in her professional capacity.
Forstag said ACLU of Montana found the bill could disproportionately affect American Indian, rural residents and young voters.
Similar to Greef's pitch for House Bill 176, state Sen. Douglas Kary (R-Billings) asked the House State Administration to make the election process more efficient by voting for his Senate Bill 170. Kary argued that by requiring county officials to bring voter records up to date every year, election administrators would have less work in election years.
Daliyah Killsback of Western Native Voice said for many residents, updating their voter registration is not a priority when moving around the state.
"We just believe this bill would be another barrier for our communities on reservations especially those who do not have a traditional home address," said Killsback.
Across the country, the 2020 election has spurred an uptick in election integrity bills in state legislatures.
The Brennan Center for Justice found state legislators have introduced 361 bills with restrictive voting provisions in 47 states. The April 1 report stated that governors had already signed five of these bills into law. At least 55 restrictive bills in 24 states were moving through legislatures.
Enacted bills, such as Georgia Senate Bill 202, which became law on March 25, have drawn sharp criticism in recent weeks. Among other provisions, the Georgia bill limits absentee voting, prevents election officials from sending out absentee ballot applications to all voters, reduces the number and hours of drop boxes and bars anyone who is not an election worker from providing food and water to voters waiting to cast their ballots.
The Brennan Center also noted that lawmakers have introduced 843 bills with expansive provisions in 47 different states. Nine of those bills had become law and 112 were moving through legislatures in 31 states as of April 1.
---