Youthful Lady Trojans squad looks forward to softball's return
by
WILL LANGHORNE
The Western News
|
April 2, 2021 7:00 AM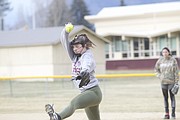 After sitting out last year's season, the Troy softball team is set to come back swinging.
Head coach Keith Haggerty said a squad of 14 girls will go to bat for the Lady Trojans, though some may not be eligible for the first couple of games.
It's a young team. Troy has one returning senior who has played on the varsity level for two years. Two juniors and one senior are returning to the roster with more limited starting experience. Haggerty has a couple of sophomores who practiced with the team last year before the pandemic ended the season.
The remainder of the team is made up of new players.
Due to the team's general lack of experience, coaches have focused on the fundamentals. When the Lady Trojans first met on March 15, Haggerty said some girls needed help with their stance at the plate or properly wielding a bat.
On March 26, two weeks into practice, Haggerty said the players were beginning to mesh. That day, the Lady Loggers began working out who would play what position. Many were thrilled by the chance to enjoy the recent good weather out on the field.
"It's been great," said Haggerty. "The kids really like getting into it and getting out here in the sun."
Senior Talise Becquart said she was pleased by the progress the team was making. Fellow senior Paige Burger said the more experienced players were trying to bring the younger girls under their wings.
"We're really trying to focus on basics this year because we do have some really good athletes," said Burger. "Most of them are very competitive, it's just the basics that are going to take us to state this year."
Sophomore Jaylee Leighty said she was a bit nervous heading into the season since she last played softball in the sixth grade. She noted that she and most of the other girls had taken advantage of open gyms to build experience in the offseason. Some girls had even joined a summer league to hone their skills.
The Lady Trojans hit the road on March 30 to play Priest River in Idaho. Considering the squad would not be at full-force for their season opener, Haggerty said he wanted to use the matchup to give the girls some game experience.
Burger and Leighty were both feeling pregame jitters going into the Priest River game. Still, they felt confident in their team's abilities.
"I think it'll go good," said Burger.
Troy came up just shy at the season opener falling 27-26 to the Spartans.
The Lady Trojans have another away game against Florence on April 2.
Above all, Haggerty said he was thankful to have a season this year.
"It just feels good to kind of feel like it's normal," he said.

---