Cuffe hands down sentence in Kendall case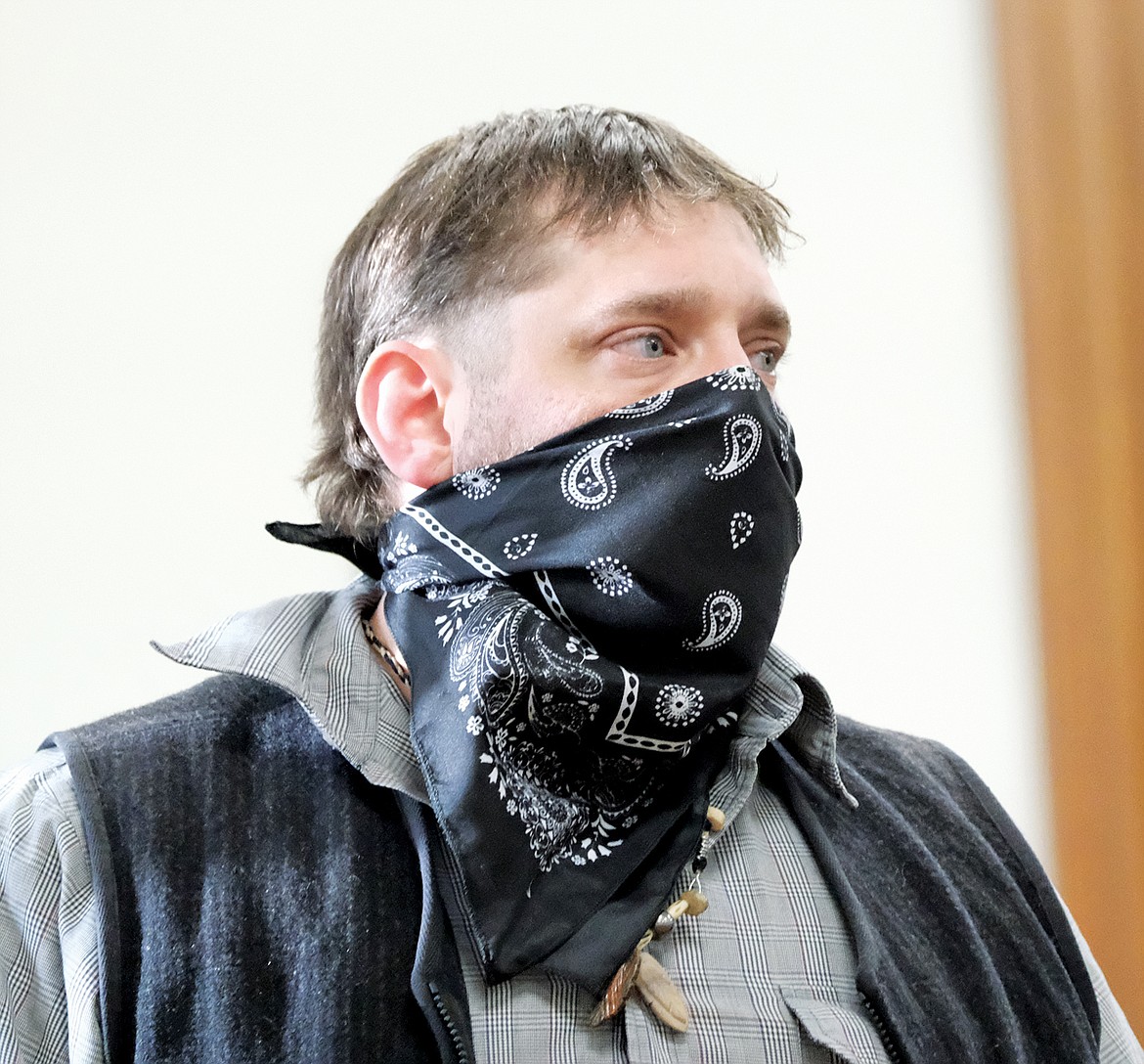 Jeremiah Kendall, 40, at a scheduled pretrial conference in Lincoln County District Court on Jan. 25. (Paul Sievers/The Western News)
Admitting that nothing could fully redress the damage wrought upon the life of Jeremiah Kendall's victim and former girlfriend, District Judge Matthew Cuffe gave the 40-year-old the maximum sentence for felony aggravated assault.
"I believe that this is perhaps clearly not a perfect punishment, but it provides for punishment," Cuffe said after handing Kendall a 20-year bid in Montana State Prison on March 29.
"It is the maximum I can do," he said.
Kendall pleaded guilty to aggravated assault and tampering with physical evidence in January, admitting his role in the brutal beating of his then-girlfriend in 2014. After a stretch of what was described heavy partying, Kendall and his mother brought the injured girl to Cabinet Peaks Medical Center.
They told doctors she suffered the wounds after falling from a table. Medical experts contacted authorities after concluding the injuries were inconsistent with the story.
According to court documents, they found 38 areas of injury to her body, including abrasions, bruising and bleeding beneath the skin.
Kendall initially stuck to his story. He later included a version where she fell a second time while in the bathroom, court documents said.
Eventually, he told investigators that he found the victim in the bathroom with a shotgun. She fell after he disarmed her, Kendall told authorities.
Investigators also accused Kendall of using the victim's mobile phone while she lay in a medically induced coma. He allegedly deleted text messages and a Facebook Messenger chat that alluded to past abuse.
Kendall was charged with the crime in 2019, nearly immediately after he finished a 30-month stint on federal charges for possessing a firearm while under a restraining order.
In the long months since, Kendall's case nearly went to trial on several occasions. In 2020, he struck a plea deal with prosecutors that would have seen him serve 10 years of a partially suspended 20-year sentence.
But Cuffe preemptively rejected the terms of the deal, saying "the contemplated sentence is going to be much harsher than in the agreement." He gave Kendall and his attorney a week to decide how to respond.
It briefly appeared as though the case would go before a jury. But in January, Kendall struck a new deal with prosecutors. A sentencing hearing, initially set for March 8, was continued until March 29.
On Monday, with the courtroom filled with the victim's family, it appeared as though sentencing would be put off again. Kendall, out on bail, appeared in court via teleconferencing software. Cuffe announced that the local health officials had placed him into quarantine after he was exposed to the coronavirus.
Hinchey initially asked to continue the case for another two weeks, well after Kendall would emerge from quarantine. While Kendall had not received a test, he did suffer from symptoms associated with COVID-19, the disease caused by the coronavirus, his attorney said.
County Attorney Marcia Boris came out against another delay.
"It's been continued and continued. It needs to be done," she said. "[The victim's family] has shown up. This is not the first sentencing hearing that they have shown up for."
After mulling the situation over, Cuffe opted to go ahead with the sentencing. He floated the idea of superseding the plea agreement slightly, by placing Kendall on house arrest immediately prior to incarceration.
When Hinchey objected, Cuffe said the defense attorney and his client could decide whether to withdraw from the agreement.
"I am of the same mindset as the county attorney's office," Cuffe said. "I think it needs to get done as soon as possible. For the family. For both families."
After checking with his client, Hinchey relented.
"He took my sister's life from her," said Terrah Messick.
The sole member of the victim's family to offer a statement at the hearing, Messick detailed the years-long ordeal. She recalled sitting by her sister's bedside in the hospital and watching as Kendall's story changed, to include allegations that the victim tried to commit suicide.
The attack left the victim suffering from long-term damage. She will spend the rest of her life living in a group home, Messick said. The multiyear legal battle, which included a civil case, tore apart two local families that were once close, she said.
More than anything, she wanted an admission of guilt and an apology to her sister and family, Messick said. Tragedy strikes, she said, but you take responsibility for your part in it.
"I know that things happen and we don't mean for them to happen. But at least take responsibility for your actions and what you've done to another person," Messick said. "I've just been waiting for an apology, Jeremiah. From you or your family."
Justice was a long time coming for the family, she said. But that pales in comparison to the lifelong sentence dealt to the victim.
"He took … who she was," Messick said. "She'll never be the same again."
For his part, Kendall offered a brief statement to the court, much of it garbled through the video conferencing software. Only the final two sentences were audible to the audience.
"I'm sorry," Kendall said. "That about sums it up."
Outside of the house arrest adjustment, Cuffe stuck to the recommended sentence.
"This is a difficult case, difficult for the parties, difficult for the families and difficult for the community at large," he said.
Kendall will serve 20 years in the Montana State Prison for aggravated assault and a 10-year suspended sentence for tampering. The sentences would run consecutively, meaning that Kendall would spend the decade after prison under close supervision.
Both terms would run concurrent to the federal sentence Kendall already is serving. Cuffe also required that Kendall pay a bit more than $323,000 in restitution, with $25,000 going to the Montana victim's fund.
Earlier in the day, Hinchey had objected to the financial portion, arguing that the civil case took care of restitution. In handing down his sentence, Cuffe said he wanted to make sure Kendall was responsible for payment.
As for the house arrest, Cuffe said that Kendall is barred from leaving the house short of a medical emergency. Even in that case, authorities would need to be quickly notified, he said.
Cuffe also barred anyone not already living in the house from entering. Kendall is to promptly surrender himself on April 9 and begin his two decades behind bars.
"If Mr. Kendall does not fix himself in that 20 year sentence, he will go back for the remainder," Cuffe said.
---