Loggers' second half rally falls short
|
September 25, 2020 7:00 AM
The Libby Loggers rallied late on the road against the Columbia Falls Wildcats on Sept. 23, but ultimately could not claw out of the hole they fell into during the first half.
"We did not have a good first half offensively," Libby head coach Neil Fuller said. "We drove the ball, but we just didn't play consistently and we just had some goofy mistakes."
The Wildcats had leads of 21-0 and 28-6 against the Loggers, but Libby fought back in the fourth to cut the margin to one score. In the final minute of the game, Libby needed to recover an onside kick but the ball bounced into the hands of the Cats.
Columbia Falls walked off the field with a 35-33 victory.
The Cats dominated the first half, scoring three touchdowns. With just over a minute left in the second quarter, Libby got a boost after blocking a punt on the Wildcats' 21-yard line. Senior quarterback Jay Beagle took advantage of the field position to earn a touchdown. The Loggers made a failed attempt at a two-point conversion, leaving the score at 21-6 going into halftime.
"If we had to do it over again we probably would have just gone for one," Fuller said. "A couple other two-point conversion tries didn't work out for us and that was the game for us."
While they dug themselves into a hole, Fuller said his squad did a great job of battling back in the last two quarters.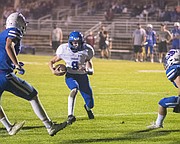 The second half opened up in Columbia Falls' favor when the Cats returned the opening kickoff 80 yards for a touchdown. After scoring a two-point conversion, the Cats led 28-6.
But Libby, adopting a double wishbone offense, fought back. They scored two touchdowns — one by junior Ryder Davis and one by Beagle — in the third quarter. Senior running back Dawson Young scored a two-point conversion bringing the score to 28-20.
The Wildcats ran the ball into the end zone once more in the fourth, while Davis and Libby senior Tucker Masters each caught a touchdown pass from Beagle. The final score came with 43 seconds left to play.
Looking forward to the Loggers' homecoming game, Fuller said he was working on his squad's execution.
"We got to put more points on the board," he said. "If the offense isn't scoring like we're capable of, that takes the air out of the defense."
The Loggers will face the Polson Pirates in their Sept. 25 homecoming match up.
---