Vikings swamp Trojans
|
September 22, 2020 7:00 AM
The Charlo Vikings pillaged the Troy Trojans 52-0 on Sept. 18.
Coming off a 76-0 defeat to the Flint Creek Titans, Troy head coach Luke Haggerty said his squad had made some noticeable improvements in the week between the games.
Following the Flint Creek game, Haggerty said he intended to work on the Trojan's tackling form. The effort paid off, he said after the home game against Charlo.
"Our gang tackling was a lot better," Haggerty said. "We were actually swarming to the ball this week, which was great."
Going into the Charlo game, Haggerty also switched the Trojans from a zone defense to man-to-man scheme. While he has generally found that running good zone coverage is the best defensive strategy for eight-man football, Haggerty said his team has fared better with a man-to-man system.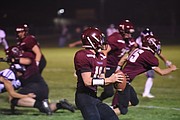 "It seemed to help … we allowed less points than we did last week," he said.
Offensively, the Trojans have continued to focus on their passing game. While sophomore quarterback Trevor Grant completed a couple 20-yard passes to junior receivers Ben and AJ Starks, the Trojans surrendered a lot of ground due to a handful of interceptions.
At the beginning of the season, Haggerty said he planned to develop his team's running game. He said the Trojans relied too heavily on their passing game in the past, citing a statistic that Troy threw the ball during 75 percent of plays the year before.
"It seems like that happens every year where your goal is to run the ball and by halftime, you realize it's not going to work and then you're gonna have to pass," he said after the Charlo game.
Going forward, though, Haggerty said he intended to deploy the Trojan's running game more often. While he conceded that sophomore quarterback Trevor Grant made a few poor decisions on the field against Charlo, Haggerty said mistakes were bound to happen with younger players. The potential for Grant to turn into a standout is there, he said.
"Trevor — that kid is a baller ... He always gives 110 percent," said Haggerty. "I'm so glad he's only a sophomore and I get him two more years."
Following the Charlo game, Grant said he felt good about the Trojan's chances in their upcoming road game against Clark Fork.
"If we can get our [offensive] line to hold a couple more blocks and give me more time, we could be a hell of a team," Grant said.
As the Trojans prepare to face Clark Fork, Grant said he plans to focus on sweep plays to round out Troy's running game.
Senior left tackle Jace Fisher, who has committed to play at Montana State, said the Trojans still need to focus on the little things.
"We're still a smaller team, a younger team but we're coming up and we're getting better," Fisher said.
While the Trojans recently gained two players, the squad has struggled with a short roster since the start of the season. Haggerty said he expected to field at least 25 players. Only 13, however, showed up for the first day of practice.
The team's small size has meant that many Trojans have to spend much of the game on the field. In their season opener against Arlee, the team had to fight through a series of injuries. Despite the Trojan's efforts to hydrate throughout the game, Haggerty said that his squad fell victim to cramps in the second half.
When facing off against Flint Creek on Sept. 11, Haggerty said his roster was so limited that Troy had trouble fielding enough players to complete their warm-up drills.
The upcoming away game against Clark Fork will be held Sept. 25.

---