Firefighters begin to contain Callahan Fire
Officials with the interagency group tasked with fighting the Callahan Fire put the blaze at 1,276 acres on Sept. 21.
The containment rate of the fire, which is burning 12 air miles from Troy in the South Callahan Drainage, was set at 37 percent.
Authorities with the Northern Rockies Incident Management Team said firefighters were able to increase the containment percentage over the weekend thanks to favorable weather and minimal fire activity.
Six crews, totaling 357 firefighters, were fighting the blaze on Sept. 21 using eight engines, three water tenders, seven pieces of heavy equipment and three helicopters.
As smoke from blazes in neighboring states cleared, firefighters were able to identify and extinguish areas with latent heat in the south area of the fire. Officials said a hotshot crew will continue looking for opportunities to construct a line directly along the fire's northwestern edge on Sept. 21. Firefighters will monitor activity and maintain hose lays in the northeastern region of the blaze which is still holding heat.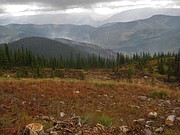 Officials expected fire's creeping and smoldering behavior to continue and contribute to minimal growth.
With the skies clearing over the weekend, officials were able to get a better estimate of the fire area. While the fire was set at 1,676 acres on Sept. 19, officials revised the figure to 1,276 the following day.
The 0.2 inches of rain received on Sep. 19 also helped temper the fire behavior according to officials.
Forest Service officials have closed Callahan Creek Road from the junction with Ruby Three Mile Road, Snowstorm Road, South Fork Callahan Creek Road, Goat Creek Road, Smith Mountain Road and Glad Creek Road. Trail closures include Goat Creek, South Fork Callahan, Smith Mountain, Smith Lake, Roberts Mountain, Caribou Creek and North Fork Callahan.
An engine crew headed up Smith Mountain on patrol spotted the Callahan fire Sept. 8. Concentrated in a burn scar from 1992, the blaze reached 1000 acres by Sept. 12.
Forest Service officials said the fire was human-started. While Justin Erickson, former incident commander, said the blaze likely originated from a campfire at the base of Smith Mountain the investigation into the ignition source is still ongoing.
---