Chainsaw carving competition draws global crowd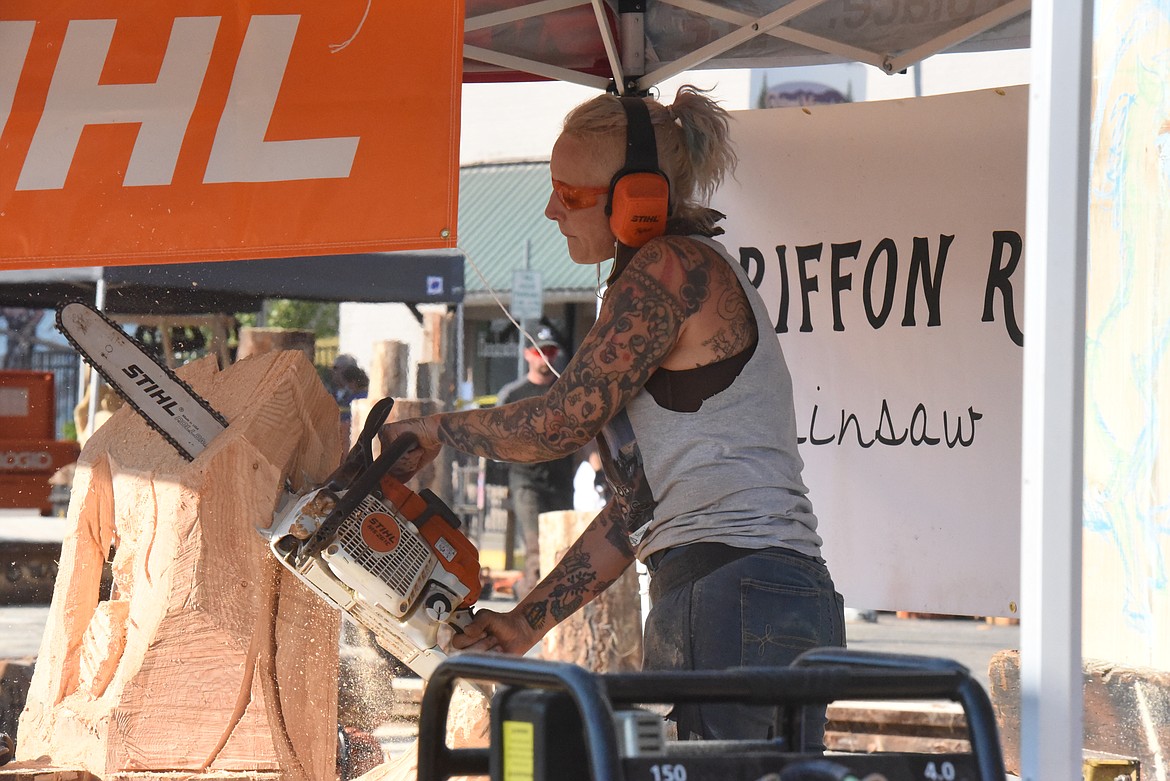 Griffon Ramsey, an Austin-based artist, works on her mermaid sculpture during the Kootenai Country Montana "Clash of the Carvers" event. The chainsaw carving competition drew sculptors from around the globe.
Will Langhorne/The Western News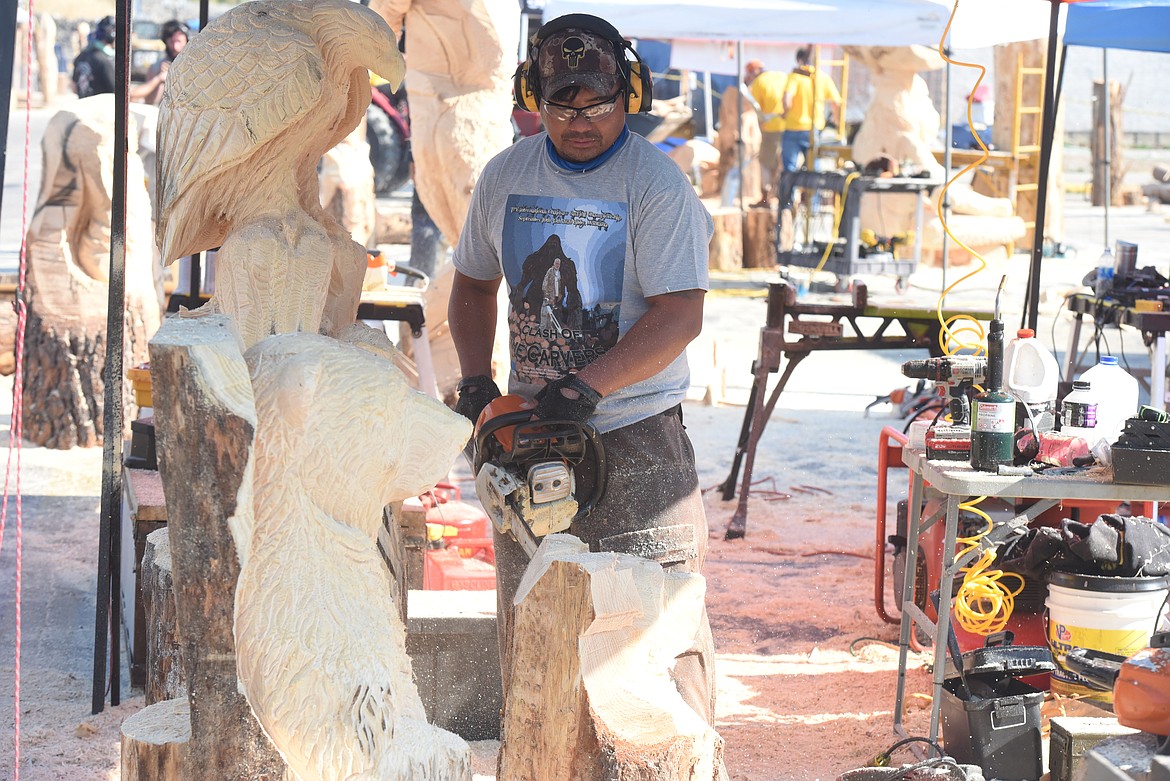 Fernando Dulnunan, an artist who immigrated to Oklahoma from the Philippines, works on his carving at the Kootenai Country Montana "Clash of the Carvers" event on Sept. 11. The chainsaw carving competition drew sculptors to Libby from around the world.
Will Langhorne/The Western News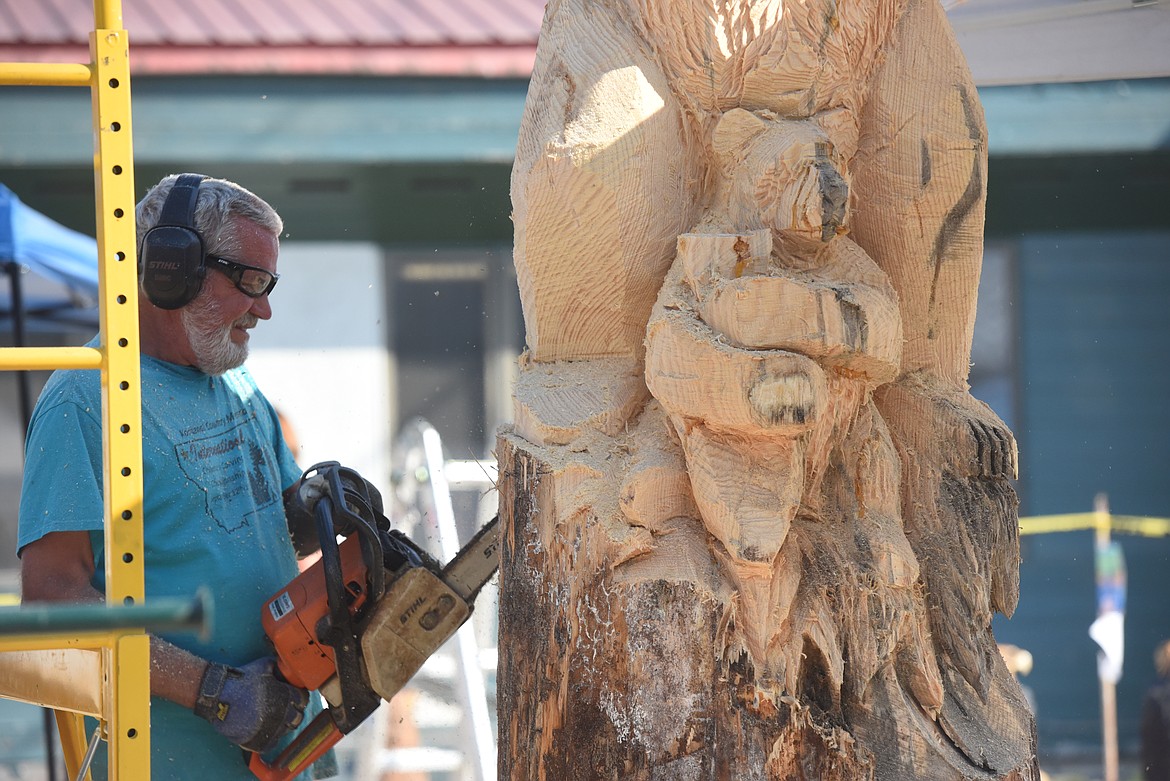 Todd Coats, and Montana-based artist, wields his saw the Kootenai Country Montana "Clash of the Carvers" event on Sept. 11. The chainsaw carving competition drew sculptors to Libby from around the globe.
Will Langhorne/The Western News
Previous
Next
Enveloped in a haze of wood dust and the roar of her chainsaw, Griffon Ramsey was in her element.
Her eyes stayed steady while splinters glanced off her protective glasses. Cut by cut, she brought her chunk of wood closer to the vision guiding her saw: a mermaid diving for a pearl.
Ramsey was one of nearly 20 chainsaw carvers Kootenai Country Montana invited to showcase their talents at the fourth annual "Clash of the Carvers" competition.
The event kicked off at 8 a.m. on Sept. 10 at the base of Mineral Avenue. The whine of single-cylinder engines continued throughout the weekend as the artist hewed away at their creations. On Sunday afternoon, organizers held a final auction and award ceremony.
Catering to such a niche art form, the carving event drew competitors from as far as Mongolia and Zimbabwe. Some came for the high price tags that masterpieces draw at auctions. Others said they were there because they appreciated the cathartic effects of hacking at wood with a gas-powered blade.
Ramsey said she felt empowered when wielding a chainsaw to create art.
"It was really the most satisfying thing I've ever done creatively," the Austin-based artist said of the first time she tried carving. "It made me feel really strong."
As a child, Ramsey said she was captivated by her grandfather's whittling skills. While she went on to study theater and film in college, her interest in woodworking didn't stay dormant long. In 2011, the chainsaw wielding characters in the Gears of War video game series inspired her to create a carving of the game's logo. The sculpture was meant to be one-off to promote her YouTube channel, but Ramsey said she was hooked after making those first cuts.
"It's super addictive," she said.
While she lives in Texas, Ramsey has carved competitively in Japan, France, Scotland and beyond. By meeting other sculptors at these events, Ramsey said she became part of a tight-knit global community of chainsaw artists.
"We have this network of couches around the world to sleep on," she said. "We become buddies because who else are we going to talk to about this."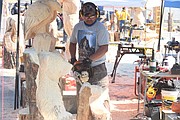 A few stalls over from where Ramsey was shaping her mermaid, Alex Pricob, an immigrant from Moldova, was hewing a bench stylized with a flying eagle and a jumping bison.
Growing up in Moldova, Pricob said he got into art through oil painting and wood chiseling. He even began to make a name for himself on the international art market by selling paintings in the U.S. When he moved to Washington in 2007, however, he said he had to put aside his artistic career to support his family.
"I couldn't speak English," he said. "That was my biggest problem."
While he overcame this hurdle, Pricob said he had to work janitorial and construction jobs. Surrounded by chainsaw sculptors in his new home state, however, he saw a chance to redirect his creative drive while still caring for his family.
"The patience and the love I have for art got me into [carving]," he said. "Plus … the money. There's good money in this business."
Pricob has made a full-time career out of carving by competing in events and taking commissions at his workshop.
Although his origins differ significantly from Pricob's, Salt-Lake-City-based carver Damon Gorecki said he got into chainsaw sculpting for many of the same reasons.
"Oil work went down," he said. "Too many welders."
Looking for a way to spend more time with his family while still making enough to support them, Gorecki decided to trade in his torch for a chainsaw around ten years ago. At 33 years old, he is now one of the world's foremost carvers, recently having taken third place in a world championship event in Canada. His towering sculpted benches are now considered icons in Provo, Utah, and Evergreen, Colo.

"I like to build landmarks," he said. "Stuff you can't miss."
Two stalls down from Gorecki, Mongolian carver Dorjsuren Lkhagvadorj was shaping a bighorn sheep out of his log.
Up until a few months ago, Dorjsuren wasn't expecting to be in Libby for the carving event. In February, he traveled to Fairbanks, Alaska to compete in the World Ice Sculpture Championship. When the event ended in March, Dorjsuren said officials had already closed borders due to the COVID-19 pandemic.
"This way I can't go back to home," he said.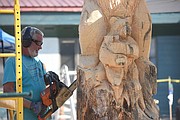 Making the best out of the situation, Dorjsuren decided to extend his carving tour by coming to the Kootenai event.
Bongo Love, a Zimbabwean sculptor, also had to travel a long way under uncertain circumstances to participate in the event. A second-year competitor at the Libby showdown, Love said he returned to learn new skills and gain inspiration from the other artists.
Like many of his fellow sculptors, chainsaw carving wasn't the first art form he picked up. Love said he began his career as a stone sculptor and went on to shape wood with a homemade adze.

For this year's creation, Love carved a pair of slender cranes wrapping each other in an embrace. His inspiration, he said, came from his last name.
"I got to spread the love," he said before going back to his carving.

---