Air quality hazardous as Callahan Fire grows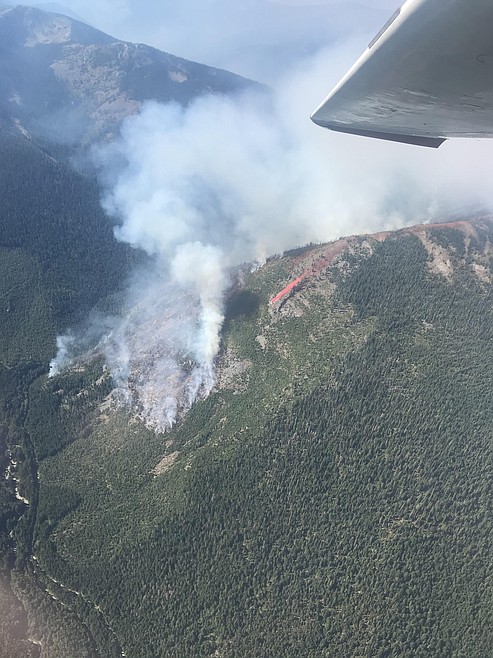 (U.S. Forest Service photo)
by
DERRICK PERKINS
Daily Inter Lake
|
September 13, 2020 10:33 AM
Air quality in Libby and Troy fell to hazardous levels as the Callahan Fire grew to about 1,000 acres on Sept. 13, blanketing Lincoln County in a hazy layer of smoke.
U.S. Forest Service officials said that the wildfire grew by about 600 acres on Sept. 12. They attributed the fire's rapid expansion to dry conditions, spotting and dry, south-facing slopes. Southwesterly winds, which grew to between eight and 11 miles per hour, also contributed to its growth.
The fire is located inside a burn scar dating back to 1992 and burning in a north and northeasterly direction.
Federal authorities have brought fire crews, engines, excavators, water tenders and a masticator to the scene. Aircraft, when visibility allows, are aiding the effort.
Smoke from the fire began settling over Libby in increasingly heavy layers on Saturday morning. By mid-afternoon, the peaks of the Cabinet Mountains were no longer visible from town and ash occasionally fell from the sky. By the morning of Sept. 13, the sun appeared only as a pale, orange orb through the haze.
Poor visibility also hampered officials' ability to get an estimated size of the fire Sept. 13.
Officials have deemed air quality hazardous and recommend residents avoid any physical activity outdoors. Individuals considered vulnerable — older adults, children and those suffering from heart or lung disease — are asked to remain inside and limit activity.
The level of air quality is known to aggravate heart or lung disease and may result in premature death among vulnerable individuals.
No evacuation orders have been issued for Libby or Troy, but officials closed several roads on Sept. 12. South Fork Callahan Creek Road, Goat Creek Road, Smith Mountain Road and Glad Creek Road remain closed as well as Caribou Creek Trail, South Fork Callahan Trail, Smith Mountain Trail and Smith Lake Trail.
The fire began about 2:45 a.m. on Sept. 8, roughly nine miles from Troy on the south side of Smith Mountain.
---