Kendall pleads guilty as part of deal with prosecutors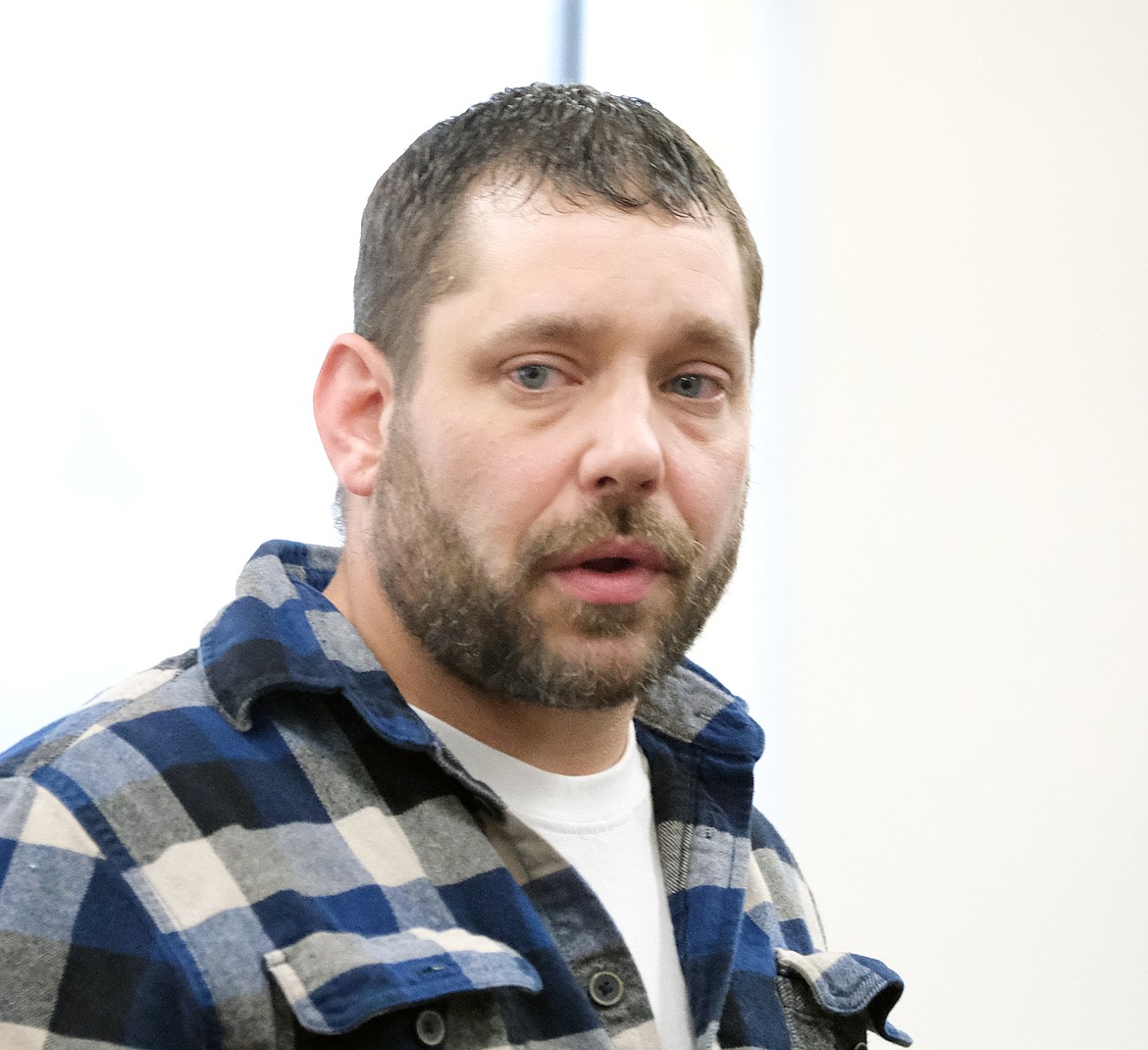 Jeremiah Kendall in Lincoln County District Court. (Paul Sievers/The Western News)
by
DERRICK PERKINS
Daily Inter Lake
|
September 11, 2020 7:00 AM
Jeremiah Kendall entered a guilty plea to felony charges stemming from the brutal 2014 beating of his then-girlfriend in Lincoln County District Court on Sept. 8.
As part of an agreement with prosecutors, Kendall pleaded guilty to aggravated assault and tampering with or fabricating physical evidence, drawing gasps from the small crowd inside the county courthouse.
In return, prosecutors recommend he serve 10 years of a partially suspended 20-year sentence for the first charge and receive a suspended 10-year sentence for the second. The sentences are to run consecutive to each other, under the terms of the deal.
Authorities arrested Kendall after a woman showed up in the emergency room of a local medical center suffering from serious head injuries in December 2014. Kendall and his mother had brought the woman in and told facility staff that she had fallen some 36 hours prior while intoxicated, according to court documents.
But medical officials deemed the injuries were inconsistent with a fall. They alerted authorities after finding 38 areas of injury to her body, including bruising, abrasions and "petechiae," which can indicate bleeding beneath the skin as a result of trauma.
During an interview, Kendall initially told investigators that the victim had fallen off of a table while dancing. She fell again in the bathroom, Kendall said, according to court documents.
He later changed his story, telling authorities he had found her in the bathroom with a shotgun in her mouth. She fell after he disarmed her, Kendall told authorities, according to court documents.
Authorities also accused Kendall of trying to cover up his tracks afterward. Using the victim's phone while she was in a medically induced coma, Kendall deleted text messages and removed a Facebook Messenger conversation describing past abuse, according to court documents.
Authorities brought Kendall up on the Lincoln County charges in 2019 after he completed a 30-month stint in federal prison. He had pleaded guilty in federal court to possessing a firearm while under a restraining order.

Kendall initially pleaded not guilty to the Lincoln County charges and his case was set to go to trial in October. He was in court for a scheduled pre-trial conference this week when his attorney announced the plea deal.
Defense attorney Sean Hinchey had filed a motion to prevent the county attorney's office from using prior bad acts on Kendall's part in the case. Hinchey told the court that the plea deal was struck after he learned District Court Judge Matthew Cuffe planned on denying the motion.
Kendall appeared in court from the Lincoln County Detention Center via video. He has been in custody since admitting to release violations in August. According to court documents, Kendall admitted to drinking beer, using methamphetamine and consuming marijuana to his probation officer. He had been out on a $100,000 bond pending the trial.
During the conference, Hinchey walked Kendall through the basics of the accusations against him. When he asked Kendell whether it was true he "knowingly caused serious bodily injury to [the victim]," Kendall answered by saying, "yes," drawing more gasps from those in attendance.
Cuffe accepted the guilty pleas and scheduled Kendall's sentencing for Oct. 19. He reminded the court that he is not bound by agreement struck between the defense attorney and county prosecutors when sentencing Kendall.
Aggravated assault is punishable by up to 20 years in prison and a $50,000 fine. Tampering with or fabricating physical evidence can carry a maximum punishment of 20 years behind bars and a $50,000 fine.
---