Commissioners review Election Day plan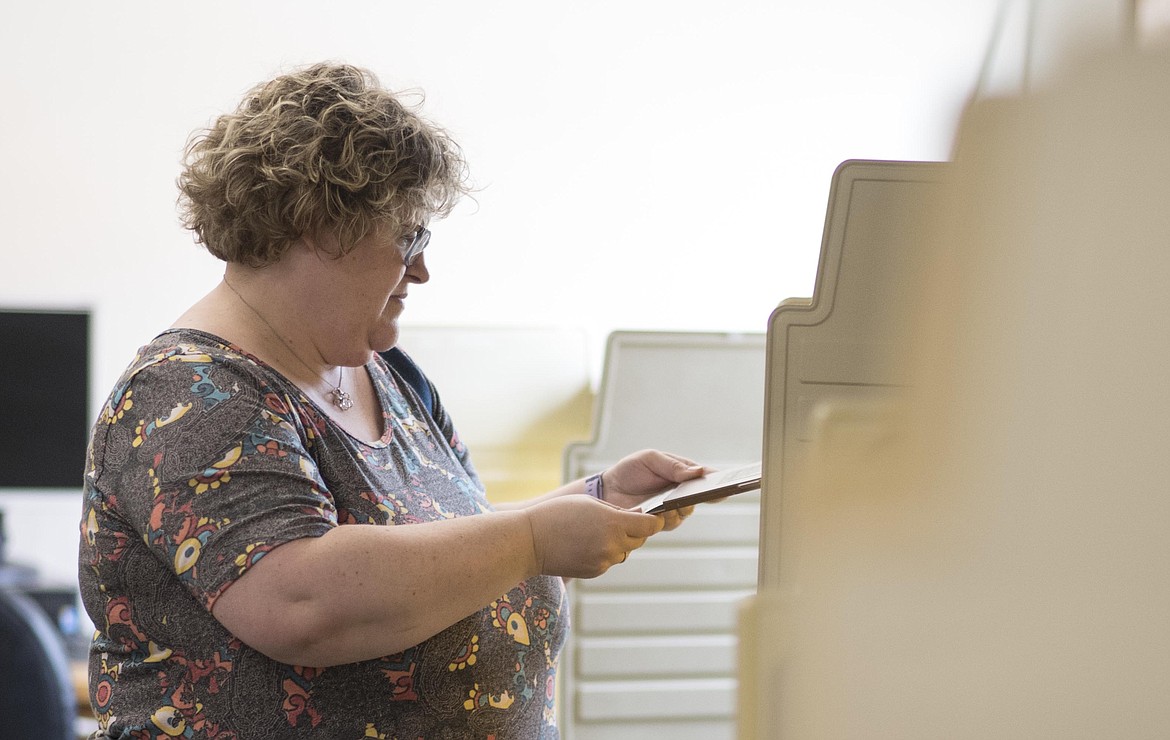 by
WILL LANGHORNE
The Western News
|
September 11, 2020 7:00 AM
After receiving state approval to conduct mailin voting, Lincoln County officials are reviewing plans for the November election.
Election Administrator Chris Nelson outlined his plan with the board of county commissioners during a meeting on Sept. 9, the last day that they could reject mail-in voting. Commissioners took no action, meaning that voters now have four options for casting a ballot on Nov. 3.
Under the mail-in plan, residents will be allowed to vote by mail, absentee ballot and in-person at two polling stations or at multiple drop-off locations. Voters also can deposit their ballots at the drop-off locations prior to Election Day.
Nelson submitted the plan to the Office of the Montana Secretary of State on Sept. 4 after talking it over with commissioners individually the day before.
Commissioner Mark Peck (D-1) said he liked the flexibility of the plan. In the case of a statewide shutdown or an uptick in coronavirus cases, Peck said a traditional election process would disenfranchise voters who avoid polling stations out of concern for the virus.
"This gives everybody a ballot and the opportunity to vote how they want to," he said.
Under the plan, active voters in the county will be sent a ballot by mail on Oct. 9. At the time of the meeting, Nelson said there were 11,859 active voters in the county. Nelson said that inactive voters could cast ballots at one of two polling places: the county courthouse in Libby and the North Lincoln County Annex in Eureka. Staff at both locations can register voters and issue ballots.
Voters are considered inactive if they did not vote in the last federal election and did not fill out a subsequent confirmation form mailed out by election officials. The Libby office would be open throughout the election, according to Nelson, while the Eureka polling station will be open from 7 a.m. to 8 p.m. on Election Day. Nelson said he would open the Eureka location on Oct. 22 and 29 from 8 a.m. to 5 p.m. to reduce the number of voters on Election Day.
For Nelson, operating the satellite office in Eureka is critical. Voters in north Lincoln County would otherwise have to travel to Libby if they have a problem with their ballot and need to be reissued one. According to Nelson, there are almost 4,000 active voters in the Eureka area. Nelson told county commissioners that officials will use the Ballot on Demand program at the Eureka office. According to Nelson, Missoula County and many tribal governments use the system to seamlessly void and reissue ballots. Dollars provided through the Coronavirus Aid Relief and Economic Security Act will help pay for the printer and laptop needed to deploy the system. Nelson said the cost to the county would come to about $1,556. Peck pointed out that the on-demand system could be used in Eureka during subsequent election cycles. In addition to the polling stations, Nelson said election officials would be operating drop off locations where residents could deposit their ballots in-person. Nelson said that the drop off sites differ from traditional polling stations in that election officials there cannot issue ballots or register voters.
Nelson said these drop off locations will be at Lincoln County libraries in Troy and Eureka, the Trego-Fortine-Stryker Fire Hall, and the Fisher River Valley Fire Hall from 7 a.m. to 8 p.m. on election day.
While he is only required by law to post two election officials at each drop off location, Nelson said he intends to staff them with four workers.
As in years past, voters can deposit ballots at drop boxes in Troy City Hall, the Law Enforcement Center in Eureka, the North County Annex in Eureka and the Lincoln County Courthouse. The drop off locations will also have deposit boxes. These drop sites will be open as soon as ballots are available. Nelson said officials plan to check them every week.
Commissioner Jerry Bennett (D-2) urged residents to drop off their ballots if possible. He was concerned about the ability of the U.S. Postal Service to handle mail on time.
"I've had a couple letters that took six months mailed from the Yaak to Libby," he said.
Nelson said he would like to include a letter along with ballots he will mail out on Oct. 9 explaining the process. He said this option would cost the county significantly less than organizing a separate mailing campaign.
After reviewing the plans, Peck complimented Nelson for successfully stepping into his role in the midst of such a complicated election. Nelson took the job after former election administrator Leigh Riggleman stepped down at the end of August.
"The amount of research, the amount of coordination you've done with other counties and the amount of time you spent with [the commissioners] to help us understand all the ends and outs, I just want to commend you for that," Peck said.
---