Allegations of unsanitary, unsafe living conditions emerge at local trailer parks
by
WILL LANGHORNE
The Western News
|
September 11, 2020 7:00 AM
The owner of two Libby trailer parks is facing charges for unsanitary living conditions at one of his properties.
Authorities indicted Bob Payne, 81, for violating a litter ordinance, a community decay prohibition and wastewater regulations in Lincoln County Justice Court. The case sprung from a series of health department inspections of Payne's trailer park at 474 Park Street starting in November 2019.
Officials documented trailers with missing windows, debris strewn across the park and an improperly connected septic system that appeared to be leaking raw sewage, according to court documents. After he failed to correct the violations, county attorneys opened the case against Payne.
But residents of 474 Park Street and 106 Three Corner Road, Payne's second trailer court, allege the county case only scratches the surface of their landlord's offenses.
Tenants said Payne has put them in trailers without power or plumbing. Many reported enduring winters in uninsulated and unheated mobile homes.
Two alleged their homes caught on fire owing to faulty wiring or improperly installed appliances.
When preparing to move in, some residents said they found their homes in such a state of disrepair that they had to spend thousands of dollars fixing roofs, leveling floors and replacing furniture. Payne refused to cover these costs, according to many residents.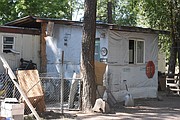 Jen Rands, a five-year resident of the Park Street trailer court, alleged Payne has repeatedly denied maintenance requests. A tour of the trailer she said she rents from him supports her claims.
Inside the mobile home, spliced wires curled down from the ceiling. Rands said she found out they were live "the hard way."
She pointed out the water heater, which she said has overheated and caught on fire.
"You got to press this red button right here. Sometimes it's like Russian roulette," Rands said "That's 220 [volts]. Sometimes it'll get you."
Beside the heater is her trailer's fuse box. Rands said she doesn't know what's wrong with it but occasionally it will catch fire too. Naturally, she said, many of her plugins don't work.
An overhead light mounted above her kitchen was burned black. Between the light, the water heater and the fuse box, Rands claimed her mobile home has caught on fire at least three times since last October.
Rands said her trailer lacked insulation. But insulation wouldn't be much use given the holes in the walls of her mobile home. To cover the gap between the main living space of her trailer and an addition, Rands nailed up a piece of carpet. In the living room, a perforated metal sheet imperfectly spans an old doorway. Rands said her heater, which has an unhinged door and a severely bent chimney, does not work.
"I survived last winter, it was really hard," Rands said. "This winter is going to be rough."
Terrie Person, who has rented a trailer for more than four years at the Three Corner Road park, claims she has asked Payne multiple times for maintenance on her mobile home without receiving help.
"We don't even trust handing him money," Person said. "We don't know where it goes," Among the problems she has faced, Person alleged that she has had sewage come back up through her shower because of a malfunctioning underground pump.
"There were actual sewage pieces coming up through there," she said.
When she went to Payne to ask for help with the issue, Person alleged he told her to take care of it on her own.
Payne acknowledged in an interview this week that sewage leaks have occurred in his parks. He said, though, that he would fix any septic problems that were brought to his attention.
In response to the allegations of his lax maintenance policies, Payne said his trailers "don't get kept up very good because there's quite a few people that don't pay rent." "I've had people that think they can just live there and they do considerable damage to the trailer," he said. "I'm not going to get all excited about fixing it."
Shane Ellison, who has lived at the Three Corner Road park for just over a year, claims he had to put $600 into the trailer he was renting to make it livable. While he received help from Payne for dealing with his water heater and a portion of his flooring, Ellison said he had to replace his light fixtures and carpeting out of pocket. He said he had yet to replace his walls. Ellison alleged that Payne has refused to sell him the trailer or pay him back.
Heather Marx and her daughter Ashlee Ellsworth, claimed they put $3,000 into renovating a trailer Ellsworth was renting from Payne. When she moved into a Three Corner Road mobile home six months ago, Ellsworth allegedly found that the roof leaked and mold was growing inside.
"I started asking for stuff and he kept going no, no," Ellsworth said.
The two said they had to purchase appliances out of pocket including their cook stove and refrigerator. After overhauling the interior, Ellsworth said the cupboards were the only original furniture left in the kitchen. Marx said she and her daughter still had another room in the trailer left to redo. Recently, one of Bob Payne's sons has provided them with some assistance, Marx said.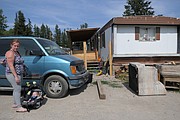 Ellsworth admitted she shouldn't have rented the trailer in the condition that it was in, but said she was pregnant at the time and needed a home. When she asked Payne if she could have the title for the trailer after all the work she and her mother put into it, Ellsworth alleged he told her she could see him in court.
Payne said he didn't think anyone of his tenants put much money into fixing his trailers and that if they were to take maintenance upon themselves, "it might not be what I even want them to do."
In some cases, though, Payne said he has made arrangements with tenants.
"Sometimes, if a trailer is a mess and they want to go in there and fix it, that's OK," he said.
The arrangements were never formal, Payne said, but he would give the tenants a few months free of rent in exchange for fixing the trailers.
David Fisette, a former resident of the Three Corner Road park, claimed a trailer Payne rentedto him was in such poor condition that he had to move into a camper he parked on the lot. Fisette alleged the trailer's windows were broken, its wiring was scraped and its air vents were clogged with dog feces. The plumbing in the trailer did not work because the septic system was broken and leaked sewage on the lot, according to Fisette. Ellison, who was one of Fisette's neighbors, confirmed there was a broken leach line coming from the trailer. Brian Howe, another resident of the park, said a nearby septic tank was connected to five trailers when it was meant to service no more than three.

Fisette claimed he made the move after another trailer he rented from Payne burned down in October 2018. A wood stove improperly installed by a previous tenant caused the fire, according to Fissette.
"I lost everything in the fire," he said.
Payne said he could not recall one of his trailers burning down.
When asked about Payne's negligence, some residents of the trailer park attributed it to his old age. Diana O'Malley, who has known Payne for 40 years, said that Payne fell in with the "wrong people in town." Being so old, Payne had let these people manipulate him, according to O'Malley.
"I love Bob. He's a great guy," she said. "He's helped a lot of people."
Despite her friendship with Payne, O'Malley said she has had her own share of problems in dealing with him as a landlord. When she moved into the park almost three years ago, O'Malley alleged she had to put $3,000 into her new home before she could move in. Although she said she had an agreement with Payne as she owed him money, she felt he held it against her.
Among the fixes she made to her mobile home, O'Malley said she had it leveled as one side was off by three and a half inches. She said she also had to treat a blackened carpet with multiple rounds of chemicals, fix her roof and repair the stove. Last July she agreed to purchase the trailer from Payne for $10,000 if he fixed the power on one side of her house.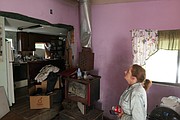 More than a year later, he still hadn't made the repairs, she said.
To help Payne with his upkeep of the Three Corner Road Park, O'Malley said she and another resident volunteered to act as assistant managers of the court. She said she was particularly concerned about drivers speeding through the park at up to 30 miles an hour. After about a month, though, O'Malley said she had to step down because Payne would not support her.
"Without any authority from him, we were getting nowhere," she said. "I told Bob as soon as someone hits one of those kids, you're going to be held accountable."
Multiple residents have alleged that Payne has asked them for sexual favors in exchange for financial help. Payne vehemently denied this.
Jen Rands claimed when she fell into dire straits last October, Payne offered help in exchange for favors. Ellsworth said that when she needed bail, Payne offered to pay it in exchange for favors. Ellsworth also said Payne made requests when she was 18 years old.
Payne's case is set to go to trial Oct. 5 in Lincoln County Justice Court.
---