Child trafficking awareness rally draws small crowd
|
September 8, 2020 7:00 AM
A demonstration held to raise awareness about the danger of child trafficking drew a small but dedicated crowd to the sidewalks abutting U.S. Highway 2 on Sept. 5.
Around 20 men, women and children lined either side of the street near Moody's, waving signs at passing cars with slogans including "Hands off our Kids."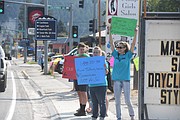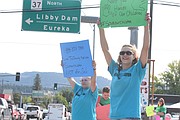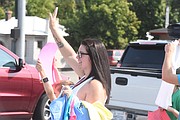 Twyla Burger, the event organizer, said she decided to hold the demonstration after an Aug. 29 Facebook post she made about child trafficking started gaining traction. While Burger said she initially wanted to close the street for a march, she settled for an 11 a.m. to 2 p.m. rally on the sidewalks. She said she came to the decision after hearing from state officials about the lengthy process involved in blocking off a highway.
After raising $560 in donations, Burger said she bought 60 adult and 20 children's t-shirts emblazoned with the movement's slogans from The Twisted Turtle.
As she gave the shirts away for free to passing drivers, Burger said she hoped the event increased awareness about child trafficking.

"There are children missing every day," she said.
While she had not looked into any cases of child abductions in Lincoln County, Burger was sure she would be able get online and "pull up crazy amounts of statistics." Burger said though that even these numbers would be hard to trust in an age of misinformation.
Burger acknowledged that many groups, including the QAnon conspiracy movement, are associated with the #SaveOurChildren hashtag that she used to promote her demonstration. Her only intention in organizing the event, she said, was to help stop human and child trafficking.
"It's a touchy subject … and I'm not here to ruffle people's feathers," Burger said. "They can take what they want from it."
Other demonstrators, however, were more sympathetic to the fringe groups associated with the movement.
"I love QAnon," said Dusty Jo Spoonmore.
Jaden Ueland, who voiced concern for his little brother's safety, said he was also a follower of QAnon. Jana Gray, who was demonstrating with Spoonmore, said she was reading up on the movement.
QAnon is a widespread conspiracy theory, which the FBI identified as a potential domestic terror threat last year. The movement alleges that President Donald Trump is secretly battling a cabal of Satanist child abusers in government, entertainment and the media, according to NBC News.
Since early August, use of #SaveTheChildren and #SaveOurChildren hashtags has spiked across social media platforms. Of the millions of users promoting these hashtags, most belong to groups related to QAnon according to an NBC investigation.
Spoonmore said she joined the demonstration to raise awareness for child abduction in the area.
"People think it doesn't happen in a small town and it does," she said. "I want our community to come together and watch out for each other and our children."
While Spoonmore referred to data from the United Nations Children's Fund about human trafficking, she could not list a specific case in the region. Spoonmore said that mask requirements during the coronavirus have aggravated the situation by made it difficult to identify pedophiles.
Going forward, Burger said she would like to organize more events to raise awareness for child and human trafficking.
---