Suspected arsonist arrested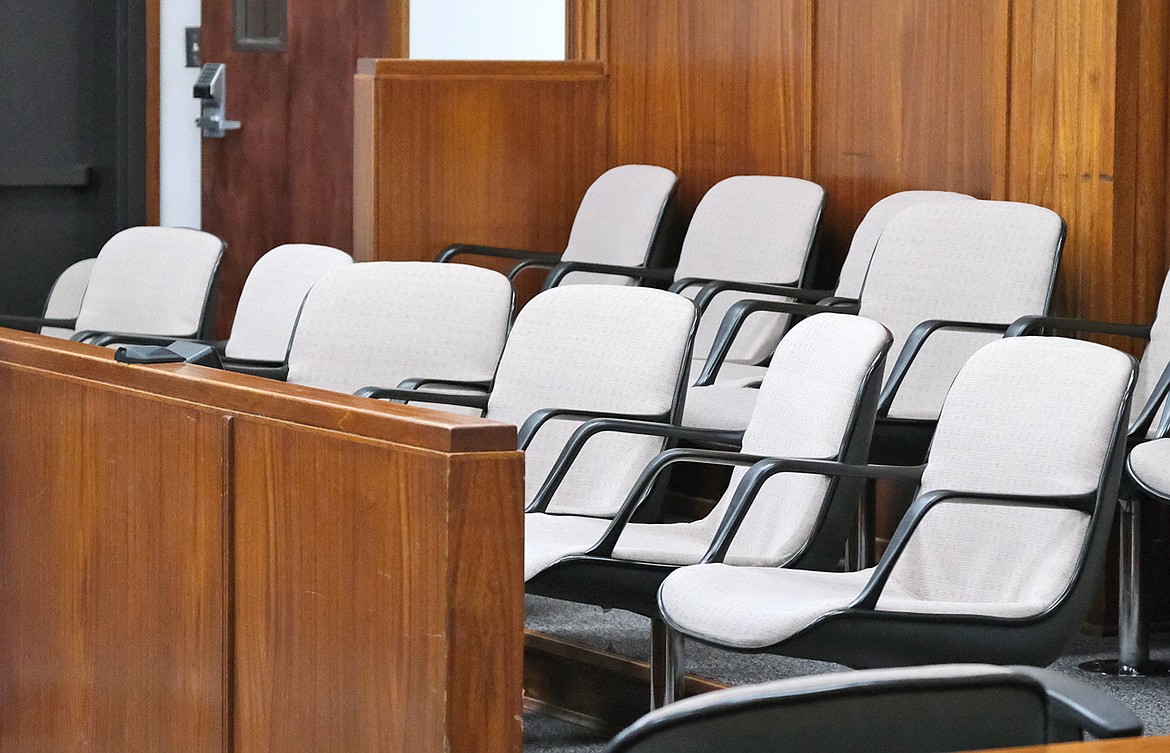 Lincoln County District Court.
by
WILL LANGHORNE
The Western News
|
September 4, 2020 7:00 AM
After recording an unusually high number of human-started fires this year, Lincoln County law enforcement officials have arrested a suspected firebug with a fixation on the end of the world.
Leroy Morris, 67, of Eureka faces six counts of arson. Judge Jay Sheffield of Lincoln County Justice Court set Morris's bail at $750,000 on Aug. 31. Sheffield also ordered that he be fitted with a GPS tracker before release.
Lincoln County Sheriff's Office Deputy Bo Pitman, who arrested Morris on Aug. 29, wrote in an affidavit that first responders dealt with 11 human-made fires in northeastern Lincoln County in July and August.
Over the past two months, authorities had multiple run-ins with Morris, leading them to conclude he was behind the arson cases, according to Pitman's affidavit.
Morris came to the attention of law enforcement first on July 22, court documents said. Eureka Health Clinic staff members contacted authorities concerned that Morris, who was intoxicated and had firearms in his car, would drive home drunk. The responding police officer gave Morris a ride. During the drive, Morris "expressed extreme views," including fears that the world was ending.
Law enforcement had another run-in with Morris on July 27 after neighbors alleged he had set up a gun range on his property and was shooting in an unsafe direction. Morris agreed to change the setup of his range after an officer contacted him, according to the affidavit.
While responding to a fire near Sinclair Creek and Pomeroy Trail early in the morning of Aug. 11, fire crews reported that Morris showed up at the scene. According to Pitman's affidavit, Morris expressed "extreme views" to the firefighters. A deputy who responded to the fire found an oil filter with burnt paper at the scene.
About 1 p.m., Aug. 14, residents near Therriault Pass Road heard someone yelling, shooting firearms and using chainsaw near the edge of their property, according to court documents. Upon further inspection, they found Morris, who began yelling at them. At one point, Morris leveled his pistol and told them to "get the hell out of there," according to Pitman. Morris fled before deputies arrived on scene, but the residents showed the provided a photograph they took of him.
According to Pitman's affidavit, authorities believe Morris was responsible for a similar unreported incident that occurred nearby the day prior.
On Aug. 15, law enforcement visited Morris's residence around noon to ask him about the disturbances. His wife said that he was in the Wolf Creek area gathering firewood and would not be back until the evening, according to court documents. That morning, Eureka dispatch received a wildfire report near Wolf Creek.
Around 3 p.m, Morris called law enforcement officers and said he could meet with them. Morris told a deputy that he had been in the Wolf Creek area that morning, according to Pitman's affidavit. While Morris admitted confronting the residents near Therriault Pass he denied having pointed a gun at them. He told the deputy that he kept a pistol in hand during the encounter and that "in these times" he was carrying more guns.
Morris said that he was tired of people confronting him on public land, where he felt he had a right to be. Morris also told the deputy he was sick of people acting like they own everything and talked about the world coming to an end.
According to Pitman's affidavit, Morris asked the deputy if he could burn his slash piles and wondered about burning within a fire ring.
On the morning of Aug. 19, authorities responded to a fire about 100 yards from where Morris allegedly pointed his gun at the Therriault Pass Road residents. The deputy who responded found a paint can filled with flammable materials, court documents said.
Early in the morning of Aug. 21, a border patrol agent spotted a forest fire near state Highway 37 and Camp 32 Road. According to Pitman, the fire appeared to be human-started and several glass bottles with accelerants were found nearby.
The information authorities gathered from July 22 to Aug. 21, proved enough for deputies to secure a warrant to monitor Morris.
At around 10 p.m. on Aug. 28, authorities reported that Morris left his house and drove up U.S. Forest Service Road 7069 a short distance. A deputy drove to where Morris stopped and found a fire climbing two fir trees. Three bottles were found nearby, according to court documents.
The following day, authorities arrested Morris during a traffic stop without incident, Pitman wrote in his affidavit.
Chad Benson, Kootenai Forest Supervisor, told county commissioners during a Sept. 2 meeting that authorities had been chasing an arsonist in the Eureka area all summer. While Benson did not name the firebug, he said officials finally had something they could chase.
"I know your folks in county law enforcement have been all over it," he said.
Morris's arraignment date for County District Court has not yet been scheduled.
---