W. Glenn Titus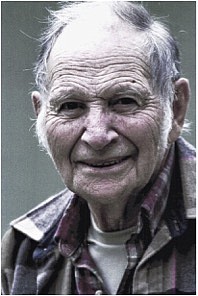 |
September 1, 2020 7:00 AM
W. Glenn Titus of Troy was called home to The Great Outdoors by his Heavenly Father on Aug. 15, 2020. He passed peacefully as his river quietly took him home.
He was born May 15, 1930, in Sharon, Penn., to Clarence E. Titus and Coral Brown-Henley. What started as humble beginnings turned into one hell of a run. Running the hardwood forests of western Pennsylvania with a fishing pole, a .32 caliber rifle and camera, he had a very early sense of his direction in life.
Glenn's love for the outdoors began in Sharon, but as Glenn put it, "I told my folks, when I turn 18, I'm leaving home and I'll never live east of the Mississippi River again."
True to his word, he never did.
Glenn proudly served in World War II as a plane spotter. He joined the U.S. Air Force and served during the Korean War. His military experience with motion picture photography started him on his next great phase of life. Given his lack of experience in the world of motion pictures, his prospective employer's first question was, "Can you use a broom?" Glenn swept his office. It not only got him the job, it started one of many lifelong friendships.
While working for Forne Industries, Glenn furthered his education. He graduated from Colorado State University with a bachelor's degree in wildlife management. Glenn's pursuit of both still and motion picture photography led him to South Dakota, where he joined the South Dakota Fish and Game Department in a newly formed subsection known as Information and Education (IE). While television was still relatively new to color,
Glenn's production of a one-hour weekly show called "Black Hills Outdoors" proved to be more popular than "The Rifleman." After all, not many people had seen a bobcat tree a cameraman on live TV.
While in South Dakota, there were reported rumors of a sighting of a once thought extinct weasel relative, the black-footed ferret. Their main food source being the prairie dog, Glenn loaded up his family for a six-week stake out and camped out in the middle of a South Dakota hay field until his mission was accomplished. In the end, he had captured the first ever footage of the elusive black-footed ferret on motion picture.
Glenn followed his boss from South Dakota to the newly formed Oklahoma Department of Wildlife Conservation. While Glenn was the IE chief, he directed and produced a feature movie called "Challenge the Change," which focused on the importance of conservation values of fish and game in Oklahoma. The movie was aired on statewide TV stations and viewed by Boy Scouts of America troops, civic groups, etc.
While with the department, Glenn was instrumental in the introduction of striped bass, walleye and rainbow trout into many of the lakes and rivers in Oklahoma. He also helped reintroduce pheasant and the Rio Grande turkey. For his efforts, Glenn was recognized in 1970 by The National Wildlife Federation and the Oklahoma Wildlife Federation as Conservationist of The Year.
Glenn left the Wildlife Department and joined the Daily Oklahoman and Times, where he became the outdoor editor, filling a lifelong dream of getting paid to go hunting and fishing. Not content with just reaching the everyday outdoor sportsman, he sought to educate the public at-large on hunting, hunting safety and, most importantly, hunting ethics. Hence, created in Oklahoma was The Young Hunter Safety Education Course, now required in nearly every state in order to obtain a hunting license.
Glenn was also a regional editor and writer for Outdoor Life. He teamed up with the U.S. Army Corp of Engineers to promote many of their lakes throughout the U.S. through a series of color pamphlets.
He was a lifetime member of the Outdoor Writers Association of America, where he earned some of the organization's highest awards, including the Ham Brown Award for Excellent Service in 1985. His crowning achievement, attesting to his dedication to wildlife photography, came with receiving the Excellence in Craft Award in 2016.
From hunting squirrels in Pennsylvania to hunting Nessie in the dark depths of
Loch Ness with Lowrance Corp., his many hunting and fishing tales were countless and seldom repeated. His lifelong friendships were often remembered with a lot of smiles and even tears as the years went on.
This is just a glimpse of the legacy of a true conservationist, writer and photographer; that was his profession. He was a loving, caring husband, father, teacher and leader. He was humble, respectful and fair. But his greatest asset, in one word, was integrity. He was a man of integrity.
Glenn is preceded in death by his parents; his brother, John Titus; his first wife,
Margaret Lennox; and the "Love of his Life," Oleta M. Titus. He is survived by his two sons, Donald Titus (Sybil) of Port Angeles, Wash., and Gerald Titus (Jeanne) of Hickory N.C.; Oleta's sons, Darrell, Larry and Gary Nemecek; sister, Caroline Hunt (Gary) of
Gainesville, Fla.; and many grandchildren, great grandchildren, nieces and nephews.
A graveside service will be held in Troy on Sept. 5, 2020, at 1 p.m. with military honors. A celebration of life to follow at Door of Hope Church in Troy.
---