Health department brings on Sara Alert to manage COVID-19 cases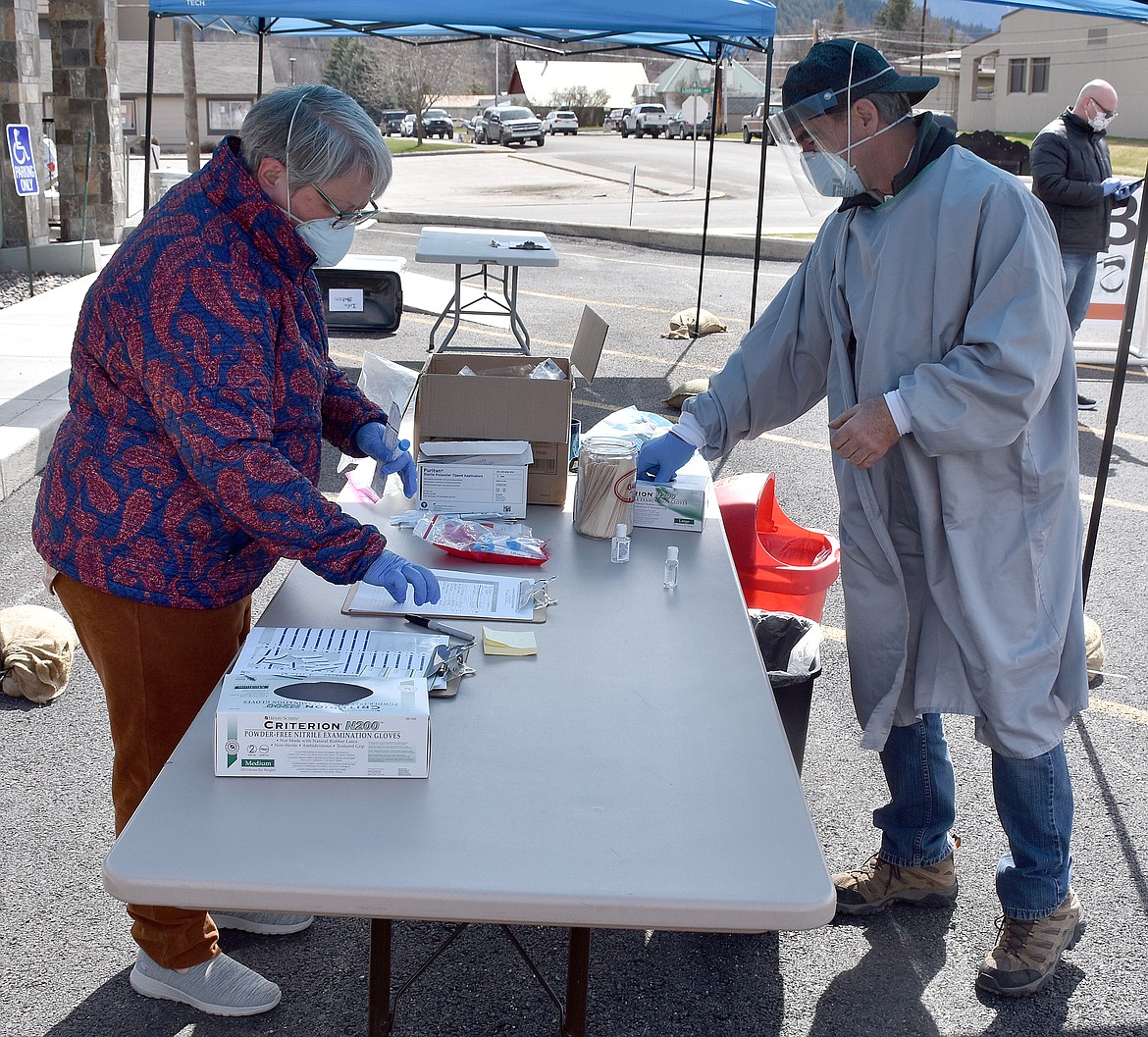 Dr. Lee Morrissette, left, and Miles Miller, a certified physicians assistant, staff a booth at the drive-through coronavirus testing site in Libby on April 15. (Duncan Adams/The Western News)
As COVID-19 cases mount in Lincoln County, local health officials plan to adopt a nationally available and open source tool to monitor patients.
Kathi Hooper, health department director, told county commissioners Oct. 14 that they hoped to have Sara Alert up and running by the beginning of next week. The service is free to the county, she said.
"There will be some initial data entry and then I think it's going to be a great [tool]," Hooper said.
Flathead County already employs the system and health officials here hope it will make efforts to collaborate on contact tracing more efficient. Hooper said colleagues in that county had struggled to keep up with the data. Contact tracing in both localities often involves reaching out over county lines, she said.
Health department employees will still reach out to those who have either tested positive for the virus or been exposed to it. The Sara Alert automated system will kick in afterwards and contact those residents on a daily basis.
"They will be able to do reporting of their symptoms and that will save of us hundreds of phone calls and make sure that we're reaching those people every day after the initial contact," Hooper told commissioners.
Infected residents entered into Sara Alert can use text, phone or email to correspond with the service. They will retain the option of requesting a follow up phone call from a health department employee, Hooper said.
Hooper announced the implementation of the automated system while briefing commissioners on the status of the pandemic in Lincoln County. Active cases hit 80 by Oct. 14, a new high for the locality.
Hooper said the department planned to begin advertising for a new disease intervention specialist position. Commissioners approved adding the position — which is covered for two years by federal Coronavirus Aid, Relief and Economic Security Act dollars — in September.
The health department also has brought on a contractor to help manage its social media efforts in recent months.
County Commissioner Mark Peck (D-1) asked whether the department needed any additional help. Hooper said she expected the disease intervention specialist provide a boon, but floated the idea of hiring a temporary worker.
Managing case confirmations as they come in has proven stressful, she told commissioners.
"During the week we do pretty well; the problem is that the results come in all day," Hooper said. "If we have a batch come in at 4:30 p.m. that's not great, and then we have some that come in during the evening."
Peck also asked about the prospect of resuming asymptomatic testing in the county. Hooper said attempts to secure the Abbott rapid tests locally had not yet borne fruit. While labs at Montana State University were processing tests, they were not yet accepting asymptomatic tests at any level of scale, she said.
County Commissioner Josh Letcher (D-3) pressed Hooper on the process for testing known contacts. He asked whether those in close proximity to a COVID-19 patient could receive a second test if they show symptoms after initially testing negative.
When Hooper confirmed that was the department's modus operandi, Letcher said he had been contacted by a Eureka resident who claimed to have been refused a second test despite developing symptoms. Hooper agreed to look into the matter.
Letcher also asked how the department defined a COVID-19 case.
"If they test positive for COVID-19, they are considered an active case," Hooper said, telling commissioners that most people locally who test positive for the virus eventually developed symptoms.
Letcher asked what the department considered those patients who showed symptoms of COVID-19 but tested negative for the virus.
"Then they're not a COVID-19 case," Hooper replied.

---