Volunteer first responders grapple with coronavirus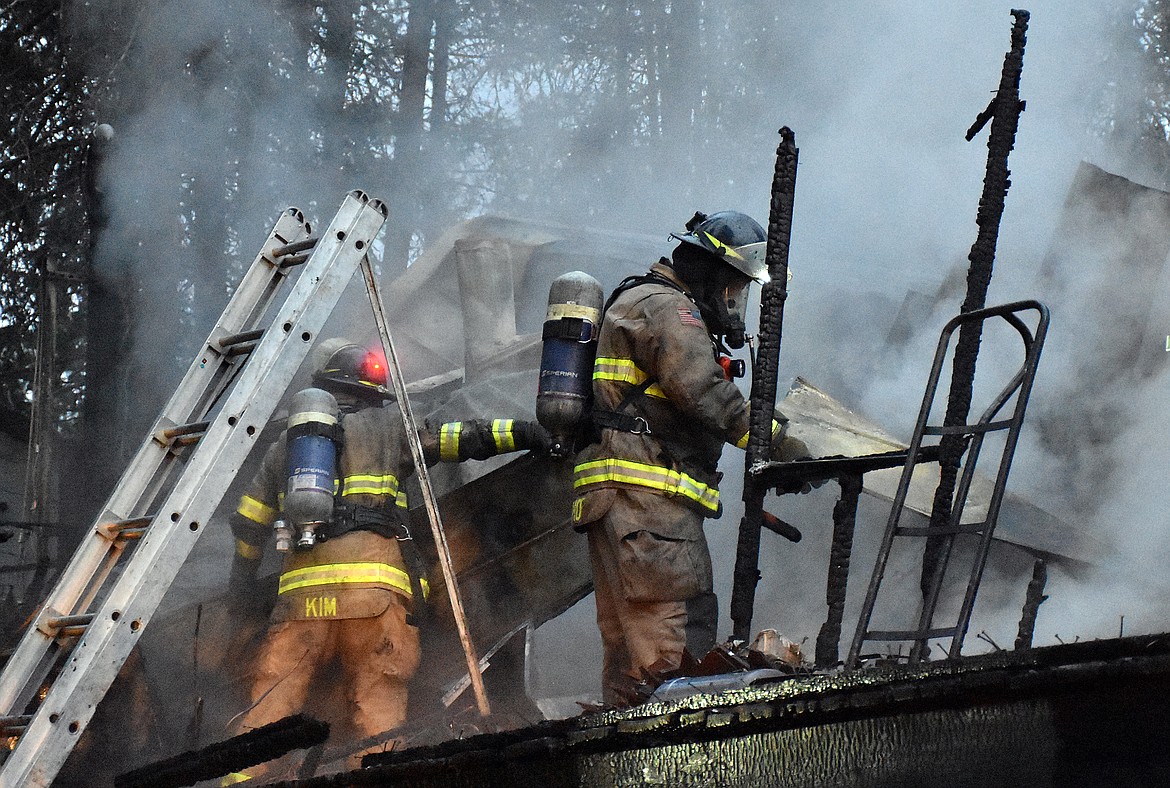 Crews with the Libby Volunteer Fire Department battle a March 27 blaze near U.S. Highway 2. (Duncan Adams/The Western News)
by
WILL LANGHORNE
The Western News
|
October 13, 2020 7:00 AM
As the number of COVID-19 cases continues to climb in Lincoln County, first responder groups with already limited rosters are taking precautions to keep their members from coming in contact with the virus.
Tom Wood, chief of the Libby Volunteer Fire Department, said an outbreak or even a series of quarantines in his crew would severely hamper the outfit. He pointed to other instances across the state where departments had up to 12 members quarantined after at least one positive test result.
With only 25 volunteers in the Libby company, Wood said he couldn't afford to lose any firefighters.
"It's scary for a small town," he said.
While the fire department adopted COVID-19 guidelines early on in the pandemic, Wood said the group recently tightened down on the measures. All training should be conducted outdoors with firefighters wearing masks and staying socially distanced. No more than 15 to 20 people should be in the fire hall at once, Wood said. Those who are indoors are supposed to wear masks and stand six feet apart.
When responding to calls, Wood said one firefighter would go in ahead of the rest of the squad to assess the condition of residents.
"Everybody doesn't get out and run to the house," Wood said. "We bring guys in as we need them."
After returning from a call, Wood said volunteers must disinfect their fire apparatus. Five sanitization stations are available within the fire hall for members coming back from the field.
Like the Libby Fire Department, Troy Volunteer Ambulance can't afford to lose staff to quarantines. Roger Gilligan, a volunteer with the group, said the outfit's roster includes 12 members in Troy, two in Bull Lake and three in the Yaak.
Since the start of the pandemic, Gilligan said ambulance crews have carefully followed guidelines released by the Centers for Disease Control and Prevention.
Every time an ambulance returns from transporting a coronavirus patient or responding to a possible COVID-19 call, Gilligan said volunteers use two one-gallon sprayers to drench its interior with disinfectant.
"The whole inside of the ambulance is dripping," Gilligan said.
When out on calls, the driver's cabin is sealed off from the back portion of the ambulance. As an extra precaution, Gilligan said a fan circulates air within the cabin. In addition to wearing masks when responding to emergencies, volunteers screen patients by taking their temperatures, Gilligan said.

While the department has not responded to many COVID-19 cases recently, Giligan said volunteers are occasionally tasked with transporting coronavirus patients from Cabinet Peaks Medical Center to Kalispell Regional Medical Center.
The Libby Police Department has already experienced the draw that a single positive test can put on resources. Police Chief Scott Kesel confirmed an officer was sickened with the virus during a Sept. 8 city council meeting.
While Kessel said the officer had limited contact with his colleagues, he listed himself as a potential close contact and placed himself in isolation while awaiting results. The department was prepared to work with other local law enforcement, including the Lincoln County Sheriff's Office, to offset the potential short-term loss of personnel, he said.
On Oct. 5, Kessel told city councilors the department had returned to full strength.
---