Williams voices support for 'responsible' natural resource extraction during Libby stop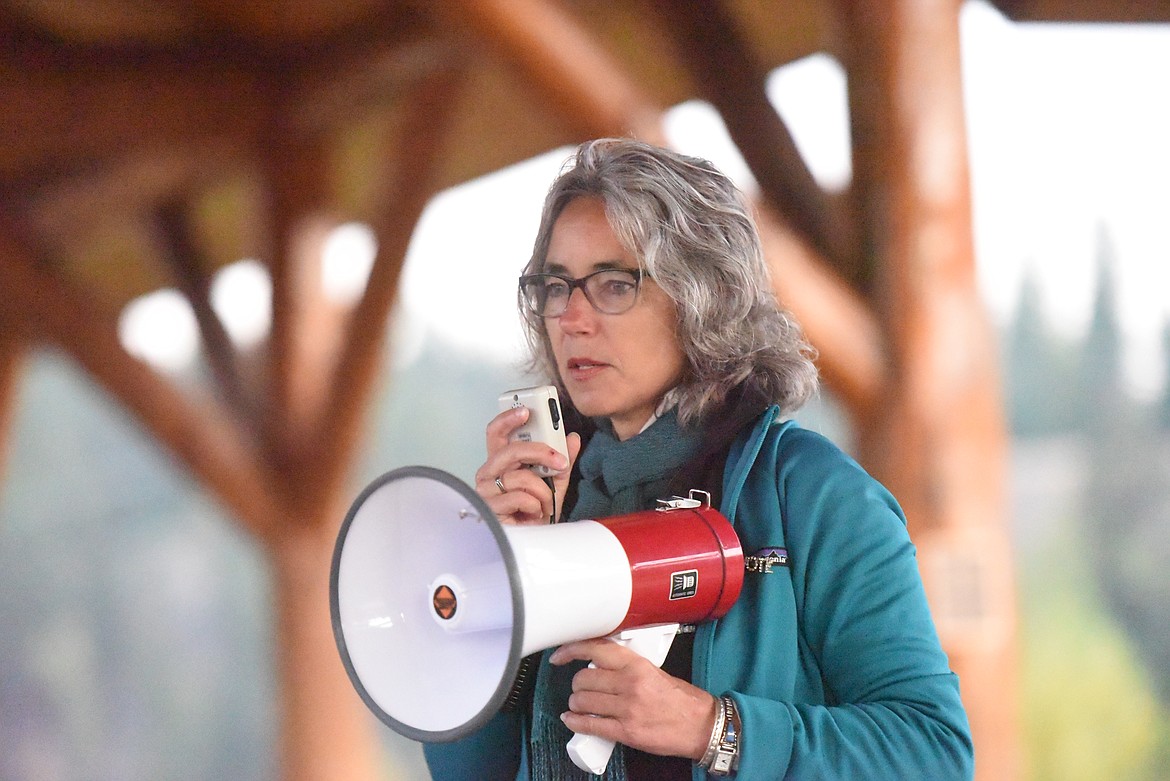 Kathleen Williams, the Democratic candidate for Montana's sole seat in the U.S. House of Representatives, spoke to residents at Libby's Riverfront Park on Oct. 5.
Will Langhorne/The Western News
by
WILL LANGHORNE
The Western News
|
October 9, 2020 7:00 AM
As part of her 2,000 mile, six-day tour of Montana, Kathleen Williams, the Democrat running for congress, stopped in Libby on Oct. 5.
Williams branded her cross-state trek the "solutions tour" in the spirit of bridging partisan divisions. If elected as Montana's sole U.S. representative, Williams promised to work with politicians on both sides of the aisle to improve health care, further economic opportunity and protect public lands.
"We should be able to work together where we dig up and find common interests," she said during her stop in Libby.
During her three terms as a state representative for House District 61, Williams said she partnered with some of the most conservative members of the house. As Montana struggled to cope with the Great Recession in 2011, Williams said she worked with a bipartisan coalition to create 200 new businesses and thousands of new Montana products. To improve the state's health care system, Williams said she helped pass legislation that stopped insurance companies from denying routine care to cancer patients.
Continuing to address deficiencies in health care and the economy is critical, Williams argued, especially as the coronavirus pandemic racks the country. To fight COVID-19, Williams hopes to improve resource management nationwide by championing a federal, state, local and private partnership for testing.
"We can't manage what we can't see," she said.
Williams aims to give Americans 55 and older the option to buy into Medicare. She also plans to improve Medicare and Medicaid service in rural communities.
Maintaining coverage for those with preexisting conditions and allowing people to stay on their parent's insurance until they're 26 through the Affordable Care Act remain high on her priorities. Williams also said she will fight to address high prices on prescription drugs including insulin.
"I'm ready to hit the ground running in Congress to fix this patchwork of a health care system we've got," Williams said.
On the economic front, Williams aims to boost infrastructure, close corporate tax loopholes, foster investment in new energy markets and protect workers' right to collective bargaining. To support local economies, Williams said she would fight to make Economic Development and Rural Development funds available to Montanans.
Having built a 37-year career in natural resources and conservation, Williams said she would work to keep public lands in public hands while creating jobs.
"I believe there's a balance and I've spent my career figuring out that balance between timber harvesting, mining and protections," she said.
To help areas like Libby, which has historically depended on natural resource extraction, Williams said she would support responsible mining projects and multi-objective programs like timber harvests that protect against catastrophic fires.
Addressing climate change and retaining the nation's participation in the Paris Climate Accord rank high on Williams' environmental priorities.
During the Libby event, Williams spent a portion of her time listing deficiencies she perceived in her Republican opponent Matt Rosendale. Rosendale is currently serving as the state auditor and the commissioner of securities and insurance.
Among her grievances, Williams said Rosendale has increased health care premiums, voted to privatize a veterans home in Columbia Falls, opposed a 2015 anti-trafficking bill as a Montana state senator, and aims to repeal the Affordable Care Act.
Williams and Rosendale will face off for Montana's seat in the U.S. House in the Nov. 3 election.
---