Ballots headed out to county voters
Voters fill out their ballots at the Lincoln County Courthouse on Oct. 7. Ballots were mailed out to active Lincoln County voters on Oct. 9.
Will Langhorne/The Western News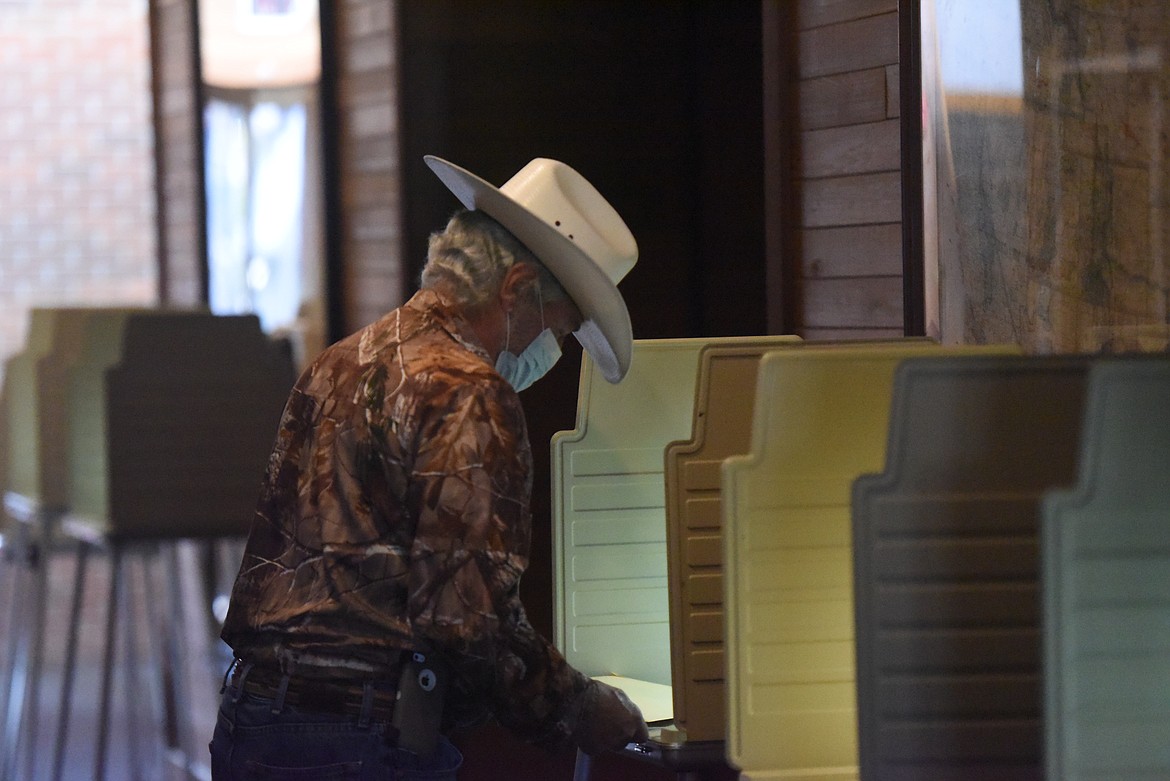 A voter fills out his ballot at the Lincoln County Courthouse on Oct. 7. Ballots were mailed out to active Lincoln County voters on Oct. 9.
Previous
Next
by
WILL LANGHORNE
The Western News
|
October 9, 2020 7:00 AM
With Nov. 3 less than a month away, preparations for the general election in Lincoln County are in full swing.
As part of the election department's mail-in plan, Chris Nelson, election administrator, said officials will send out ballots to the more than 12,000 active voters in the county. During the June primary, officials dispatched two-and-a-half truckloads of ballots to the U.S. Postal Service.
Nelson said the upcoming shipment may be lighter as only one ballot per voter will get sent out for the general election. Officials will send out the bulk of ballots to residents on Oct. 9 under the plan.
"This is probably going to be the busiest we are from today until next Friday," said Nelson last week.
Active voters should expect to receive their ballots within 10 days of the Oct. 9 mailing date, according to Nelson.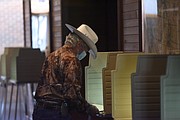 Nelson worried that voters may be confused by recent rulings in a lawsuit regarding the election. On Sept. 25, a district court judge required Montana counties to count all valid absentee ballots postmarked on or before Election Day so long as they are received by the following Monday. However, the Montana Supreme Court granted a stay regarding the lawsuit on Sept. 29, writing that the extension could hamper the state's ability to administer an orderly election.
"We've had plenty of questions from people about the postmark, but it is in the instructions to the voters with their ballot packet that they must be in our office by 8 p.m on Election Day," said Nelson. "It's frustrating when something like that at the 11th hour comes out."
In advance of the mailing, residents looking to get their ballots early may stop by the county courthouse. As of Oct. 2, Nelson said absentee ballots were available for pick up in-person.
For residents who have not yet registered, Oct. 26 is the final day for regular registration. After this date, residents will have to register in-person at the county courthouse or at the North Lincoln County Annex in Eureka. Under the election plan, the annex will be staffed to register voters on Oct. 22 and Oct. 29 from 8 a.m. to 5 p.m. and on Nov. 3, Election Day, from 7 a.m. to 8 p.m.
Under the mail-in plan, voters also have the option of casting their ballots in person at the county courthouse, the county annex and several drop-off locations. Nelson said drop-off stations would be staffed at the Trego-Fortine-Stryker Fire Hall, the Fisher River Valley Fire Hall and the county libraries in Troy and Eureka from 7 a.m. to 8 p.m. on Election Day. Nelson said that the drop off sites differ from traditional polling stations in that election officials there cannot issue ballots or register voters.
While he is only required by law to post two election officials at each drop off location, Nelson said he intends to staff them with four workers.
As in years past, voters can deposit ballots at drop boxes in Troy City Hall, the Law Enforcement Center in Eureka, the county annex and the county courthouse. The aforementioned drop off locations will also boast deposit boxes.
These drop sites will be open as soon as ballots are available. Nelson said officials plan to check them every week.
Nelson has, along with county commissioners, recommended the voters use the drop off locations or deposit boxes to submit their ballots.
"I'm looking forward to a year where we just have a boring election," Nelson said.
---