Board demurs on latest local health order
by
DERRICK PERKINS
Daily Inter Lake
|
November 27, 2020 7:00 AM
Repeatedly expressing support for Dr. Brad Black, members of the Lincoln County Health Board voted narrowly against endorsing his latest pandemic-related local order during a Nov. 23 emergency meeting.
The board, in a 3-2 decision, opted to table a motion to back Black's proposed order following a terse debate. Black's local order largely reflects the directive issued by Gov. Steve Bullock last week. Having a local directive in line with or exceeding the governor's pandemic-related restrictions has been standard practice in the county.
Members George Jamison and Debra Armstrong questioned the need for a local health order, given the governor's directives, particularly a portion pertaining to enforcement.
"As long as we're trying to mirror the governor's order or not going beyond the governor's order … I just don't see what we gain from this other than a lot of public mistrust," Jamison said. "Take that for what it's worth."
Armstrong agreed, describing the local order as unnecessary.
"So if we're not going to do anything more [than the governor's directive], then there is no point in doing a local directive and I do not support it," she said.
Black does not need the health board's approval or endorsement to enact a local health order. Title 50 of the Montana Code Annotated gives health officers wide latitude in handling a health crisis, ongoing or imminent.
That became apparent in late July when Black proposed an order for Lincoln County more restrictive than Bullock's directives at the time. Board members — and residents in attendance at those meetings — balked at the measures. While board members put off taking action on the proposed measures until an August meeting, Black ended up issuing an order with softened version of his restrictions.
The still applicable restrictions in that order are wrapped into Black's new proposal.
Armstrong, the board's Eureka representative, referenced the situation, telling her colleagues she felt blindsided by Black's July order. She recalled voting for it after being assured it was in line with the governor's mandate, only to belatedly realize that Black had the final say on when the crisis was over and the document went further than Bullock's directives.
"I took you on your word at that, and I voted for approving the local directive," Armstrong said.
Jinnifer Mariman, the board's legal counsel, corrected the record. There was no health board vote either for or against the order, Mariman said. Black issued it of his own accord while the board dithered.
Armstrong countered by arguing that the local health order emphasized punitive measures.

"This local health directive is solely to prosecute people that are not complying with the health order or [governor's directive," she said. "It has nothing to do with the health of community, but everything to do with compliance."
To date, prosecutors have not brought any individuals up on charges related to the health officer's order or the governor's directives in Lincoln County.
Prior to the back-and-forth, Mariman had described the local health order as one way to make it easier on the county attorney's office to litigate enforcement of pandemic restrictions.
Black's latest order only makes reference to punitive measures in its final paragraph, when it states that violations are punishable under Chapter 2 of Title 50 as misdemeanor offenses. Offenders could be subject to a fine. Black's July order included a much lengthier description of his authority and possible enforcement measures.
While it was not discussed at the meeting, a local health order also keeps pandemic measures in place regardless of what happens in Helena. Were the governor to suddenly lift restrictions, like the mask mandate, Black's order would still stand.
That distinction came into play in late summer. Bullock's previous directive mandated masks only in counties with at least four known active cases. Black's order included no such cutoff. When cases in Lincoln County fell below the threshold, the mask mandate remained in place.
For his part, Black said the new order was a reflection of the situation on the ground. Many of his fears in midsummer — spiking case counts and mounting deaths related to COVID-19 — have come to pass, he said.
"This is the beginning," Black said. "We've got several months of real challenges [before us] right now. … I just can't think about changing our current recommendations."
And the situation likely will worsen, he said.
"I understand all the challenges to our folks in the community: They're tired of it; they want it to go away," Black said. "You know that it's not going to. It's going to get worse before it gets better."
During public comment, residents panned the proposed health order, described the pandemic as a hoax and at times excoriated Black and the board as tyrants. At least one described the current situation as akin to Nazi Germany after asking that the board pay more attention to mental health issues brought on by pandemic restrictions.
"This is truly not a pandemic," said Heather Handy, owner of a Eureka shop and a vocal critic of pandemic measures. "You guys are touting that it is a pandemic, but it's not."
Dixie Linnell called on the board to leave pandemic measures up to individual residents.
"We are intelligent," she said, before suggesting health officials had adopted an authoritarian mentality. "We can make good decisions."
Catherine Kahle, who has led a group in petitioning county commissioners to lift local restrictions and reject the governor's directives, described the pandemic as a "plandemic." That drew a rebuke from new board member Jim Seifert.
"If you don't think it's a pandemic, then we can't answer your questions," he said.
Resident Kathleen Johnson asked for what grounds the Lincoln County Board of Commissioners would need to relieve the health board or a health officer of duty. Commissioners ultimately oversee the volunteer board, which in turn appoints a health officer.
That elicited a response from Mark Peck, who sits on both the health board and serves as a commissioner. He told Johnson that commissioners could work with the board to remove a health officer, given evidence of malfeasance, or reorganize the board.
"What if that health board becomes tyrannical?" Johnson asked.
"If we determined it had become tyrannical, I'm sure we would act on that," Peck replied.
But Peck joined Armstrong and Jamison in voting to table action on the proposed order until the board's December meeting.

"We can support Dr. Black and not support this directive," Peck said. "I think that's what's being said here. I don't think anybody has said they don't support Dr. Black in carrying out his duties in the existing [framework]."
Seifert and board member Sara Mertes voted against tabling the proposal. The last member of the board, Laura Crismore, was not present for the vote. Officials said that Crismore, who attended early on via Zoom, had struggled with technical problems and also been on call at Cabinet Peaks Medical Center during the meeting.
The board is expected to take up the question again at its December meeting. As of Nov. 24, Black had not signed the proposed order.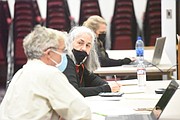 ---