Health board to meet after governor announces new measures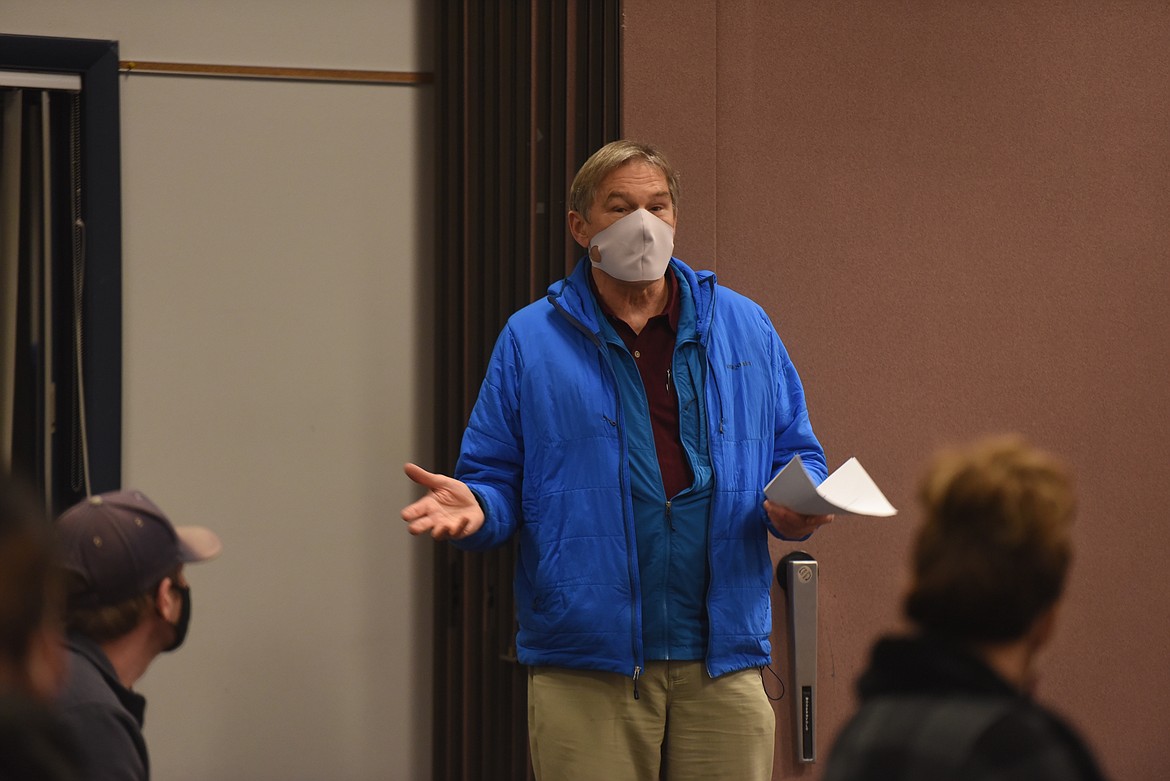 Dr. Brad Black at a Nov. 10 Lincoln County Health Board meeting. (File photo)
by
DERRICK PERKINS
Daily Inter Lake
|
November 20, 2020 7:00 AM
The Lincoln County Board of Health will meet in emergency session Nov. 23 as COVID-19 deaths increase locally and cases of the coronavirus surge across the country.
The meeting, to be held in the Ponderosa Room of Libby City Hall, was scheduled after Gov. Steve Bullock announced new pandemic restrictions. In the past, the board has met in similar fashion to reshape local health orders to match the governor's latest restrictions.
Bullock's mask mandate applies to all counties, effective Nov. 20. Previously, masks were required to be worn in public in counties with more than four active cases, though in Lincoln County, Health Officer Dr. Brad Black's local order did away with that threshold.
Local health officers have authority to exceed the state's pandemic restrictions, but are barred from proposing anything less restrictive than Helena.
Bullock also limited patron capacity at bars, restaurants, casinos and breweries. He banned gatherings of more than 25 people in places where social distancing is impossible, though houses of worship and schools are exempt.
Discussion of Bullock's new measures is listed on the board's agenda with consideration of Black's local health order to follow.
Jennifer McCully, county public health manager, said enforcement of Bullock's new rules would fall again to the health department. She said that would start with outreach and education.
"That's our first step; that's our priority," McCully said. "We will give them a call or reach out based on complaints that we might have observed and remind them of the mandates and what that looks like."
McCully said they hoped to avoid confrontations. Department staff wants to work with business owners, she said.
"We want people to be able to stay open and do what they need to do and to assist the public," McCully said. "I know that's a fine line for them as far as what they can require of their patrons, but at minimum we can start with business owners and their employees."
The meeting will come just shy of two weeks from the board's regularly scheduled November gathering. Although coronavirus cases have been rising locally since late summer, the board refrained from taking any new action at that time. Instead, the focus was on combining efforts across area municipal governments and organizations to confront the pandemic.
Active cases in the county increased to 245 by Nov. 18. The day prior, officials confirmed 37 new cases locally. Statewide, 1,232 cases were confirmed that day, bringing the total number of active cases to 19,621.
According to the Associated Press, hospitals in seven counties were at 90 percent capacity.
Health workers in Montana are not alone in being stretched thin. In the spring, concentrations of coronavirus cases were largely found in the nation's largest cities and the northeast. Now data in 49 states shows rising hospitalizations from the virus.
Like Montana, nearby states including Wyoming and the Dakotas are seeing higher daily case rates. In Oregon and Washington, state officials have ordered new restrictions, including temporarily closing gyms.
The new measures come as the U.S. passes 250,000 coronavirus-related deaths. In Lincoln County, eight people have died, including two in the past week.
---