Elementary school closed again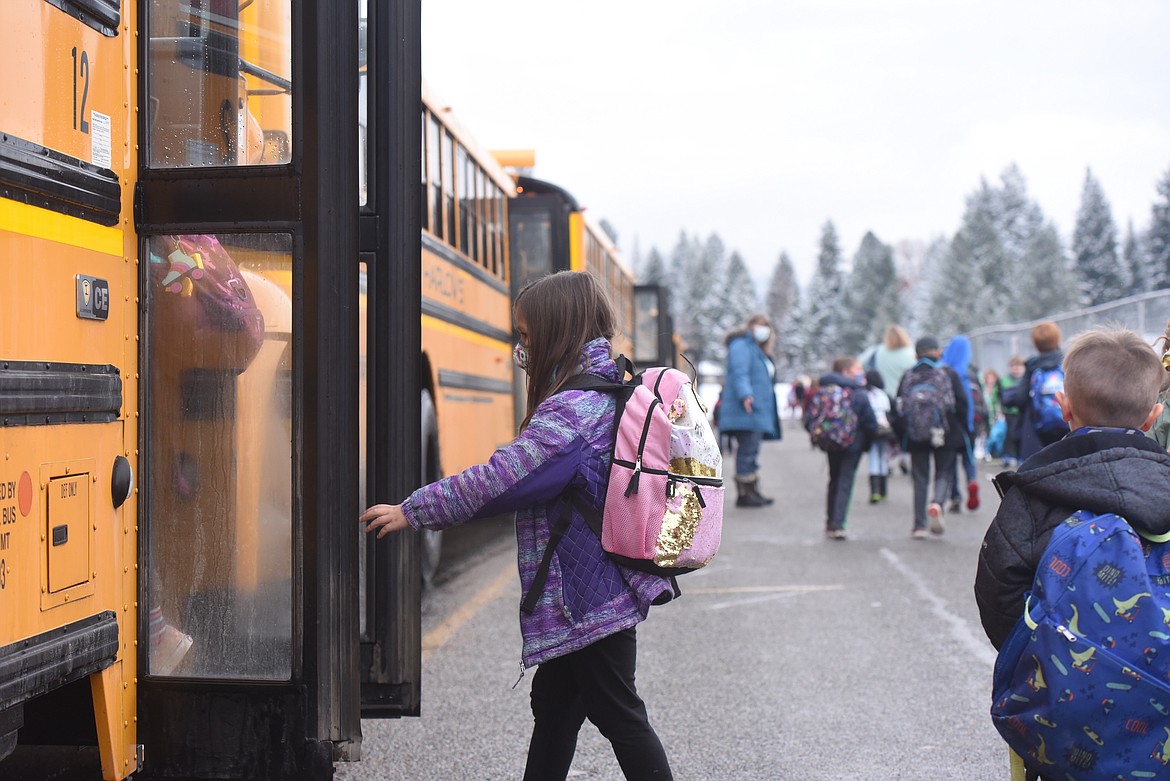 Libby Elementary School students board a bus after school on Nov. 10. (Will Langhorne/The Western News)
by
WILL LANGHORNE
The Western News
|
November 20, 2020 7:00 AM
Libby Elementary School moved to a fully remote learning schedule Nov. 17 and will remain that way for most of the rest of the month.
Superintendent Ron Goodman made the announcement on Nov. 16 after health department officials placed an additional nine staff members at the school in quarantine. This brought the total number of employees at the elementary school in quarantine to 13.
At the time of the announcement, Goodman said health officials were unsure if the virus had spread within the building. They were seeing, however, an increasing number of students that had tested positive or were symptomatic. Goodman said he was unsure of how many students were in quarantine as health officials were still conducting contact tracing.
"At what point do we look around and say, 'I can feel confident that there is no transmission in the building?'" he said. "I could not be confident in sending students to school tomorrow."
Like the Libby Middle High School, which went remote on Nov. 11, the elementary school is set to resume in-person instruction on Nov. 30.
Following the closure of the middle high school, Goodman said three additional middle high school staff members tested positive. Ten students and staff members had tested positive when the school went remote. Five staff members and 100 students were in quarantine.
Forty staff members at the elementary school were tested for the virus on Nov. 18. Goodman said he expected to receive the results within the next few days.
The week the elementary school switched to remote learning, the district received 120 antigen tests from the state. Administrators are still mulling over the best way to employ the tests. Goodman noted that antigen tests do not always provide accurate results. U.S. Food and Drug Administration officials have reported that antigen tests have a higher chance of missing active infections.

Even before the elementary school moved to a remote schedule, administrators struggled with limited staff numbers. During a Nov. 9 school board meeting, Andrew Steiger, elementary school principal, said a kindergarten class and second grade class were sent home after the number of school staff in quarantine jumped from two to four that afternoon.
After the middle high school and elementary school switched to remote schedules for two weeks in October, administrators at both schools instituted new guidelines.
While classes had already been kept apart throughout most of the day, elementary school staff members began isolating students in their classrooms during lunch period rather than having them mix in the cafeteria. Administrators also created new zones outside to keep students separated while they wait to enter classrooms in the mornings.
At the middle high school, staff members switched to a block schedule designed to limit contact between students and employees.
Administrators have looked to academic data gathered at the beginning of the fall, which show the effectiveness of in-person learning.
"Across the board, we are moving in the right direction," Steiger said at the Nov. 9 school board meeting. "It's just a huge indicator of when kids are in school, they're exposed to knowledge. They are absolute sponges."
As the number of active coronavirus cases in the county increases, Goodman said there was a greater chance that schools would oscillate frequently between in-person and remote instruction.
"Continue to prepare for virtual learning and other needs connected to changes in school schedules," he wrote to parents in a press release.
While schools remain on remote schedules, the district will deliver meals on Tuesdays and Thursdays via Harlow's Bus Service. Free meals are available for children 18 years old and younger who are not enrolled in the district.
Central School, Plummer Preschool and Head Start will continue to host in-person classes.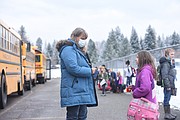 ---