Area businesses given clean slate for mask mandate violations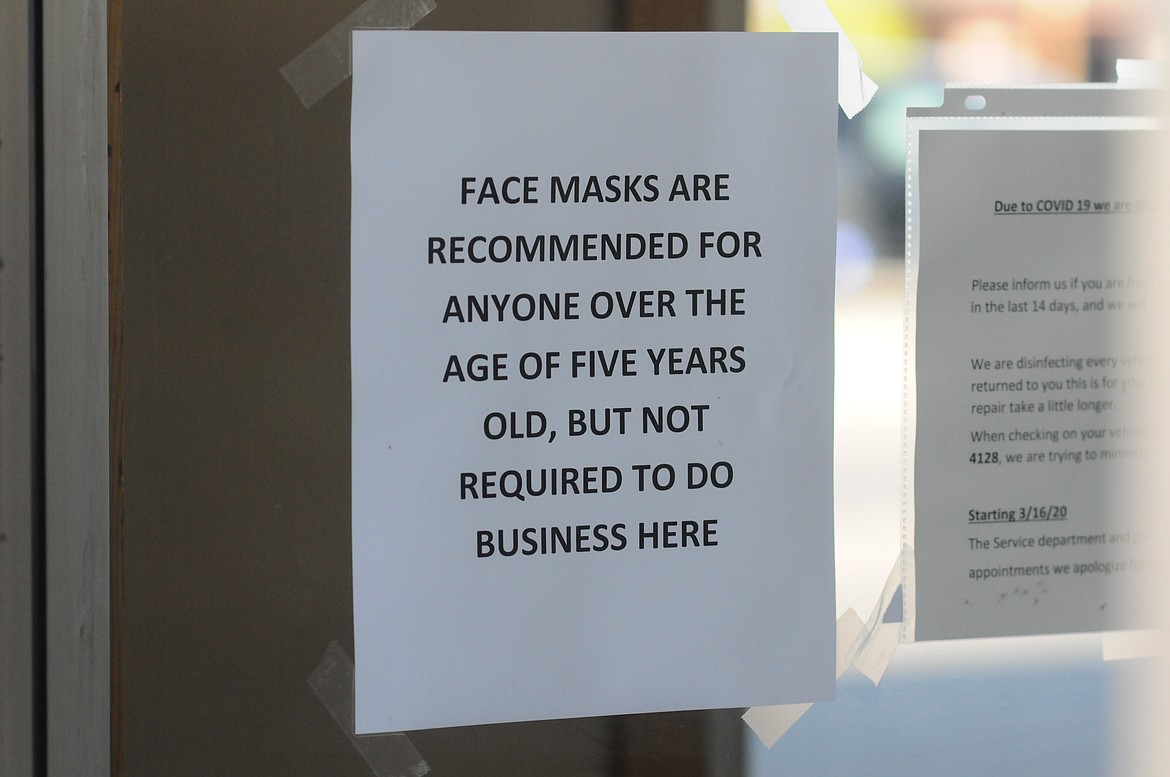 (Will Langhorne/The Western News)
by
DERRICK PERKINS
Daily Inter Lake
|
November 17, 2020 7:00 AM
Lincoln County Health Department officials have restarted the enforcement process for any and all area businesses reported for noncompliance with state and local pandemic restrictions.
Director Kathi Hooper told the county health board Nov. 10 that officials made the decision after meeting with the county attorney's office. Local merchants should be on an equal playing field regardless of their past responses to the restrictions, particularly as the enforcement process has changed since mid-summer, she said.
"We started them all back at step one, so all businesses will be treated consistently," Hooper told the board. "Back in July, when we started this process, we really only had two steps and we now have four steps. We want to make sure everybody gets the same process."
Two public health mandates are in effect for Lincoln County, one from Gov. Steve Bullock and the other from county Health Officer Dr. Brad Black. Bullock's directive requires masks be worn in indoor public spaces, to include government buildings and stores, in counties with more than four active cases of COVID-19. Black's order largely mimics Bullock's, but does away with the four-case threshold.
In late October, Hooper outlined a revamped enforcement process for the board of county commissioners. Businesses found out of compliance with the directives would receive a phone call from a health department employee outlining the rules and offering any help. A second infraction resulted in a notice and a third led to a written warning outlining potential legal action.
After a fourth report, the matter would be referred to the county attorney's office. As of October, two merchants had exhausted the health department's enforcement process, though County Attorney Marcia Boris at the time said her office was working with the business owners to avoid litigation.

As part of the reset, Hooper said department staff members now must investigate any complaints before moving forward with enforcement.
The move comes after Heather Handy, a Eureka merchant, told county commissioners during an October meeting that health department staff had skipped several enforcement steps while referring her store to the county attorney's office. Commissioners agreed to look into the matter for her.
Handy has been a vocal critic of state and local pandemic restrictions.
Hooper also said the department was struggling under the state's new online complaint system. In late October, Bullock announced that residents could use the Department of Public Health and Human Services' online Consumer Complaint Form for mandate violations.
Hooper said state officials give the county department five days to report back to Helena with their findings on each complaint.

More information regarding mask compliance enforcement is available in the department's frequently asked questions document posted to the agency's website.
---