Loggers, Trojans fall short in an unforgettable season
by
WILL LANGHORNE
The Western News
|
November 10, 2020 7:00 AM
After two months of battling injuries, adjusting their rosters to coronavirus quarantines and facing a slew of other adversities, the Libby Loggers and Troy Trojans ended their seasons on Oct. 23.
For the Libby, the day was marked by a 14-6 loss to the Frenchtown Broncs. With between eight to ten inches of snow left on the field between yard lines, the game proved to be a slog for both sides.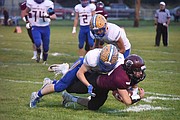 "In all my years of coaching, I've never coached in a game when there's been such adverse weather conditions," said Libby head coach Neil Fuller.
In the first half, Fuller said the Loggers struggled offensively and were down 14-0 by the end of the second quarter. Libby rallied in the third quarter scoring a touchdown on a nice drive. The Broncs were able to contain the push, though, bringing up the final score.
Had the teams play under any other conditions, Fuller said the Loggers would have been very successful.
"It was a tough game to end the season on," he said. "I'm really proud of how the kids competed."
While the Trojans were scheduled to play Clark Fork on Oct. 23, head coach Luke Haggerty said the squad had to call the game off after a player tested positive for the coronavirus and three were considered close contacts.
The forfeiture came a week after the Trojans had to cancel another game against St. Ignatius. Haggerty said the matchup against the Bulldogs was called off after only seven Trojans were healthy enough to take to the field.
"It was tough having to forfeit those last two games," said Haggerty.
Both Fuller and Haggerty said 2020 would be a season they wouldn't forget.
Despite all the adversity his squad faced over the two months, Fuller said it was one of his favorite years of coaching in a long time. In their season opener against Whitefish, the Loggers had to overcome losing linebacker and tight end Dave Patterson to a broken ulna. Fuller described the 205-pound senior as one of the Logger's best overall players and the "heart and soul" of the team's defense. Libby also lost junior linebacker Hunter Hoover after their second game.
Working with a limited roster, Fuller said the squad was still able to pull off a big win against Butte Central Catholic High School. In a critical game against Dillon, the Loggers lost two offensive lineman — one to sickness and one to a coronavirus quarantine — and had to start a freshman. Sophomore defensive end Cy Stevenson was moved to offensive tackle, a position he had never played. While hamstrung, the Loggers fell to the Dillon Beavers 34-14 in their Oct. 9 matchup.
Haggerty said coaching through COVID-19 made this year one of the most interesting seasons he had been involved in. In addition to having to concede their final game because of the virus, Haggerty said his squad almost had to cancel their Oct. 3 matchup with Victor because of a near close contact.
Since August, low turnout had also hampered the Trojan's performance. While Haggerty expected 25 players to come out for the team, only 13 showed up for the first day of practice. Starting with their season opener against Arlee, Troy faced a high rate of injuries due to their limited roster size. In most games, the squad faced off against schools with teams able to substitute in senior and junior players. Haggerty, in contrast, had to start some games with freshman players.
"Playing seven games with only eleven guys is dang impressive," Haggerty said.
Faced with such a slew of challenges, Haggerty and Fuller both counted heavily on their seniors this year.
"This was the most enjoyable group of seniors I coached in a while," Fuller said. "They are fun to be around and we had a great team chemistry."
Fuller commended Patterson, quarterback Jay Beagle, offensive lineman Owen Wilkins, running backs Ryker McElmurry and Dawson Young and wide receivers Tucker Masters, Colton Halvorson and Keilen Rausch for their performance during their final year playing with the Loggers.
Haggerty likewise highlighted the efforts of his seniors defensive tackle Jace Fisher, wide receiver Dylan Peterson and offensive linemen Colin Stecher and Shamus Sedler.
Several younger players also stepped up on both squads. Fuller applauded Stevenson, junior offensive lineman Tyler Michalkiewicz, Zane Nordwick, Zane Brown and Aydan Williamson, freshman offensive lineman Gaige Bache, sophomore defensive lineman Tyler Smith, freshman running back Jace DeShazers, junior running back Ryder Davis and junior linebacker Ryan Collins. Haggerty commended junior running backs AJ and Ben Starks and freshman offensive linemen Derek Cole and Joey Wise.
"Our future is looking bright," said Haggerty on the number of rising players, many already boasting plenty of playing time.
In hopes of having a successful year in 2021, Haggerty and Fuller said it would be up to their squads to train in the offseason. If the up-and-coming group put in more time in the weight room, Haggerty said the Trojans could avoid some of the injuries that plagued them this year.
"If they train anything like this year's group of seniors, we'll have a successful year," Fuller said.
---