High stakes races drove voters to the ballot box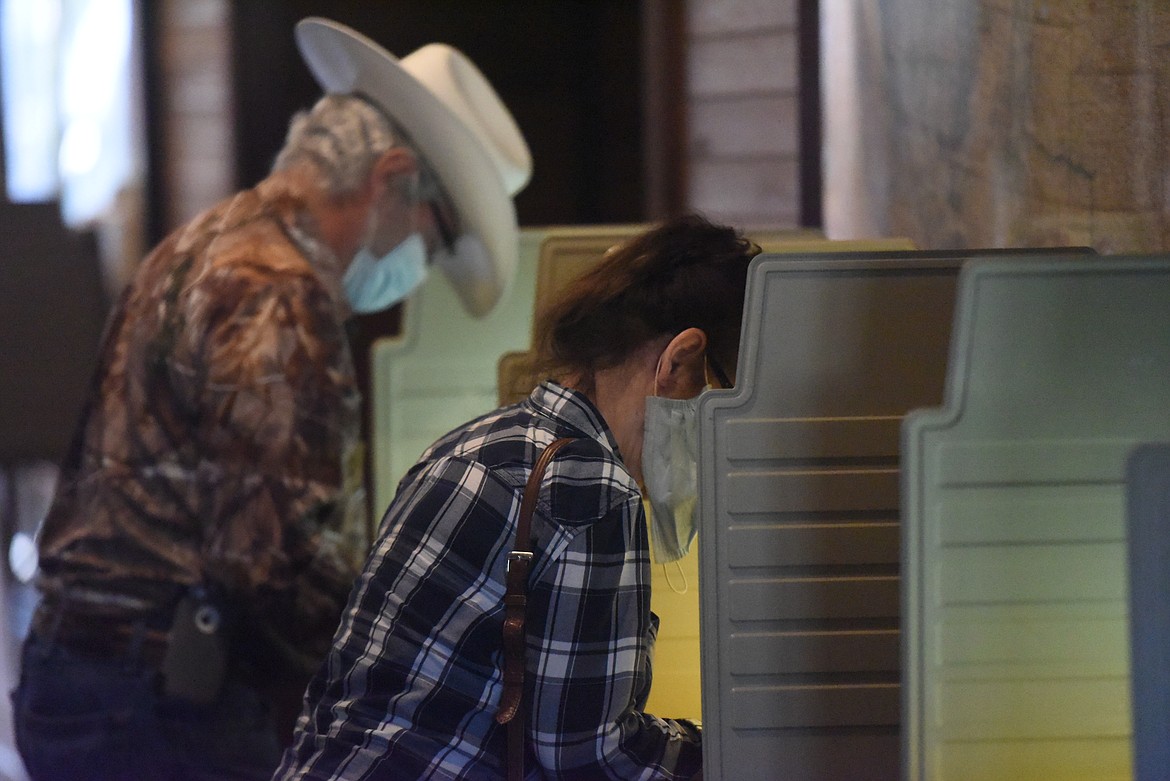 Masked voters cast their ballots in the Lincoln County Courthouse in October. There's still time to get in your vote on Election Day.
Will Langhorne/The Western News
Regardless of how they filled out their ballots, Lincoln County voters agreed the stakes for this year's election were higher than in years past.
"I started voting with President [Jimmy] Carter and never before have I felt such an urgency to get out and cast my vote," said Scott Webster, a Troy resident who dropped off his ballot at the Lincoln County Courthouse on Election Day.
"I think it's the most important election in my lifetime," said Peggy Schultz, a 71-year-old voter who deposited her ballot at dropbox at the Troy Dispatch Office.
A record-breaking 11,682 residents or 88.8 percent of active voters in the county cast their ballots in the general election.
Local officials believe that the range of new voters who registered on Nov. 3 reflected the import of the election. Chris Nelson, county election administrator, said he saw residents between the ages of 18 and 93 register and cast their votes on Election Day.
Many voters that cast their ballots on Nov. 3 said they felt the results of national elections were of more consequence than state races.
"I think statewide we're going to be alright with whoever wins," said Abigail Creighton, a Libby resident who voted at the county courthouse. "Nationally, I think it could be bad."
Carrie Benedict, a Eureka resident who voted at the North Lincoln County Annex, said she believed the presidential race would be vital in rooting out what she saw as pervasive corruption at the national level.
"I think [former Vice President Joseph] Biden's a joke," she said. "All the lies and corruption, the corrupt media… Antifa, dealing with illegal immigrants."
Benedict did not provide specific examples of corruption.
While residents depositing their ballots on Election Day held mixed views about the county's election plan, many said they appreciated the versatility of the system.
Under the mail-in plan adopted by local officials in September, active voters were mailed their ballots and had the option of returning them by post or by depositing them in-person at locations scattered across the county. Inactive residents could also register and pick up their ballots from election officials at the county courthouse and the annex in Eureka.
Katherine Boerner, who lives outside of Eureka, said she found the new voting process a bit confusing.
"I never asked for the mail-in ballot and I was kind of surprised when I got it at first," she said.
Carlene Orr, a Libby resident who dropped her ballot off at the courthouse, felt that the system was not as regulated as a traditional election.
The Columbia Journalism Review has reported that most examples of mail-in voting irregularities are cherry-picked from local news stories that are still developing. FBI Director Christopher Wray said in September that the bureau has not historically seen any kind of coordinated national voter fraud effort in any major election involving mail-in votes.
Lincoln County residents ultimately voted heavily for GOP candidates up and down the ballot.
The greatest challenge local officials reported facing with mail-in ballots was the difficulty of tabulating them via ballot counting machine. On some ballots, the location of the crease kept the machine from reading them properly.
Kippy Wroten, a resident who recently moved to Rexford from California, said the county's election plan was much more voter-friendly than systems she had previously used.
"Montana has the perfect process. They've taken care of me. They were kind and gentle and they didn't care who I was voting for," she said.
Jennifer Curtiss, a Eureka resident who has worked as an election judge for six years, said her job hadn't changed much during this election cycle. Overall, she has seen a lot of appreciation from voters.
Richard Avery, a first-year election judge from Eureka, said he decided to help administer this election after seeing an advertisement placed by the county calling for judges. Though he said he received few complaints about mask requirements, some voters had griped about long wait times.
Bobbi Stoken, who has served as an election judge for eight years, said she had seen more confusion from voters during this election.
"We've had people that normally would have just come through the line the way we usually set it up and know what they're doing," she said. "This year, they're not really quite sure if they've put it in the envelope right."
Looking forward to subsequent elections, Nelson said he planned to increase voter outreach. By holding registration drives in the off-season, potentially at events including Troy's Fourth of July celebration and the Eureka fairgrounds, he hoped to make it easier to inform and register voters.
Opening a satellite office in Troy where officials could void and reissue ballots on the fly is also a priority for Nelson. Officials saw high numbers of voters register and cast their ballots at the satellite office they opened this year at the north county annex.
---