Carrying the torch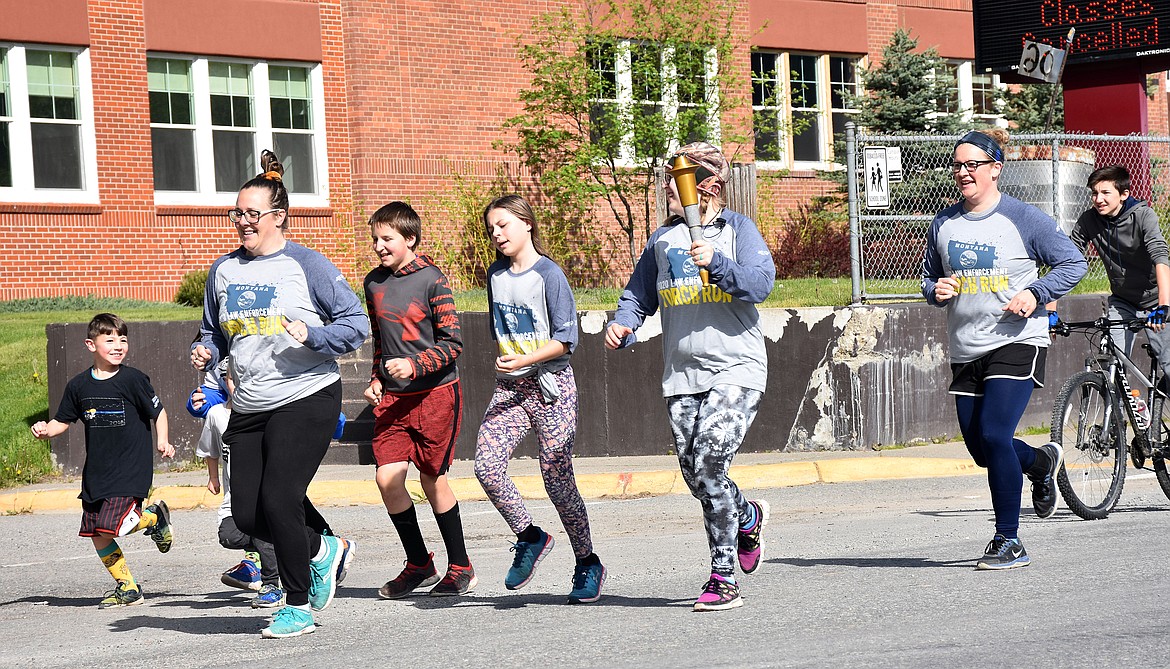 Supporters of the Special Olympics Law Enforcement Torch Run head through Troy on May 14. (Duncan Adams/The Western News)
They wheeled into Troy at precisely 9:30 on a crisp, sun-washed spring morning. The four cyclists, escorted by law enforcement cruisers, had started their ride at about 8 a.m. at the border with Idaho.
The cyclists, including Troy Police Chief Katie Davis, pedaled the first leg of Thursday's Law Enforcement Torch Run for Special Olympics in Lincoln County. In Troy, a group of people of diverse ages joined. They gathered near the high school and then ran through the city, with one gleeful young woman carrying the torch.
The group passed the high school's electronic sign announcing "In-school classes cancelled until further notice." They jogged past a clutch of blood-red tulips blooming in a yard along Missoula Avenue. They ran by a vacant lot where dandelion seedheads in profusion waited patiently for the puff of a child's breath.
Loaded timber trucks rumbled by, heading west, a reminder of simpler times in northwest Montana.
Before being kneecapped by the COVID-19 pandemic, Special Olympics Montana's State Summer Games had been scheduled to occur in Great Falls May 12–15.
Events would have included track and field, cycling, kayaking, swimming, powerlifting, golfing, equestrian competition and other activities.
After the games were cancelled, some law enforcement personnel around Montana ditched their annual Torch Run and developed other ways to support the Special Olympics organization.
But Lincoln County Sheriff's Office Deputy Ben Fisher said regional law enforcement decided to proceed.
"We're just showing our support," Fisher said.
Civilian participants Thursday included his daughter Autumn Fisher, 13 who started at the state line and cycled through Libby around 11:40 a.m., headed to Whiskey Hill, where the ride and run ended.
During a typical year, law enforcement officers in Lincoln County pass the torch to Flathead County officers at Happy's Inn. That wasn't in the cards this year, Ben Fisher said.
Special Olympics traces it roots to the early 1960s and the work of Eunice Kennedy Shriver on behalf of those with intellectual and physical disabilities. The organization was founded in 1968.
The Law Enforcement Torch Run for Special Olympics began in 1981 in Wichita, Kansas. Police Chief Richard LaMunyon believed the Torch Run "would help law enforcement be active in the community and support Special Olympics Kansas," according to a history of the event on the Special Olympics website.
With support from the International Association of Chiefs of Police, the Law Enforcement Torch Run became the largest public awareness and fundraising group for Special Olympics.
---