Workable agreement for future asbestos abatement seems likely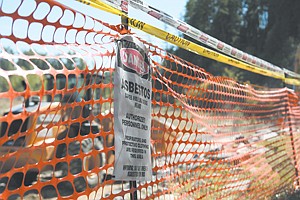 After months of acrimony, Lincoln County Commissioner Mark Peck (D-1) says local officials are close to an agreement with Helena for the handoff of Libby Superfund site oversight to the state Department of Environmental Quality.
County residents and elected leaders, Peck chief among them, have long pressured the state to clearly absolve property owners in Libby and Troy — as well as the county government — from the financial burden of future cleanup of asbestos contamination.
As the date for the handoff of oversight of residential areas affected by past vermiculite mining from the EPA to the DEQ neared, state officials resisted requests by area residents to enshrine such an agreement in writing.
Following a lengthy phone conversation with DEQ officials last week, Peck said during a May 6 board of commissioners meeting that he felt pleased with how far the state agency has come on the divisive issue of financial liability for future cleanup.
"I think what we got is the flexibility, that this is a living process, and that we will work through things," Peck said.
He said the state and local Asbestos Resource Program now have mutually agreed upon criteria to determine whether a landowner followed proper asbestos abatement protocol.
They have also worked out an arrangement to compel a landowner to cleanup asbestos contamination if it poses a public health risk that does not leave the county financially responsible, Peck said. Under the previous framework, local officials would arrange for the cleanup and place a lien on the property to pay for it.
Depending on the circumstances, the county might never recoup the cost, he said.
Now, local officials can expect to be reimbursed from a trust fund set aside to pay for future asbestos cleanup costs. Future payments collected from the property owner in question would replenish that fund, Peck said.
"If the instance comes up where there's a very clear public health threat, and it's abandoned or something like that, then it's up to the local government," Peck said. "In their original attempt at this, they said they don't have authority to compel someone. We do. My concern is not exercising that authority; it's the county paying for the cleanup."
The new arrangement also gives property owners the ability to arrange for cleanup of their land, but does not require it, Peck said. He worried that forcing landowners to arrange for the work put an unnecessary burden on the elderly and vulnerable.
"They've come a really long way," Peck said of the DEQ.
---