A family that bakes together
A history of the landmark Polebridge Mercantile in Montana's wild North Fork highlights the lingering impact of onetime owner Dan Kaufman.
Kaufman and his son Ben launched a bakery at the off-the-grid outpost in the 1990s.
"The bakery and most of the recipes are the legacy of Dan Kaufman, a third-generation baker from Idaho who owned the Merc for 15 years," the history observes. "Dan's legacy and tremendous baking wisdom still live on in every bear claw the Merc produces."
Today, the Kaufman-crafted bear claw also lives on in Libby at Mustang Bakery.
In Polebridge, Ben Kaufman, a fourth-generation baker, met Megan Bortz, a native of Ohio, who had traveled up for the summer of 2006 to work at the mercantile and the nearby Northern Lights Saloon. The two married, becoming partners in life and business.
A circuitous path led them to run bakeries in Kalispell, Orcas Island and Red Lodge.
Bortz said they eventually sold the bakery in Red Lodge and ran an ice cream shop there for a while.
"The whole time we were sort of looking to get back to northwest Montana," she said. "Ben was touring around looking for locations."
Kaufman, an Idaho native, has family in Idaho and was taken, Bortz said, by Libby's recreational amenities and its proximity to the Gem State.
The couple and their four children moved to Libby in October.
In November, Kaufman, the baker, and Bortz, who handles customer service, opened Mustang Bakery at the corner of U.S. 2 and Main Avenue. The couple bought the small building, which has housed a one-hour photo shop and a couple of compact eateries, and began baking and selling and accumulating rave reviews on Facebook.
Kaufman's experience as a baker traces back to age 12, when he pitched in at his grandfather's bakery in Pinehurst, Idaho, by frying donuts.
Kaufman, 48, and Bortz, 40, took a while to nail down the bakery's days and hours of operation. But Mustang Bakery ultimately settled on opening Wednesday through Saturday, 8 a.m. until sold out. Bortz said she does not anticipate adding more days "because of the capacity of our ovens and having just one baker."
The building's existing drive-through window became a welcome asset as COVID-19 pushed regional restaurants into either embracing take-out and delivery mode or shutting down completely.
Bortz said customer favorites have included ham and cheese croissants, caramel rolls and stuffed croissants. And she said customers have been encouraging of the venture.
"You know, the people have been very welcoming," Bortz said. "We're getting a lot of local support."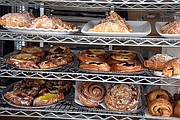 ---