Troy's Fourth of July bash called off
Uncertainty ultimately doomed Troy's Fourth of July extravaganza.
Organizers scrapped the yearly tradition, planned by the Troy Chamber of Commerce and hosted by the city, last month out of concern over the COVID-19 pandemic. In a Facebook post announcing the cancellation, chamber Director Susie Taylor wrote that health and safety were critical factors in the decision.
Although state officials in April began easing restrictions aimed at curtailing the spread of the illness, the list of cancelled events continues to grow. The first phase of the state's reopening, which went into effect over the past two weeks, allowed for the reopening of shops, restaurants, bars and houses of worship.
But social gatherings remain limited to 10 or fewer people. Even when the state enters phase two, gatherings must be restricted to 50 people.
With attendance usually soaring to between 5,000 and 6,000 spectators for the daylong celebration, maintaining recommended social distancing practices would be challenging, said Troy Mayor Dallas Carr.
And that's if the COVID-19 pandemic continues to wane in northwest Montana, he said.
"We just don't know [what's going to happen]," Carr said. "It's unfortunate. It's sad. But in the long run, they have to do what they feel is right and what is safe for the community and they made the call."
Carr said he and Lincoln County Commissioner Jerry Bennett (D-2) sat in on the meeting where the chamber's leadership decided to cancel the event. They attended to offer moral support and potentially find a solution, he said.
"I felt bad for them, because they're trying to make a decision and you could tell it weighed heavily on their hearts, because they did not want to do nothing," Carr recalled.
Public health concerns aside, chamber officials also worried whether fireworks, if purchased, would arrive in time for the celebration, Carr said, pointing to problems in the supply chain. And if they were purchased and the event was cancelled because of a surge in COVID-19 cases, how would the city store the fireworks?
Carr said they pitched alternative ideas, like encouraging attendees to watch the display from inside personal vehicles on in the beds of pickup trucks, but ensuring people were maintaining social distancing seemed undoable, he said.
And Troy's annual bash is more than just a fireworks show. The day's festivities typically include a parade, car show, food and beer vendors and other activities. Outside of the annual Christmas tree lighting, it's Troy's largest event each year, Carr said.
More than that, it's one of the biggest events in the county, said Mark Peck, who serves as chair of the board of commissioners.
"It's a huge hit," he said, describing the cancellation of the event.
Carr, likewise, is aware many businesses that do well during the celebration will suffer this year. But they already are suffering, he said.
"Heck, that's one day," said Carr, while calling on residents to support local shops, restaurants and bars as best they could in the near future.
"I'm worried about every day for these guys, who are trying and getting opened up the best they can," he said. "One day is great, it helps a lot, but there are a lot of days leading up to that."
Bennett said they hope organizers might be able to put together an event toward the end of summer. A Labor Day celebration might not be the same, but remains an option.
"They're not going to get the same draw, but at least it would do something. It's a big deal, economically, for Troy," Bennett said.
Carr supports the idea of an end of summer blowout, but said planning hinges on the pandemic and other factors. Worst case, Troy can celebrate the Fourth of July in style again next year, he said.
"We can make it so when next year rolls around we could have a lot bigger of an event. We can make a heck of a wingding next year," Carr said. "It's just one year. And [the Fourth of July celebration] is not going to go away."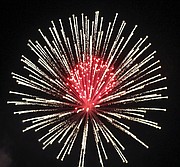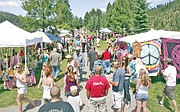 ---