Barry Allen Boothman, 69
Barry Allen Boothman died April 10, 2020, at his home in Libby. He was 69 years old.
Barry was born Oct. 28, 1950, to Eve and Allen (Jude) Boothman. He grew up in Libby with his parents and four brothers: Harry (Jim), Fred, Jerry and Dick.
Barry worked at the Libby Dam when he was young, but music was his true passion. He played his left-handed 12-string guitar for many occasions and worked as "The Mountain Man" in the bars in the Libby area. Barry traveled all over, playing his guitar until he met his soul mate, Lisa Mote of Lake City, Fla. Barry and Lisa returned to Libby, where they lived with their family for the last 42 years.
Barry is preceded in death by his parents, Eve and Jude, and his brothers, Harry (Jim), Fred and Jerry.
Barry is survived by the love of his life, Lisa; his children, John Herb, Angela Fischer and Kelsey Reynolds; and his brother, Dick. Barry was also a proud grandfather to Aspen, twins Nash and Athena Fischer, Donovan Herb, and Jeffery and Jacey Offenbecher.
Barry loved to write and sing songs for his family. "When the Work Is All Done In the Fall" is a family favorite that he would sing. And all the grandkids heard and loved him singing "Puff The Magic Dragon" from day one.
Barry was a man of few words, but when he sang, everyone listened.
Due to the COVID-19 pandemic, a gathering to remember Barry will be held at a later date. At that time, family and friends will be asked to bring pictures, memories and songs to the gathering.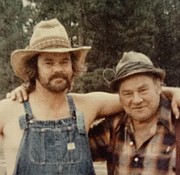 ---