Paul Wise, 79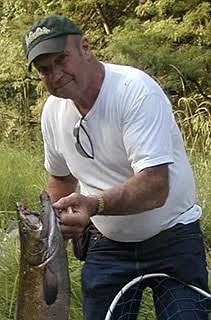 Paul Wise, 79, fell asleep in death April 24, 2020, surrounded by his family.
He was born Nov. 1, 1940, in Sandpoint, Idaho, to Russell and Gayle (Armstrong) Wise.
He grew up on the family farm with seven siblings in Heron. He attended school at Heron Elementary and started high school in Noxon, but made the choice at 15 years old to quit school to help support the family.
His work ethic was engrained early and he started his first job at Noxon Dam, having had Grandpa Russell sign a waiver that allowed him to work at age 16.
On May 15, 1964, Paul married Deanna Joy of Polson. After working various jobs, they settled in Libby, raising their two daughters: Cheryl and Chris. He worked on the Libby Dam to its completion. Not wanting to pull his daughters away from family and friends, Paul became a Logger.
During this time, Dad continued to get calls from Peter Kewitt to come back to work in Cement Masonry. So in 1992, he and Deanna packed up and followed construction work to Georgia, Montana, Utah, New Mexico, California and finally Washington state. In 2006, he retired on the Tacoma Narrows Bridge job.
In 1976, Paul, along with his wife, Deanna, was baptized as one of Jehovah's Witnesses. They also raised their daughters to have a personal relationship with our Heavenly Father Jehovah. One of the Bible truths that Dad held dear to his heart was the hope of living forever on a paradise earth with no more pain, sickness or death. Dad knew this would come to fruition when Jesus Christ establishes his rulership over the earth.
Dad loved hunting and fishing. He would spend all day on the lake whether he was catching anything or not. Once, after a long unsuccessful day of fishing, his older brother said that he had the patience of Job. He loved being out in creation with his wife, daughters, grandkids and great-grandchildren. He took great pride in keeping his yard beautiful, hoping to make it resemble the paradise he will see upon resurrection.
Paul was preceded in death by his parents, Russell and Gayle; three babies (two boys and a girl); sisters, Juanita Waters and Patty Thompson; as well as brother-in-law and dear friend, Skip Thompson.
Paul is survived by his wife of 55 years, Deanna. He also is survived by his daughters, Cheryl (Steve) Caldwell and Crystal (Loren) Dodge; grandkids, Whitney (Silas) Rogers, Joel (Elizabeth) Dodge, Kaleigh (Austin) Bennett; great-grandkids, Aubree, Parker
Jane, Kason, Kai and Brooklyn; siblings, Lela Wilson, Gene (Mary) Wise, Harold (Mary) Wise, Joanne Miller and Betty Grigsby; along with many nieces, nephews and beloved friends.
Because of COVID-19 restrictions, a virtual memorial service will be held via Zoom at 1 p.m., May 2. The event (Zoom meeting) ID is 885 7108 9268 and the password is 578857. You also may call in at 1 (346) 248-7799 or 1 (669) 900-9128.
---