Troy Public Schools use technology to ride out closure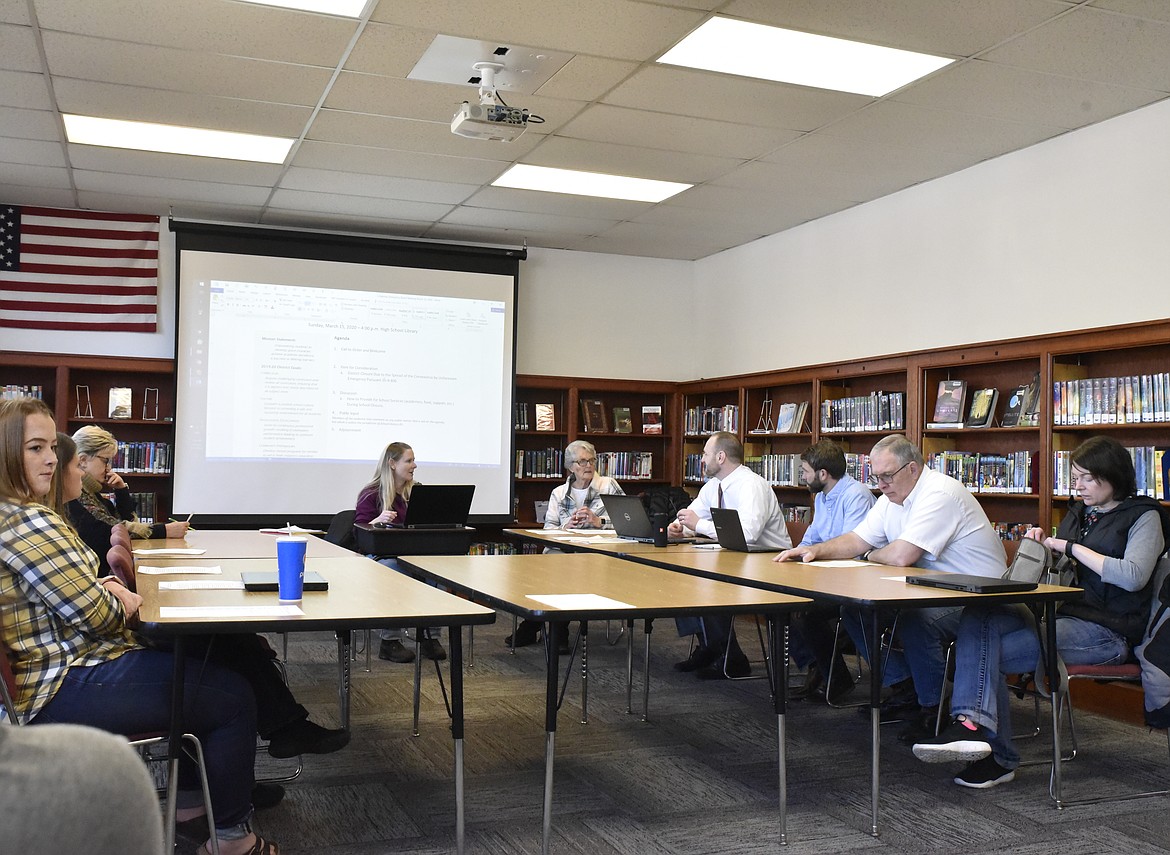 Members of the Troy School Board discussed remote learning at a meeting in mid-March. (File photo)
Incorporating technology into the classroom has made the pivot to remote learning easier in Troy, said Superintendent Jacob Francom.
Like other districts in the state, Troy Public Schools has had to develop plans for teaching students while its facilities remain closed in the face of the COVID-19 pandemic. Gov. Steve Bullock ordered public schools shuttered earlier in March and has extended the shutdown well into April.
Officials in neighboring Libby approved a rough outline of education plans during a March 25 special school board meeting. The plan, which, among other measures, calls for teachers to connect with students via telephone and video chat, is similar to what Troy has implemented, Francom said March 27.
But Troy is a "one-to-one" district, he said, which means students from the transitional kindergarten class to 12th grade already have experience learning using online tools.
"To transition to online is a lot easier for us than other districts," Francom said. "Our teachers are pretty familiar with Google Classroom."
Troy will offer a hybrid curriculum beginning March 30. Most students will interact with teachers and perform work using school-issued computers and home Internet connections. Those without reliable Internet access are receiving hotspots, which tie into regional cellular networks, he said.
While teachers have been given the leeway to develop their own methods for using Internet-based learning — think the difference between a recorded lecture and a live lesson — administrators are encouraging them to stick to their normal school-day schedule.
"The big learning curve is to now schedule and create a structured program," Francom said.
All teachers are required to maintain office hours where they can interact with students — albeit remotely — answer questions and provide other resources. Students who require special needs support are also receiving it from teachers and aides, Francom said.
"We're doing all that we can to provide additional support," he said. "If we have a second grader that usually gets additional reading help, they'll get online and work with the teacher and classroom aide. It gets a little more difficult when they don't have Internet. … Our big focus is still trying to maintain that relationship with the families."
Faculty members plan to contact families regularly throughout the week, Francom said.
While the district employed a grab-and-go meal system for the first week of the closure, officials are now planning on dropping meals off at students' homes. Francom said the measure should help prevent the spread of COVID-19. Those same drivers will pick up homework and other assignments for grading, he said.
Parents also can drop off schoolwork using a mailbox at the front door of the district's elementary school.
Guidance counseling services will remain available to students.
Francom also wants to keep morale high. To that end, administrators are organizing digital school assemblies. On April 1, the district will host a motivational speaker from Philadelphia and broadcast it online to students, family and faculty.
"We're getting out of the box and having virtual assemblies provided and streamed online for students to watch with their parents if they want to," he said. "I think it's important at this time to have that support and motivation."
Francom sent a letter home to families outlining the district's plans on March 27. But he urges residents to keep an eye on the school system's Facebook page for regular updates and more detailed information.
---