Residents tested, no confirmed cases in county yet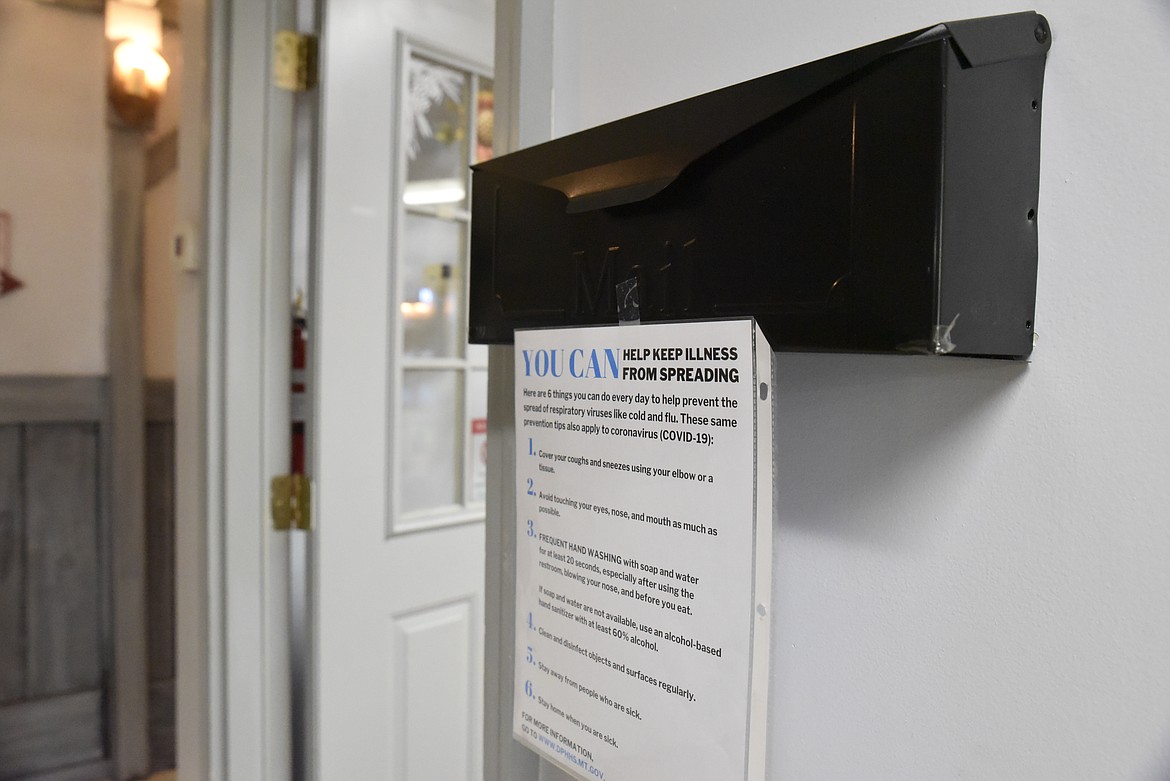 Authorities have tested 27 Lincoln County residents for COVID-19, but so far none have come back positive, local health officials said March 21. The nine results that thus far have been returned are negative for the illness.
There are no confirmed cases of COVID-19 in the county, officials said.
Health officials began publicly releasing testing data after Lincoln County Public Health Director Jennifer McCully and Trista Gilmore, county public health nurse, co-hosted an online question-and-answer session on the topic March 20. The Internet broadcast, a first for the department, came as Gov. Steve Bullock announced widespread restrictions on public gathering spaces across Montana in an attempt to stem the spread of COVID-19.
The disease, a type of coronavirus, has reached global pandemic levels. Government officials across the country — and world — have enacted emergency measures to prevent fatalities from the illness.
McCully initially sought to allay concerns that getting the COVID-19 test was cost-prohibitive. Anyone who meets the official criteria for testing will get tested, she said.
That criteria includes a mix of symptoms, contact with those known to have the illness and recent travel to countries where COVID-19 is widespread. Results can take up to several days to come back, said Gilmore, who acknowledged that the wait was "really stressful."
The pair also sought to differentiate between a government-ordered quarantine and voluntary self-isolation. Many people are practicing social distancing out of an abundance of caution, Gilmore said, not because they show symptoms or have the disease.
As cases are confirmed in Montana, McCully said, officials carefully retrace the patient's previous contacts. Those people are then contacted and asked to stay in isolation for the 14-day waiting period to see if symptoms emerge.
McCully stressed measures residents can take to prevent an outbreak in Lincoln County.
"We want to remind everybody that it's up to you to take full responsibility for yourselves," she said. "Do not visit people who are at high risk or the elderly, who may be at high risk. Avoid visiting grandparents."
COVID-19 is particularly dangerous for older adults, age 65 and older, according to the Centers for Disease Control. Ten to 27 percent of patients older than 85 have died from the illness while 4 to 11 percent of patients 65 to 84 have perished from the coronavirus.
As for symptoms, Gilmore and McCully said that COVID-19 seems to head directly to the lungs. Whereas upper respiratory symptoms of the cold or flu include sneezing, sore throat and congestion, COVID-19 results in a fever, cough and shortness of breath.
Local health officials have repeatedly urged residents with questions and concerns to call the county's dedicated hotline at 406-293-6295.
McCully advised against seeking medical treatment outside of an emergency. And most people who contract COVID-19 recover fully, Gilmore said.
"There's no magic treatment, no antibiotic or antiviral," she said. "There's nothing we can just give you to see if you can get rid of [COVID-19]."
The duo recommended stocking up for at least 14 days in event of being quarantined. That includes foodstuffs to get through the two-week wait, but also other household items you might need, to include cleaning supplies and facial tissue. They also said the county would work to help anyone quarantined unprepared.
They also recommended against nonessential travel and cautioned against congregating in public areas.
"Take care of yourself and your family," McCully said. "That's what we can do right now for each other."
---