Drive-through COVID-19 testing site opens in Libby
by
DUNCAN ADAMS
Staff Writer
|
March 24, 2020 12:22 PM
The multi-colored canopy tents leant the site a festive air at odds with the circumstances that required medical masks and gloves.
Today, the Lincoln County Health Department and staff from the Center for Asbestos Related Disease teamed up to launch a drive-through testing site for people with symptoms that might be indicative of COVID-19.
The testing site was set up in the parking lot of the CARD Clinic on East Third Street.
Around 11 a.m., two vehicles were the first to pull through. Each driver wore a mask.
Miles Miller, a certified physicians assistant, and Dr. Lee Morrissette, both with CARD, prepared to perform the testing.
Jennifer McCully, Lincoln County's public health manager, said only people who have symptoms suggesting possible infection with the coronavirus will be tested. She said the drive-through site is intended to relieve testing pressure on clinics and the Cabinet Peaks Medical Center.
People with questions should call the Lincoln County COVID-19 Hotline, she said, at (406) 293-6295.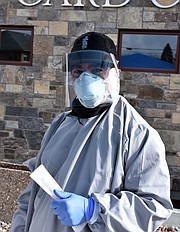 ---