Christmas tree in Troy lit to boost spirits in period of uncertainty
The aroma of wood smoke pervaded the air and the setting sun blushed the clouds with a rosy hue and lit the hills with alpenglow.
This was the setting March 21 when Troy joined a national trend to attempt to brighten a dark time by invoking the serenity of Christmas.
Clint Taylor, manager of Troy's power system, and Susie Taylor of the Troy Chamber of Commerce waited Saturday for 8 p.m. And then Clint Taylor powered up the lights strung on the towering ponderosa pine that serves every year as the city's Christmas tree.
Occupants of three vehicles parked nearby blew their vehicles' horns.
The city had announced the tree lighting as an attempt to spread a sense of calm and joy during a period of anxiety linked to COVID-19. Given that it is also a time of "social distancing" intended to try to limit the spread of coronavirus, Troy had suggested people who wanted to attend the tree lighting could remain in their vehicles.
Susie Taylor said Mayor Dallas Carr thought lighting the ponderosa might bring cheer to the city.
The tree, rooted near the U.S. Post Office on Kootenai Avenue, has served as the community's Christmas tree since 1931. According to local history, it has been lit every December except during the blackout years of World War II.
Nationally, other communities and individuals have recently begun to hang Christmas lights as the U.S. reacts to the threat of COVID-19 with business closures, school cancellations and orders to shelter in place.
One national news story observed, "It's beginning to look a lot like Christmas."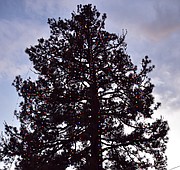 ---