State of emergency declared in Lincoln County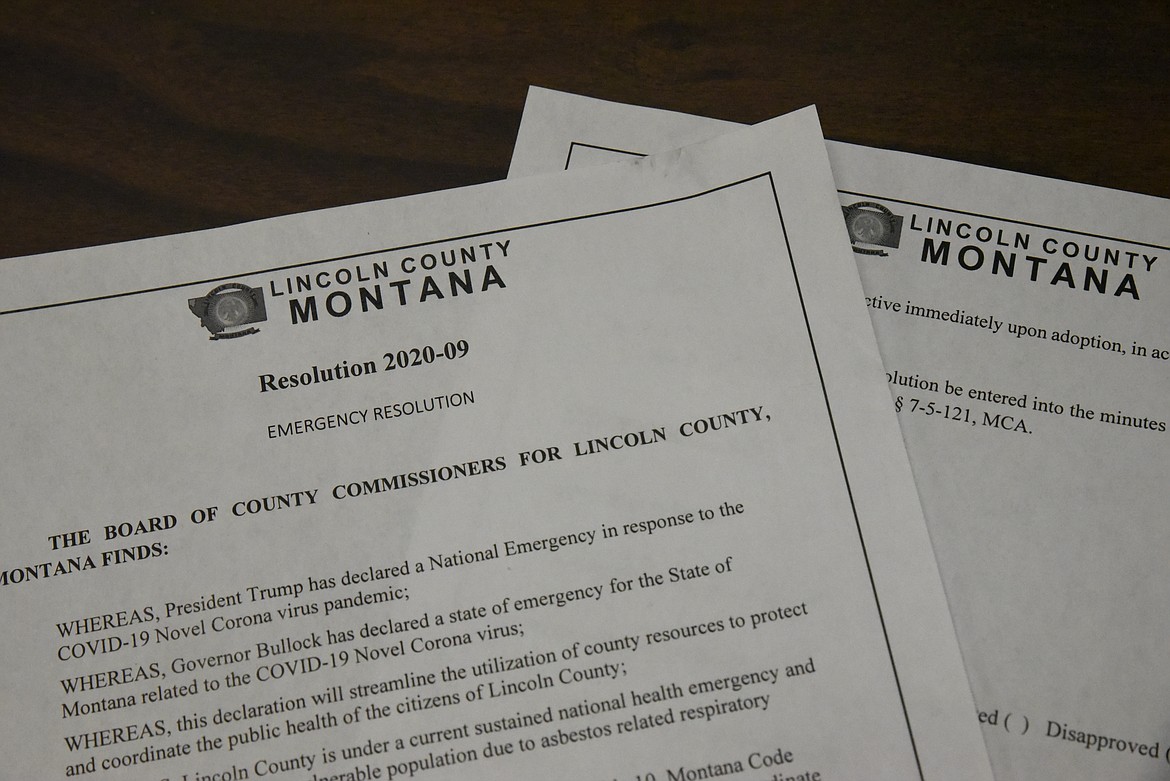 The Lincoln County Board of Commissioners declared a countywide state of emergency in the face of the COVID-19 pandemic during its March 18 meeting.
Coming on the heels of President Donald Trump's national emergency declaration and Gov. Steve Bullock's proclamation of a state of emergency for Montana, the county-level resolution gives the board authority to raise two mills in response to the crisis.
Dollars raised by an emergency levy can only be spent with the unanimous decision of county commissioners, according to state code. Money raised during a crisis that goes unspent must be set aside for future emergencies.
County Commissioner Jerry Bennett (D-2), who made the motion to declare a state of emergency, said the board had no immediate plans to raise money.
"I move to approve, but just with the clear understanding that this is just a formality," he said.
The board voted unanimously to approve the measure.
Commissioner Mark Peck (D-1) said there were no confirmed cases of COVID-19 in the county as yet, but wanted to ensure the board was getting accurate and up-to-date information from the jurisdiction's health department. Commissioners broke from the meeting's agenda to call health officials in for an unplanned public briefing.
"I think it would be good for them to be briefing us," Peck said. "Our public health folks should probably be shooting us daily updates on what's going on."
During the briefing, Health Department Director Kathi Hooper sought permission to hire temporary staff to help with virus testing. Asked how many, Hooper and Public Health Director Jennifer McCully said at least one more person to start.
Currently, the department has a single staff member handling testing countywide. Trying to cover Eureka, Libby and Troy has left resources stretched thin, Hooper said.
"We lose her for half a day when she has to run up to Eureka for testing," she said. "We're hoping to hire a 90 day temp up in Eureka, [someone] who is a nurse who could respond when needed for testing."
Instead, commissioners directed the department to hire two temporary staff members immediately. They gave Hooper and McCully permission to hire a third if necessary.
"It would not hurt to find three and hire two right away," Peck said.
McCully and Hooper told the commissioners they already had a person in mind in Eureka. The challenge with hiring two additional staffers would be finding candidates with the necessary qualifications, McCully said.
Because of the logistical limitations on COVID-19 tests, the health department staff is continuing to meet with individuals who may have been exposed to the virus. Were tests to become available in mass quantities, officials could create a centralized site, McCully said.
In other parts of the country, like California, Massachusetts and Texas, drive through coronavirus testing facilities have sprung up.
For now, though, officials in Lincoln County want residents who suspect they may have the illness to contact the health department at 406-293-6295.
"I would like to, for as long as possible, meet people where they are at … until we are in a place to do drive through testing," McCully said.
On the same day, officials with the Lincoln County Sheriff's Office announced the discontinuation of non-emergency business. That includes canceling jail visitations; the 24/7 alcohol-screening program and drug patches; issuing concealed weapon permits and renewals; and conducting background check fingerprints and VIN inspections. Fees incurred for late concealed weapons permit renewals as a result of the measures would be waived, officials wrote in a statement.
Detention center personnel will no longer accept money for inmates through the sheriff's office lobby, officials said. Instead, cash, check or money orders could be sent to 512 California Avenue addressed to the inmate and the detention center.
Officials also warned that the agency will employ a "limited patrol response" for incidents where a crime has not been committed and there are no safety or security concerns.
Authorities urged residents to file reports by phone at 406-293-4112 ext. 1231.
"The Lincoln County Sheriff's Office will continue to actively patrol our community to provide the safety and security of our citizens," read the statement. "However, we are taking the above precautions to both limit exposure and the potential of carrying and passing COVID-19."
---