Ingbretson receives deferred sentence for drug possession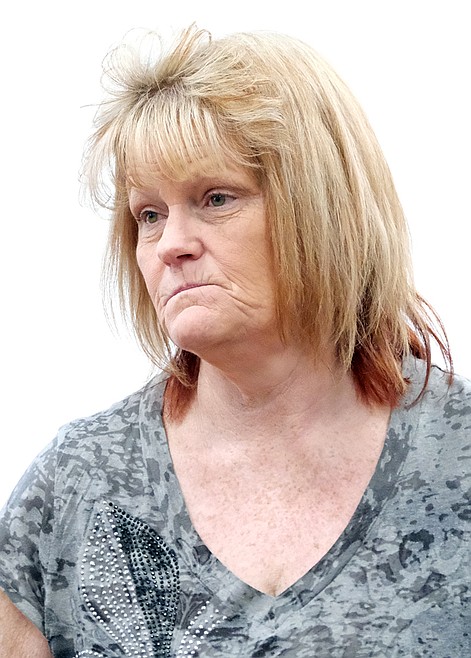 Irene Ethel Ingbretson sentencing, Monday, March 9, 2020. (Paul Sievers/The Western News)
by
DERRICK PERKINS
Daily Inter Lake
|
March 20, 2020 8:19 AM
A Libby woman arrested after authorities responded to a drug overdose in November received a deferred, three-year sentence in Lincoln County District Court on March 9.
Prosecutors initially charged Irene Ethel Ingbretson with felony possession of dangerous drugs and tampering with evidence. After pleading not guilty to the charges, Ingbretson struck a deal in January.
Under the terms of the agreement, she pleaded guilty to criminal possession of dangerous drugs while prosecutors dropped the tampering with evidence charge.
Calling the deferred sentence an "appropriate" measure, Lincoln County District Judge Matthew Cuffe commended Ingbretson for trying to get her life back on track.
"I believe the defendant has been accountable," he said.
Lincoln County Sheriff's Office deputies arrested Ingbretson during a search of a Spencer Hill Road home following a drug overdose. First responders arrived about 7:33 p.m. and began performing CPR on the overdose victim, according to court documents.
In an affidavit, Deputy Steven Short wrote that when he arrived he found two spent canisters of Narcan Nasal Spray on the couch.
Ingbretson, who was at the scene, later told authorities the victim had been moving a couch with another individual when he collapsed. She and another woman had attempted to revive him before authorities arrived, court documents said.
After the victim was taken to the hospital, deputies at the scene told Ingebretson that they were securing a search warrant for the home, according to court documents. Ingbretson and another woman present decided to leave the house, Short wrote in his affidavit.
But Ingbretson wanted to grab a jacket first, court documents said. Short recounted escorting the woman to another room where the coat was located. She acted nervously, he reported.
While picking up the jacket, Ingbretson allegedly also grabbed an item from the dresser, according to court documents. Spotting white powder on the top of the furniture piece, Short began questioning Ingbretson.
"I need you to stop," he recalled saying in the affidavit. "What did you just put in your hand?"
Ingbretson allegedly opened her hand to show a container holding several crystals. As she handed it to Short, she spilled the contents onto the floor, court documents said.
When Short asked if it was methamphetamine, Ingbretson denied it, according to the affidavit.
"So what's going on, you knew I was going to come with you to get your jacket and you start reaching for what obviously is methamphetamine?" He recalled asking Ingbretson. "You knew we were doing a search warrant and you just didn't want to get in trouble or …"
Ingbretson denied trying to avoid trouble, according to the affidavit, but admitted to struggling with methamphetamine use. She told Short she had been using the drug for a short time.
After discussing it with other Lincoln County Sheriff's Office personnel, Short opted to arrest Ingbretson on a possession charge. He later collected two crystals from the floor that tested presumptively positive for methamphetamine, court documents said.
Ingbretson initially pleaded not guilty to the charges on Nov. 25. The possession charge carried a maximum penalty of five years behind bars and a $5,000 fine.
The tampering charge comes with a maximum 10-year sentence and $10,000 fine.
She changed her plea Jan. 27
Her attorney, Jessica Polan, asked during the sentencing hearing that the court waive several costs, including a $500 drug forfeiture fund fee, for Ingbretson. Polan cited financial hardship.
Ingbretson was "working hard to save up and get her own place and get everything back together," Polan said.
In the end, Cuffe ordered that Ingbretson pay the fines as part of her sentence.
---