Libby board taps Goodman as next superintendent
by
DERRICK PERKINS
Daily Inter Lake
|
March 17, 2020 8:59 AM
After a public questioning lasting more than an hour March 12, the Libby Public School Board offered former principal Ron Goodman the position of superintendent.
Goodman, 49, will replace outgoing Superintendent Craig Barringer. Barringer, who has held the position since 2014, announced in February his impending departure from Libby for a position in Wyoming.
An educator since the mid-1990s, Goodman previously served as principal of Libby Elementary School. Although he left the district in 2018 to pursue a career as a financial advisor for Edward Jones, Goodman told school board members education remained his passion.
"You have your butchers and bakers and candlestick makers and butchers should not be candlestick makers," he said. "For me, it's about investment and I think in terms of if I worked [as a financial advisor] for the next 10 years of my life there would be lots of investments made but it would not be the same investment as the one into our children."
Goodman told the board members that his vision was for every graduate of the Libby School District to enter the working world prepared, regardless of whether they planned on college or going into the trades. Literacy and numeracy must be instilled in students, he said.
They also need to develop the habits of lifelong learners, Goodman said.
"It's this body of knowledge they have to have," he said. "If they have a body of knowledge and they know how to learn and they're not afraid to learn, that — in my mind — speaks to mindset."
Asked by School Board Vice Chair George Woodruff as to how district employees could ensure a child leaves Libby Public School District successfully, Goodman turned to the controversial Common Core State Standards initiative created under President George W. Bush and pushed by President Barack Obama.
After first acknowledging the acrimonious debate surrounding the value of Common Core, Goodman said the idea of identifying areas of importance and then measuring students' performance made sense.
"Things that are important have to be measured," he said. "I believe that if it's worthwhile, I think it should be measured in some way and have a scoreboard on it. That can be a bit stressful, but if it's important, it should be measured."
Throughout, Goodman stressed relationship building. Forging connections with teachers, administrators, students, parents and the community at large was critical to his success in the position, he said.
Building trust with teachers meant using tools like surveys, but also staying accessible and holding frank conversations.
"If you want to get information from teachers you have to be around teachers," Goodman said. "Ask the question: How is this working? How is this working for you? And be willing to accept that answer."
When Woodruff and fellow School Board member Sam Rosling asked about potentially gaining a resource officer for the district — a proposal that will go before voters in the spring — Goodman again stressed relationship building. If the officer focused on relationships with students, he or she could be "a really good asset," he said.
Asked by School Board member Lori Benson how he would build relationships in the community, Goodman emphasized transparency and outreach. The key is letting people know what the district is doing and why, he said.
"I think everybody supports schools," Goodman said. "I don't think they always like us, but they understand us. They, on principle, understand education is important."
Outreach would involve traditional routes through mass media, like the community's newspapers, but also face-to-face interaction, he said.
About half a dozen members of the audience took advantage of the public portion of the meeting to speak on behalf of Goodman. The audience consisted of 16 residents, including past and present teachers and the outgoing superintendent.
The board took about 20 minutes to deliberate before voting unanimously to offer Goodman the position, which he accepted. Rosling made the motion with fellow board member Alida Leigh seconding.
Goodman began his career in education teaching English in Kazakhstan. He worked in Idaho Falls, Idaho, and Circle before coming to Libby. His one hesitancy about the superintendent position stemmed from his tendency to overwork.
"I am very serious about what I do. It's not a job," Goodman said. "I've always felt sorry for people who don't feel like their job is a calling."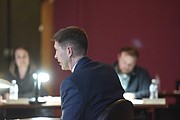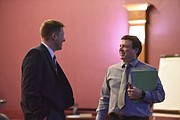 ---