The writing on the wall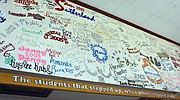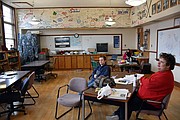 Some graduating seniors used a stencil. Others favored a freehand celebratory scrawl.
Their signature moments linger now as motivation to students who have struggled in conventional high school classes.
Students like Christian Kelley, 18.
He said he gains inspiration from the section of classroom wall at Libby Central School that displays the names of past graduates of the alternative high school.
"I've had a lot of bad years and I'm hoping to change that," Kelley said.
Students like Andrew Nelson, 17.
"I would certainly hope I could get to that point, instead of lagging behind," Nelson said.
The late Todd Berget, a much admired teacher at Libby Central School and a renowned artist, conceived of the signature wall as a lasting tribute to students who had persevered, "stepped up" and graduated.
Students first began adding names in 2000.
In recent months social media spread a false rumor that the school district had plans to paint over the signatures. That rumor generated a measure of outrage among those who bought it.
In reality, the school plans to paint over a different wall, one that displays an array of images that mostly resemble unruly graffiti.
That wall will eventually feature a mural honoring Berget, whose regional legacy includes murals, playful Sasquatch figures and numerous metal sculptures of eagles.
Berget's obituary observed, "Todd had a heart for the struggling student and he believed in them and in second chances."
Todd Boehmler, a teacher at Libby Central School, said he believes the wall of signatures can mean something to students in the alternative school.
"I think it gives them something to shoot for, something to look forward to," he said. "And then they're remembered forever."
Boehmler said several of Berget's former students returned to Libby for his funeral. He died unexpectedly in October following a severe stroke. He was 54.
A few stopped by the school to view their signatures, Boehmler said.
A wooden sign that hangs beneath the names reads, "The students that stepped up, when others stepped aside!"
---