Robert Hafferman, 89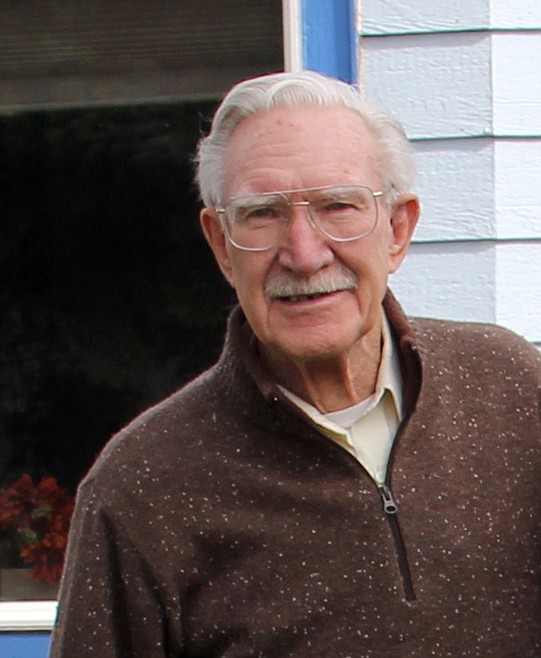 |
March 10, 2020 11:40 AM
Robert (Bob) Hafferman was born in Kalispell on Jan. 29, 1931, to William (Bill) and Ida Hafferman on a 10-acre farm Bob called Duffy's Cow Pasture. The house and barn remain standing today behind Pacific Steel.
Bob passed away peacefully Feb. 28, 2020. He was 89.
Bob was the youngest — and is the last — of 10 children. Bob was born during the Depression and the family had to live entirely off the farm.
One of Bob's lasting memories was eating "everything including the oink" when they killed a pig, because they lacked refrigeration.
Bob lived and went to school in Kalispell until he left for college in 1949. His best memory was of his childhood friends and playing basketball.
He worked on a survey crew that summer and some of the crew noted his aptitude for math. They helped him with admission to Montana State University.
Bob met Clare Belshaw in Bozeman and they were soon married. Son Dan was born in Bozeman and Bob graduated in 1954 with a degree in civil engineering. Bob had lifelong memories of being a Kappa Sigma fraternity brother.
During his junior year, Bob was drafted into the U.S. Army for service in the Korean War as a 1A (first to go). Two weeks later he was classified as 4F (not acceptable) after contracting polio. Bob had lifelong memories of receiving treatment in Shodair Children's Hospital in Helena and was forever grateful for having survived, often saying he learned lifelong lessons when he saw young children, worse off than he was, survive.
Between the Depress-ion and polio, Bob adopted a lifelong belief that it was your own responsibility to take care of and heal yourself. Consequently, Bob did not go to a doctor until he was well into his 70s.
Bob left Montana after college. His first job was in Salt Lake for Chicago Bridge and Iron. Their son Kurt was born in Salt Lake in 1955.
Bob's father died in September 1955, so he went home to help his mom and took a job with the National Park Service in Glacier National Park as a civil engineer. Greta was born in Kalispell in April 1959.
Bob and Clare and the family later embarked on the National Park Service transfer program that took them to the Everglades, Lake Powell (Rainbow Bridge) in Arizona with homes in both Wahweap, Ariz., and Novato, Calif. Bob helped invent a floating marina that could be built, floated up the lake and reconstructed. A few of these marinas are still in use at Wahweap and Rainbow Bridge landing today.
After losing interest in the National Park Service transfers, Bob quit and spent a year in Libby working for J. Neils Lumber Company. An offer to return to the Park Service was too tempting and he returned for two more years at Mount McKinley National Park.
Fly-fishing, bird watching and photography were Bob's lifelong hobbies. They helped make his time in Alaska a dream job. When his request to be transferred to the Virgin Islands was denied and the counteroffer was the main office in Anchorage, Bob quit the Park Service for the last time and returned to Libby.
Bob and Clare started and ran the Coffee Corner Café in Libby. As a licensed civil engineer and land surveyor, Bob opened Hafferman Engineering in Lincoln County and in the late 1970s he started Koocanusa Marina.
All three kids graduated from Libby High School and shortly after Greta left for college, Clare and Bob moved to Tacoma.
He would later move back to his hometown. There, he worked as a civil engineer for the City of Kalispell. He eventually returned to private practice and retired in 1999.
Bob believed that life was to be lived and talents were for the purpose of giving back, so he served for 12 years on the Kalispell City Council, committed to serving Kalispell and his constituents.
He strove to set the example for his children and grandchildren the importance of asking questions, replacing a problem with a solution, to be persistent with a sense of humor, to seek opposing viewpoints and to account for your mistakes.
He was preceded in death by his beloved wife, Clare, after 62 years of marriage; his parent; and all of his brothers and sisters.
Bob is survived by his three children: son, Dan and wife, Marcy, of Kalispell and their three children, Jason, Nathan and Jennifer; son, Kurtis and his wife, Kathy, of Kalispell and their three children, Marcus and his spouse, Amber, Eric and wife, Dani, Rebecca and spouse, Shea, and daughter Greta and husband Harry of Rapid City, S.D., and their two children, Sam and Max.
Bob had two great-grandchildren: Jayden Rose Fredrickson Chapman (Max) of Rapid City, S.D., and Toby Mathias Hafferman (Marcus). There are many surviving nieces and nephews from the Hafferman family that date back to Bill and Ida's first arrival in Montana in Gilford in 1907.
No service is scheduled but a joint celebration of life and family reunion is planned for the summer of 2020.
The details are forthcoming.
In lieu of flowers, donations can be made to Bob's favorite charities: the Friends of the Library, Ray of Hope and the Flathead Food Bank.
---