Shirley Jean Fahland, 86
Shirley Jean Fahland, 86, having lived a full life, fell asleep in death Feb. 29, 2020, at the Libby Care Center. She was born March 20, 1933, in Libby to Fred and Mary (Stout) Munsel.
She was raised in Libby and graduated from Libby High School in 1951. In 1958, she married Felix Fahland. During their 22-year marriage, they owned and operated the Libby Ready Mix business and raised seven boys. A hard worker and dedicated mother, she loved her boys unconditionally. She would do anything for them, whether it was cooking their favorite meal or hiking up a mountain with them. She also loved to sew, her sewing machine being one of her favorite possessions. Having worked in a laundry for a time, she was a pro at ironing and was known to iron everything.
Shirley was baptized as one of Jehovah's Witnesses on June 8, 1972. She loved sharing the Bible's message with others. One of her most cherished beliefs was of the promised resurrection of the dead (John 5: 28, 29). She often spoke about how she looked forward to seeing her mother resurrected.
Pre-ceding her in death were her parents, two sisters, Naola Hansen and Jerry Aaron, and one brother, Donald Munsel.
She is survived by her four sons, Frank and Jason (Kerri), both of Libby; Steven of Sand-point, Idaho; and Harmon (Cynthia) of James-town, N.D.; three stepsons, Mitch of Libby; Mike (Diana) and Marshall both of Spokane, Wash.; two grandsons, Justice of Spokane, Wash.; and Jake of Boise, Idaho; and one great-granddaughter, Willow.
A memorial service will be held March 7, 2020, at 1:30 p.m. at the Kingdom Hall of Jehovah's Witnesses at 55 Kootenai River Road, Libby.
Arrangements are by Schnackenberg Funeral Home in Libby. Condolences and memories may be shared at www.schnackenbergfh.com.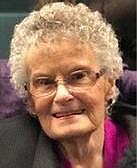 ---