Eleanor Lindsay, 84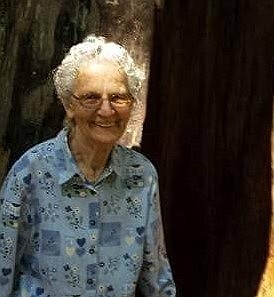 Eleanor Lindsay, 84, died peacefully at home of natural causes on April 3, 2020.
Eleanor was born in a small town of Harlem. She moved to Libby about 1957, where she met and married Donald Hutton. They bought a ranch on Pipe Creek Road about 1962 and raised seven children while managing all the responsibilities of a productive ranch. Eleanor bought La Casa de Amigos about 1992 and owned it until 2003, when she retired. Eleanor enjoyed country life to the fullest.
Eleanor is survived by: her six children, George Hutton of Libby, Donna (Dave) Parrish of Libby, Raymond (Lolita) Hutton of Chula Vista, Calif., Cindy AuClaire of Sioux Falls, S.D., Bruce (Catherine) Hutton of Harrah, Wash., Grace Rogers of Libby; four siblings, Lawrence Lindsay, Doris Brown, Wesley Lindsay, Candace Lucas; and many grandchildren, great-grandchildren, nieces and nephews.
She was preceded in death by her husband, Donald Hutton; daughter, Bette Hill; five siblings, Sharon Lindsay, Steven Lindsay, Betty Plummer, Evelyn McDonald, Patsy Evans; and two grandsons, Anthony Hutton and Raymond Hutton.
A potluck to celebrate Eleanor's life will be held June 27, 2020, from 2 to 5 p.m., at 6290 Pipe Creek Road, Libby, MT. Please feel free to share memories with family and friends.
---