The grit beneath the glitter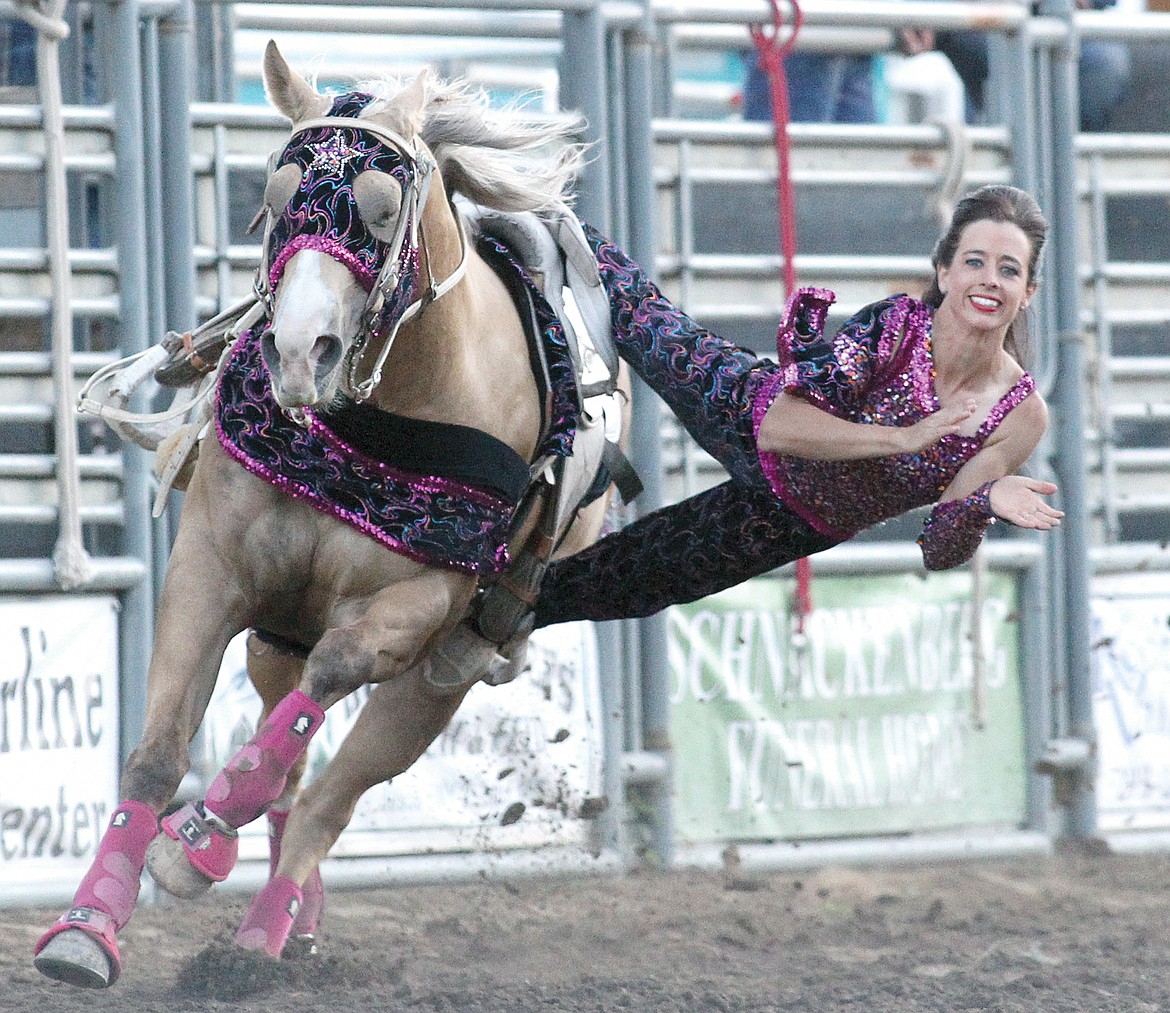 Trick rider Madison MacDonald-Thomas showcases her years of training during a performance at the Kootenai River Stampede last weekend. (Paul Sievers/The Western News)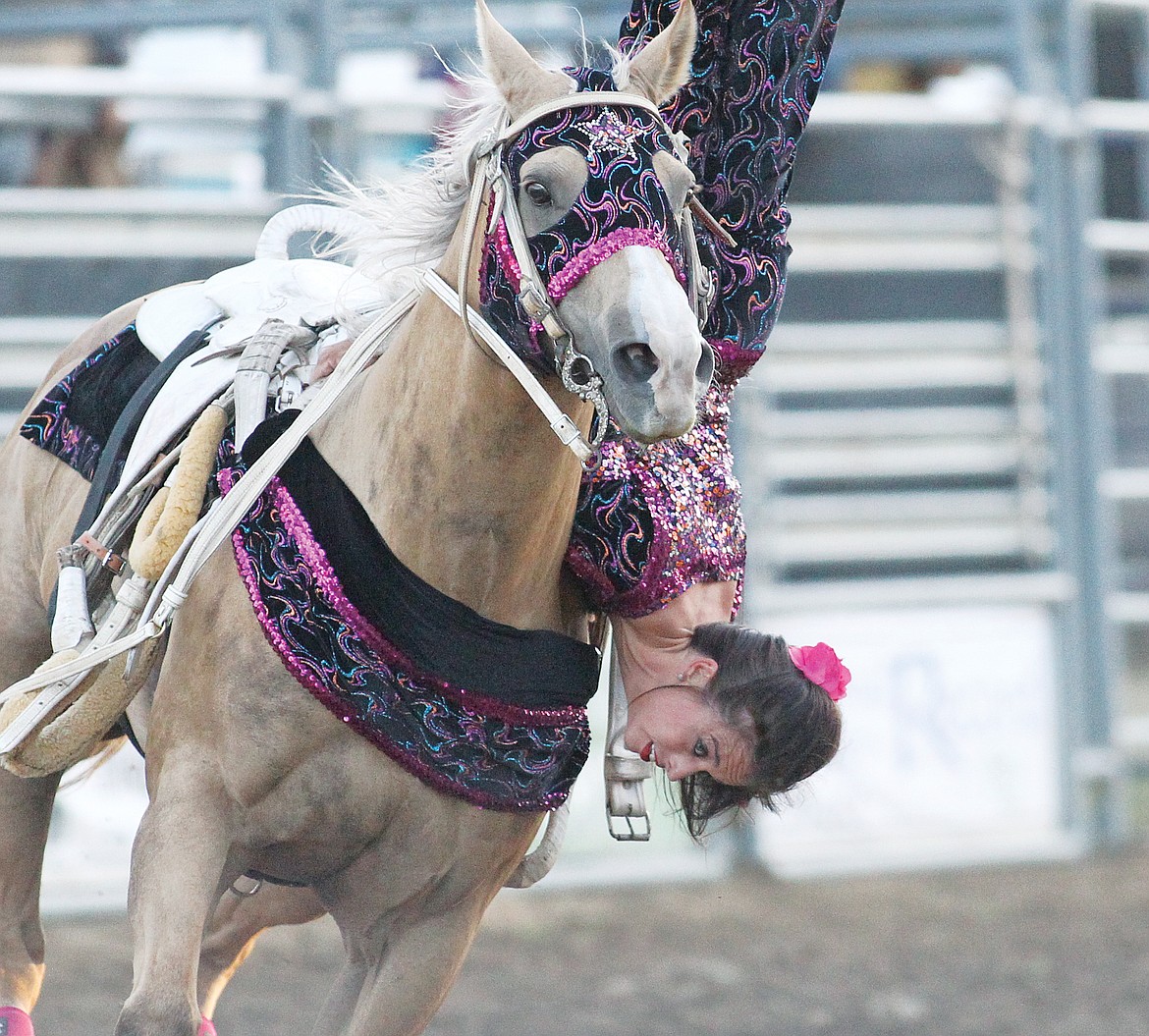 Madison MacDonald-Thomas knew she wanted to become a trick rider at a young age and has perservered through serious injuries. (Paul Sievers/The Western News)
Previous
Next
by
WILL LANGHORNE
The Western News
|
July 31, 2020 8:43 AM
At first glance, nothing distinguished the trailer from the dozens of others parked around the rodeo camp.
The three horses that milled around outside, their muzzles buried in hay bags, looked like any other barrel racing steeds. The cowgirl saddling them, dressed in jeans and a maroon t-shirt, might have been any one of the scores of riders who had come to compete at the Kootenai River Stampede from July 24 to 25.
A second glance at the trailer, though, revealed a name, one that spectators would get to know well that evening, printed in flowery script.
"If you like it fast, if you like it dangerous, please make welcome to the rodeo arena … Madison MacDonald-Thomas," announcer Brent Jordan shouted into his microphone just over an hour later, summoning the cowgirl and one of her horses into the ring.
When she came through the gates, MacDonald-Thomas, the 27-year-old world-renowned trick rider, looked every bit the part. Black pants and a blouse laced with glittering purple and pink swirls replaced her jeans and t-shirt. Her horse, Chex, had surrendered his hay bag for a bedazzled breast collar and a matching saddle blanket and mask.
A pulsing bassline shook the stands and the fans cheered in anticipation.
MacDonald-Thomas spurred Chex into a gallop. Traveling at close to 30 miles per hour, she swung herself around in the saddle so that she was riding backwards. Moving with the fluid grace of a trapeze artist, she lifted her legs above her head and performed a shoulder stand on the heaving back of her horse. Righting herself, she cantilevered off his side so that one of her outstretched arms brushed the arena floor.
Slowing Chex to a canter, MacDonald-Thomas hardly had to lift her hand before the stands erupted in applause.
As Chex set off thundering around the arena for a few more laps, MacDonald-Thomas slid off the saddle so she was riding bareback on his be-glittered rump. In a dizzying sequence, she jumped off Chex's back only inches away from his clomping hooves, bounded off the ground and pulled herself back into the saddle. Flying around the ring, she kept vaulting on and off Chex's back, the crowd's cheers rising with each jump.
Then, after throwing a few more waves to the stands, she veered out of the arena. The whole demonstration lasted less than four minutes.
For every breath-stopping second of her ride, however, MacDonald-Thomas had put in hundreds of grueling hours of training.
The trick riding life began for her at four years old when she attended her hometown rodeo, the Calgary Stampede in Alberta, Canada.
"Maddie came there and saw the trick riders and said that's what she wanted to do," said her mother, Debrah Opsahl-MacDonald. "It was just something that stuck with her."
At six years old, MacDonald-Thomas began training. From the start, her parents put her in touch with the best coaches available. Jerri Duce, a nine-time Canadian Barrel Racing champion and Canadian Pro Rodeo Hall-of-Famer, was one.
Duce knew right away she had a potential star on her hands.
"In the trick riding world, generally, I can tell a lot in the first session and I knew she would be outstanding," Duce said. "She was so brave and totally into it at a very young age."
Looking back on her early days of training, though, MacDonald-Thomas remembered being nervous about high speeds and meeting new people. In the world of rodeo where who you know and how fast you can go are defining features of a performer, her reservations threatened to be serious obstacles. With time and practice, she adapted to both.
At twelve years old, MacDonald-Thomas began working with another trick riding legend, Tad Griffith, who had worked as a movie stunt double for Antonio Banderas, Jack Black and Scott Caan.
Born into rodeo royalty, Griffith practiced a unique form of riding that had been passed down through his family. MacDonald-Thomas said adopting the new style forced her to relearn everything, but took her skills to another level.
During high school, MacDonald-Thomas had to learn to balance her honors-level schedule with her training routine. Opsahl-MacDonald remembered how she spent every evening, regardless of the weather, riding all her horses.
"We put a yard light out down below, because she was never back until it was pitch black," said Opsahl-MacDonald.
MacDonald-Thomas made the high school national finals rodeo every year.
As she broke into the world of trick riding, doors began to open. While performing, she was approached by the stunt coordinators of the series "Heartland." In the first couple seasons of the show, MacDonald-Thomas appeared as a jockey, jumping off galloping horses onto beanbags and doing other "ninja stuff."
After graduating high school, MacDonald-Thomas moved to Stephenville, Texas, to attend Tarleton State University. Her heart remained in trick riding. Between classes, MacDonald-Thomas continued competing and performing, looking for a way to make a sustainable career out of her passion.
In 2012, she caught a break when a photo of her made it into an issue of National Geographic. The photographer titled the shot "Magic in Motion" and MacDonald-Thomas rode the wave of recognition it spawned by starting a trick riding school under the same name.
While few riders have managed to turn teaching into a living, MacDonald-Thomas's enterprise took off when one of her videos hit almost a million views on Facebook.
"People just started calling me for lessons and then I realized that I would rather teach this than go through university," she said.
Once she committed to it, her business blossomed through word of mouth. Between lessons, MacDonald-Thomas honed her skills. In 2018 and 2019, she toured the states with Pepe Aguilar, the four time Grammy Award winner known as the "George Strait of Mexican music." Performing alongside the bull riders and fighters that made up Aguilar's act, MacDonald-Thomas got to showcase her tricks in front of up to 15,000 spectators at storied coliseums like the Staples Center in Anaheim, Calif., and the American Airlines Center in Dallas, Texas.
While the country opened up before her, MacDonald-Thomas found the world of rodeo remained a tight-knit community. Wherever she found herself performing, she could almost always count on seeing old friends.
As MacDonald-Thomas prepared Chex for his appearance at the Kootenai River Stampede, two fellow competitors from college, Brittney Martin, a breakaway roper from Cody, Wyo., and Zachary Schweigert, a team roper from Livingston, stopped to visit.
Martin, who had known MacDonald-Thomas when she got Chex, ran her hands through the horse's mane.
"Aw you're all grown up," she said with affection.
During the 2020 season, though, MacDonald-Thomas has bumped into fewer friends on the road. With cases of the novel coronavirus rising throughout the country, many rodeos have closed their gates. The pandemic has made it difficult to earn a living as a trick rider.
"It's honestly been the hardest year of my entire career," MacDonald-Thomas said.
Most years, MacDonald-Thomas is on the road for six months without a weekend off, but in 2020 she's spent more time at home wondering about the fate of her season. She has managed to fill time with extra riding lessons, but the uncertainty shrouding the upcoming months has made planning difficult.
On top of these worries, MacDonald-Thomas has been consumed with the search for a successor. Having set a high bar in the industry, she has not yet found a student whom she can entrust with passing on Griffith's family secrets.
"I noticed that the kids coming up nowadays, once they find out how hard it is, they don't want to push through to get to that next point," she said. "I tell those girls all the time 'you see when we're smiling out in that trick, it's not always a genuine smile. Sometimes there's some pain behind there.'"
Injuries are bound to happen when you spend thousands of hours contorting yourself on the back of an animal that can weigh over a ton and travel up to 30 miles per hour. MacDonald-Thomas has had two horses fall on her and has broken her lower back and a bone in her foot. Although doctors warned her that if she didn't take care of her injuries her career might be hindered, MacDonald-Thomas pushed on.
"The idea of not trick riding has never really crossed my mind," she said.
After the stands had emptied at the Kootenai River Stampede late in the last night of the rodeo, MacDonald-Thomas was still out tending to her horses. Once again, she could have passed for any other cowgirl. Her trick-riding attire had been traded back in for a fleece and jeans. The name printed on her trailer was obscured in the darkness.
She was happy with her performance that night, but exhausted.
In the doorway to the trailer, her mother and Loretta, the family's border collie heeler, waited framed by warm, inviting light.
After a few hours of rest, the trio and their horses would be back on the road, headed to Dodge City for their next show.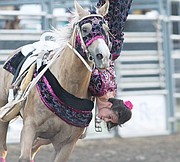 ---