School officials review plans after parent survey
by
WILL LANGHORNE
The Western News
|
July 31, 2020 8:43 AM
With only weeks to go before the fall semester begins, Libby Public School District officials updated reopening plans to address new guidelines for sports and mounting concerns regarding masks and busing.
During a July 27 Libby Public School Board meeting, members reviewed feedback from parents and guardians on the district's protocols for reopening schools during the COVID-19 pandemic.
Officials said 212 families participated in a survey, which was posted on the school district's website. Of those, 21.2 percent said they were uncomfortable with requiring students to wear masks when entering a school building, riding a bus or using common areas. A further 31.1 percent responded that they were uncomfortable with schools requiring masks in classrooms.
While board members debated making masks a part of school dress codes, Superintendent Ron Goodman said the district might have to make accommodations for some students. Other forms of personal protective equipment, such as face shields and mobile plastic barriers, could be supplied to mitigate the spread of the virus.
Trustee Bgee Zimmerman pointed out that face shields could prove beneficial to elementary school teachers whose mouths need to remain visible when instructing younger students how to read.
The results of the survey indicated that 5.7 percent of parents and guardians are unable to adapt to the school's proposed busing plan under phase one and two. In these phases, bus service would be limited to those students living outside of a 3-mile radius of schools. The reduced service would cap the number of students on each bus at roughly 24, which would open up enough empty seats to keep passengers socially distanced. Courtesy pickups may be available within the 3-mile radius for students who would have to cross U.S. Highway 2 to get to school.
Board members decided to keep the reduced busing protocol in place for at least the first month of the fall semester. Members plan to assess and potentially update the plan in mid-October.
Reviewing the survey results, Goodman found it disconcerting that 21 percent of parents and guardians would opt against sending their children back to school under phase two conditions. In that phase — which Goodman said would be implemented if there is minimal community spread of the virus — students would be allowed to mix in groups of no more than 50. Masks would be required in common areas and traffic patterns likely would be established in hallways to reduce contact.
With such a high number of students remaining at home, teachers could be stretched thin managing both in person and remote learning curricula, Goodman said.
This issue likely would be aggravated if schools were to reopen under phase one, the most restrictive phase of the plan in which students would still return to classrooms. In phase one, students would be assigned to small groups and kept isolated throughout the day. Masks would be required outside of the classroom. About 34 percent of parents said they would not allow their students to return under those conditions.
Goodman speculated that the percentages might drop as parents reluctant to send their children to school watched others do so safely.
"It might be like the first ice fisherman on Gieger Lake," he said. "You go first and we'll wait and see."
Regarding athletics, Goodman suggested mirroring the guidelines released by the Montana High School Association on July 27.
Like the school district's reopening roadmap, the MHSA plan is structured using a tiered system, ranging from a worst-case scenario, in which there would be a "long interruption" to the fall season, to an optimal phase, where games would go on as scheduled but multi-team events would remain limited.
All phases would follow Gov. Steve Bullock's mask directive. The governor's mandate, which applies to counties with four or more active cases of COVID-19, requires face coverings to be worn in indoor public spaces and at outdoor gatherings of more than 50 people where social distancing is not possible. Athletes performing strenuous activities would not be required to wear masks per Bullock's directive.
According to the updated MHSA protocols, practices should be conducted in isolated "bubbles" with the same players training together to limit overall exposure. While competing, athletes would be required to social distance and the number of non-essential persons on the fields would be limited. Interstate competition would not be allowed unless approved by the MHSA director.
The number of fans allowed at contests is to be determined by schools in consultation with local health department authorities, according to the MHSA guidelines.
While reviewing the district's plans, Goodman stressed again that he considers them to be in the draft phase. When it comes to making a concrete decision on how or if schools will reopen their doors, Goodman said he would consult the county health board.
"I just don't see any other way than me making that decision and informing you guys," Goodman told the board. "It's going to be a big deal."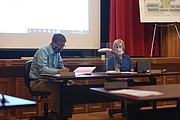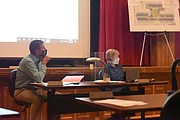 ---